As my colleague David Kirkpatrick in Cairo reported, supporters of the ousted Islamist president, Mohamed Morsi, have lashed out across Egypt since two pro-Morsi sit-ins were violently dispersed by the armed forces, blocking bridges and highways, storming government buildings and attacking churches of the country's Christian minority.
Scores of churches across Egypt have come under attack since the assault on the two protest camps, highlighting Egypt's sectarian divisions and reflecting a belief among some supporters of Mr. Morsi that Egyptian Christians are in some way to blame for his ouster.
Christians make up roughly 10 percent of Egypt's 84 million people and have long complained of prejudice at the hands of the Muslim majority, as well as official indifference to their plight. Sectarian attacks have become more common since the downfall of the former president Hosni Mubarak in 2011, and many Christians feared for their well-being during the one-year tenure of Mr. Morsi. He reneged on a campaign promise to appoint a Christian vice president and failed to halt an unprecedented hours-long attack in April on St. Mark's Cathedral in Cairo, the seat of the Coptic Orthodox pope.
But the steady drumbeat of sectarian incidents since Mr. Mubarak's downfall appears to have been eclipsed by the explosion of anti-Christian attacks over the last three days, which the leadership of the Muslim Brotherhood has been reticent, at best, to condemn. An English-language statement e-mailed to journalists denouncing the church attacks was sent only 24 hours after widespread attention was drawn to an Arabic statement posted to a Facebook account affiliated with a branch of Mr. Morsi's party that called the Coptic pope complicit in the deaths of 500 Islamist protesters on Wednesday. The statement on Facebook also suggested that Egyptian Christians had declared "war on Islam."
"After all this people ask why they burn the churches," said the statement, an English-language version of which was posted on Thursday to a Web site, MB in English, that tracks and translates inflammatory statements by the Brotherhood. "Burning houses of worship is a crime, but for the Church to declare war against Islam and Muslims is the worse offense. For every action there is a reaction."
On Wednesday, the Egyptian military said in a statement that it would repair and rebuild the damaged churches and pay all related expenses.
Bloggers and activists have begun two separate efforts to compile and verify accounts of sectarian attacks. Their work draws together information from social media, the Arabic- and English-language news media as well as personal accounts from eyewitnesses, said Amira Mikhail, an Egyptian-American law student behind one of the efforts, and Rayna Stamboliyska, a writer who has organized the other.
Many of the accounts reported in the two projects are backed up by pictures shared on Twitter and videos posted to YouTube, and others appear to be supported by statements made by the Egyptian Initiative for Personal Rights, a prominent Egyptian human rights group that tracks sectarian incidents. It posted news about individual attacks in a series of updates to Twitter.
Confirmed sectarian attacks: 2 churches still on fire are the Virgin and Bishop Abram Church of Dilga, Menya and the Bishopric of Sohag
Fires have been put out after damages at the Mar Mina Church of Beni Hilal, Minya and Friends of the Holy Book Society in Fayoum
Suez Bishopric denied reports of fire at Good Shepherd Church but confirmed stone throwing broke windows
Two more churches on fire in Nazla village of Fayoum. Some residents are blocking firefighters
Many of the sectarian attacks took place in Upper Egypt, the country's poorer central and southern region, which is an important center of Egyptian Christianity and has also long been a hotbed of hard-line Islamism. But there have also been attacks in the urban centers of northern Egypt, including Cairo, the capital, and Alexandria, the country's largest seaport.
Ms. Mikhail drew attention via Twitter to a video posted to YouTube that she said showed a Christian taxi driver being killed by a mob that swarmed his car as he drove down a wide street in Alexandria. The cameraman, filming from a balcony, can be heard screaming and eventually breaking down into sobs. "They are killing him, they are killing him," the man screamed. "Let him go, you sons of dogs, you unbelievers! He is dying, someone call the police!"
Ms. Mikhail's project pointed out a picture posted on Twitter by one user who said it showed damage to the Mar Mina church in Beni Hilal, Minya, an attack confirmed by the Egyptian Initiative for Personal Rights. On either side of its burned door, a vandal has spray-painted the word "Islamic," shorthand for an exclusionary Islamist slogan, "Egypt is Islamic."
الاعتداء على كنيسة مارمينا العجايبى بـ #المنيا | http://t.co/ZQtgbp2rf7
The second effort to curate and verify accounts of sectarian violence, which was also organized in part by Mostafa Hussein, a physician, activist and blogger in Cairo, drew attention to a series of photographs posted online that claimed to show flames engulfing the Amir Tadros Church, also in Minya. One picture was posted to Twitter, while the rest were collected in an online album.
"@Donziii: "@DostorNews: صور تفحم كنيسة الامير تادرس الشطبي بالمنيا http://t.co/eaCdysJ6tQ" #egychurch #egypt http://t.co/UyrxjVftxs"
But it was not just churches that were attacked. Sectarian incidents appear to have touched a range of other institutions affiliated with churches, including the offices of a Y.M.C.A. in Minya, according to a picture posted on Twitter that was highlighted by Ms. Stamboliyska's project.
#المنيا جمعية الشبان المسيحيين #YMCA http://t.co/M4MwZ1k145
Ms. Stamboliyska and Mr. Hussein also noted pictures posted to Twitter by two separate users, which claimed to show fire damage at a Christian school in Minya, the St. Joseph School.
مدرسة راهبات القديس يوسف !!! #المنيا
#أجيال_ورا_أجيال
#فيلم_شقة_مصر_الجديدة http://t.co/MNlw8TlFO3
دى مدرسة القديس يوسف #المنيا http://t.co/BNB5uXrcxa
Grainy video posted to YouTube by an account that focuses on news from Sohag, an Upper Egyptian province, claimed to show a group of Morsi supporters attacking and setting fire the to the Mar Girgis Church, the seat of the bishop of Sohag. The Egyptian Initiative for Personal Rights confirmed that attack in an update posted to Twitter. Mada Masr, an English-language news Web site in Cairo, reported on Wednesday that Sohag residents said the church was set ablaze around 9:30 a.m. in the absence of any police presence, and that vandals destroyed a number of nearby shops owned by both Christians and Muslims.
In the YouTube video, a large group of Morsi supporters can be seen in the street, yelling and shouting as gunshots fire in the background. Nearby, a thick column of black smoke hangs in the sky.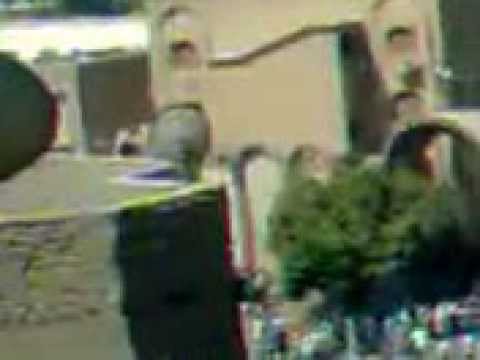 Ms. Mikhail's project also drew attention to similar pictures posted to Twitter by two different users, both of which claimed to show fire damage to the interior of the Mar Girgis Church in Sohag.
صورة من داخل كنيسة مارجرس ب #سوهاج بعد حرقها http://t.co/EwZOOBCOGy
Saint George church in Souhag , southern of Egypt # after being attacked . http://t.co/zltlPjXwty
The project organized Ms. Stamboliyska also pointed out a picture posted to Twitter that claimed to show the Mar Girgis Church burning from the outside. In the picture, a large group of men can be seen standing in front of the building, as a pillar of black smoke rises into the sky.
مطرانية #سوهاج بتتحرق http://t.co/sLnYAZCmXs
The same project also noted a picture posted on Twitter that claimed to show the St. Mary's Church burning in the village of Nazla, in Fayoum, an oasis province south of Cairo. That attack was also confirmed by the Egyptian Initiative for Personal Rights.
حريق كنيسة السيدة العذراء قرية النزلة الفيوم
#مصر #الفيوم #الإخوان http://t.co/ab0jMZ8lV1