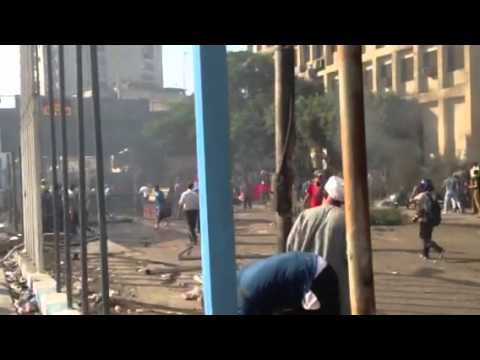 The Lede is following events in Egypt on Friday, where Islamist protesters have taken to the streets to demonstrate against the military-backed government that killed hundreds this week.
Although few of Egypt's activist bloggers are on the streets, where the protesters marching on Friday are mainly Islamist supporters of the Muslim Brotherhood, several Egyptian and international journalists have been uploading witness accounts, video and photographs of the violence in Cairo to social networks.
Read the streets. When Jan 28 came, millions came down to support the Jan 25er's. Today, the streets are empty except for packs of #MB's.
Mosa'ab Elshamy, an Egyptian photographer, and Sarah Carr, a British-Egyptian journalist and blogger following a march headed toward Ramses Square in central Cairo, reported on Twitter that clashes began after a minority of young men attacked a police station.
Clashes start in Ramses. Gunshots coming from Azbakeya police station. Injuries.
Gruesome clashes near the police station. Lots of dead being carried away.
Terrifying and loud gunshots echo in Ramses as thousands surround Azbakeya police station. Worst I've ever seen.
The protesters who instigated the clashes at azbakeya station were all youths. They had a yellow and red skull and crossbones flag.
The majority of the crowd was urging them to retreat and physically trying to move them but they refused. That's when….
…. Civilians joined in.
Soon after that, there were numerous reports of gunfire, and footage on state television showed masked men armed with rifles among the marchers on an elevated roadway across the upscale neighborhood of Zamalek.
Open Nile News or State TV …. showing more armed men live accompanying the Muslim Brotherhood march over May 15th bridge.
pic of 'Peaceful' #MB protestors now firing their 'peaceful' AK47's & blocking bridges (photo via al masry al youm) https://t.co/rTiEiWxqqj
Number of armed protesters in pro-Morsi march on #15May bridge near Zamalek. #Egypt
(cc @monaeltahawy) http://t.co/oAh2VzOLG3
They're being chased away from downtown. Gunshots getting closer. http://t.co/B3C66bni7u
Reliable reports from 15 May bridge in #cairo of 'random shooting' Couple of miles from where I am in Ramses Sq
Ms. Carr reported that some protesters, trapped on an elevated roadway when shooting broke out, made the desperate choice to jump to the street below in search of safety.
People are jumping, falling off the bridge
People are jumping off the bridge http://t.co/eknrUmn6Wx
Firing continues on the bridge. http://t.co/rPc7xhDkFC
The bridge people were jumping of is 6 october, 200 metres in front of azbakeya pol station. They were jumping cos they were trapped.
Another Egyptian journalist, Sharif Kouddous, uploaded video to YouTube of protesters scrambling for cover under the elevated roadway across Zamalek as shots rang out.
Loud shooting continues. Seems to be on top of May 15 bridge. Crowd runs into Zamalek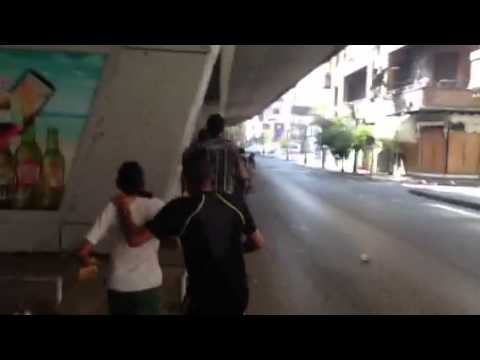 The BBC correspondent Jeremy Bowen reported seeing badly wounded protesters at a mosque near the clashes.
Many casualties in mosque near Ramses
I can see 4 bodies and many bad gunshot wounds.
As the violence escalated, and clashes were reported between residents and the protesters, journalists, including Rawya Rageh and Sherine Tadros of Al Jazeera English, reported seeing armed men in civilian clothes on the streets.
Horrifying clashes still taking place near Azbakeya station. http://t.co/7iibiMmD3P
This is seeping into residential n'hoods & side streets.. Never thought I'd see civilians chasing each other w guns on our small st #Egypt
Saw 3 people in the last few mins carrying rifles on the street. No idea who they are/what side #Egypt
On way out of Ramses protest passed half dozen kids-switchblades and pipes in hand-pouring out of van. Just your friendly local watch!
Finally have signal - complete chaos in the Ramses mosque, now a field hospital. Saw at least 3 dead, dozens with gunshot wounds. #Ramses