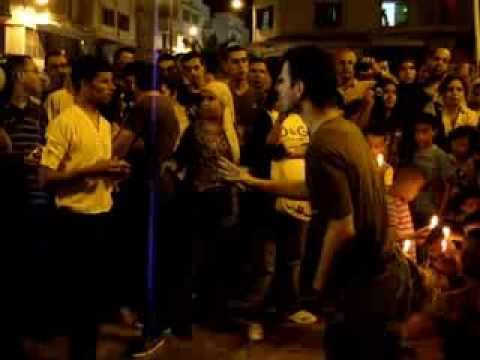 Protests have roiled major cities in Morocco after the country's king recently pardoned a Spanish pedophile. The demonstrations have persisted since late last week even after the king later retracted the mistaken pardon of the convicted child rapist, Daniel Galván Viña, 63, and he was arrested again in Spain this week.
Mr. Galván had been convicted of raping 11 children in 2011 and was serving a 30-year sentence in Morocco before the pardon came through, The Associated Press reported. It said Spain's king had asked Morocco to transfer 30 convicts to prisons in Spain, while requesting that a separate list of 18 prisoners be pardoned and freed. But the Moroccan authorities apparently put the two lists together, a Spanish official said, according to The A.P., and Mr. Galván was released.

Protests are rare in Morocco against King Mohammed VI, but since late last week activists and Moroccan news outlets have documented the outcry against the pardon on YouTube and on Twitter using #Danielgate. They are demanding an apology from the king and an independent judiciary.
Hisham al-Miraat, a Moroccan blogger and free speech advocate, posted a photograph of a protest in Casablanca on Wednesday.
Proud of my countrymen/women tonight. Protest in Casablanca seems to bring all Moroccans together - #danielgate http://t.co/WUEdQLhia5
Ppl from all walks of life have taken to the main Casablanca square tonight to denounce king's decision #danielgate http://t.co/dU6aYLXakT
Now: Pictures from Casablanca, #Morocco asking for king to apologize following #danielgate & independence of justice http://t.co/q6icn8I1LJ
Montasser Drissi, a Moroccan writer, often about human rights, posted images of Mr. Galván, including some showing him with children, on his blog and gave a list of the names and ages of the victims, boys and girls who ranged from 2 to 15.
Mr. Drissi was apparently injured during one of the demonstrations last week, as were other protesters in a range of cities.
THIS PHOTO of @montasserdrissi beaten by police in #Morocco #danielgate protests. http://t.co/cuJNl8ghsb
الزميلة نادية لمليلي هناك اخبار غير موكدة علي تعرضها للاعتقال http://t.co/cTGvSnTNNd
In Morocco the King pardons child rapists but not non-fasting of Ramadan.
#DanielGate http://t.co/JW6qKPj8FZ
#Tangier #danielgate protest tonight for independent judiciary via @sihemabbas http://t.co/57jDILXeqY
Maroc News compiled YouTube footage of protests in several major Moroccan cities, including those outside the parliament building in Rabat, as well as in Tangier and Tetouan. Some of the images showed bloodied protesters after baton-wielding security forces tried to break up the demonstrations, and at one point a voice can be heard shouting, "Don't hit!"
Another video showed the protest in Rabat from last Friday, the first night that the demonstrations started.
Morocco's king retracted his pardon of Mr. Galván over the weekend, and Morocco, via Interpol, the international police organization, issued an international arrest warrant for him, the Associated Press report said. Since Spain does not extradite its citizens to Morocco, Mr. Galván is most likely to finish his term in a Spanish prison. The request for the pardons was made during a visit to Morocco by King Juan Carlos of Spain, and Morocco's consent was viewed as a gesture that would benefit bilateral relations, the news agency reported.
The Moroccan Press Agency reported this week that the king had "inadvertently" pardoned Mr. Galván and held the prison administration responsible for the error. It said the king met with the families of the victims on Tuesday.