Videos from a security camera and from witnesses in the northern city of Tripoli in Lebanon on Friday captured the moment a bomb exploded at a Sunni mosque and the aftermath of a blast at another mosque, in attacks that killed more than two dozen people and wounded hundreds.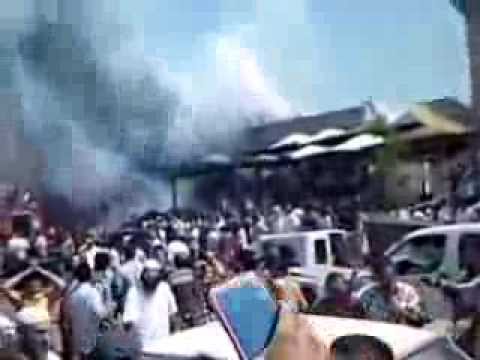 As my colleagues Ben Hubbard, Hwaida Saad and David Jolly reported, the twin blasts were a major escalation of violence in a country deeply unsettled by the conflict in neighboring Syria. The Lebanese Red Cross said at least 29 people were killed and more than 500 were wounded when the bombs struck the Taqua and Al-Salam mosques on a day of the week when there were large gatherings of worshipers for communal prayers.
The site of one of the Tripoli bombings in front of the al-Salam mosque. The crater is in bottom left corner. http://t.co/aTdOgJBLd9
Near al-Salam mosque in Tripoli. Many saying this is the remains of bomb car more than 50 meters from the crater. http://t.co/kSgQObFhn9
On its YouTube page, The Associated Press posted footage from Lebanese state news media showing the wounded being evacuated and the fiery aftermath of the explosions.
Friday's Tripoli bombings came just over a week after a car bomb in a Hezbollah stronghold in a southern suburb of Beirut.