Citing "reports circulating on the Internet," a spokesman for Russia's foreign ministry claimed on Friday that video posted online by opposition activists in Syria, said to show victims suffering from a chemical weapons strike outside Damascus on Wednesday, was fake.
Apparently referring to the sleuthing of pro-Hezbollah bloggers cited by Russian state media, Aleksandr Lukashevich, a ministry spokesman, suggested in a video statement that some of the distressing images of dead and wounded civilians had been uploaded to YouTube one day "before the so-called attack." That indicated, Mr. Lukashevich said, the claims of an attack might have been part of "a previously planned action" by Syrian rebels intended to provoke anger at President Bashar al-Assad's forces.
What the Russian official called "evidence" of rebel propaganda however â€" the fact that some of the first video clips said to show victims of the attack on Wednesday were stamped with Tuesday's date on YouTube â€" appears to be based on widespread confusion about how the video-sharing site, based in California, assigns dates to clips uploaded by users around the world.
As YouTube has previously confirmed to The Lede, its computers automatically assign a date to each video based on the current time in California when the upload begins, which can be different from the date in the user's time zone. Given that California is ten hours behind Syria, that means that any clip uploaded to YouTube before 10 a.m. on Wednesday was stamped with Tuesday's date.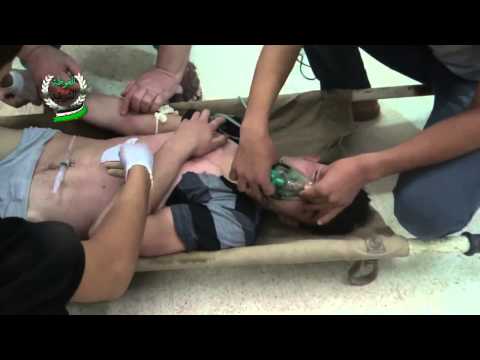 Malachy Browne, an editor who helps to verify the authenticity of video of news events posted online for the Storyful news service, noted in a discussion of the Russian claim that his site's study of the YouTube metadata indicated that the first video said to show attack victims was uploaded to YouTube very early on Wednesday in Syria, when it was still Tuesday in California:
At Storyful, we extract the precise date and time of upload from YouTube videos as we add them to our system. The first video we have seen relating to the massacre was uploaded at 2:50:47am on August 21 local time in Syria. This is approximately 20 minutes after the attacks are reported by eyewitnesses to have happened. The video was uploaded by a YouTube account active in the Erbin area, an uploader Storyful is familiar with and whose videos have been verified in the past. Very quickly, other videos and photos documenting similar scenes were uploaded to YouTube and other social media sites.