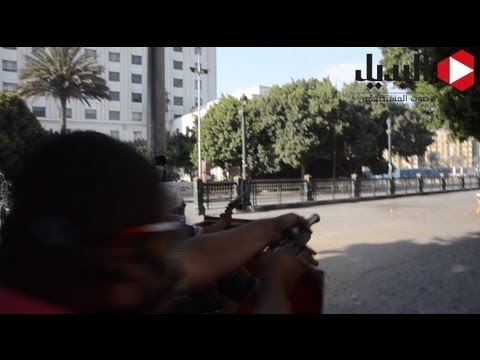 Clashes between opponents and supporters of deposed Egyptian President Mohamed Morsi erupted in downtown Cairo and a province just north of the capital on Monday, killing three people and injuring dozens more in an outburst of deadly violence that ended several days of relative calm. Violence between supporters and opponents of the ousted president has gripped Egypt since his removal from power on July 3.
State media reports said that one person died in the fighting in Tahrir Square and dozens more were wounded, while two people were killed in the province of Qalyubeya, just north of the capital, according to Ahram Online, an English-language Web site affiliated with the flagship state newspaper.
Morsi opponents and journalists on the scene said that the violence began when a group of the deposed president's supporters attacked anti-Morsi protesters in Tahrir Square, a version of events the Muslim Brotherhood disputed on its official Twitter feed, saying its supporters were the ones who were attacked. Neither claim could be independently verified.
Ed Giles, an Australian photojournalist based in Cairo, said he witnessed the violence erupt on Monday while walking with a large group of Morsi supporters as they crossed a bridge in downtown Cairo.
In a Twitter update, Mr. Giles said that the large group marched to the United States Embassy near Tahrir Square, but that a smaller group of Morsi supporters stayed behind and began to attack Morsi opponents holding a rally of their own in Tahrir.
For clarity, I was with pro-#Morsi crowd as it marched past kasr el nil today, great majority of protesters walked past calmly (1/2) #Cairo
… 100-200 stayed at the kasr el nil entrance to #Tahrir and attempted to assault the army, police & people at the entrance to midan (2/2).
For its part, the Muslim Brotherhood claimed that its supporters were the true victims of violence by "police and thugs," an argument the group advanced through its official Twitter feed, @IkhwanWeb. The group said the violence took place not in Tahrir Square, but outside the American Embassy in the nearby neighborhood of Garden City.
At least ten injured, 1 unconfirmed fatality as a result of police & thugs attacks on #AntiCoup peaceful protesters outside @USEmbassyCairo
Video uploaded to YouTube on Monday by El Badil, an independent Egyptian newspaper, showed men identified as Morsi supporters standing on the outskirts of Tahrir Square throwing rocks and firing guns in the direction of the square. The video appeared to support Mr. Giles's account.
Haitham Tabei, a reporter for Agence-France Presse who was at the scene of the clashes, posted a series of pictures to Twitter that showed fighting and damage in the downtown Cairo neighborhood of Garden City, which is home to both the British and American embassies. Mr. Tabei's Twitter updates were all written in Arabic.
Mr. Tabei posted a picture that he said showed three young male Morsi opponents, one carrying a long club, leading a Morsi supporter away in a head lock.
متظاهري #التحرير يمسكون بمتظاهر مويد ل #مرسي http://t.co/70mvEhwSUN
Another picture posted by Mr. Tabei showed what he said was a group of men attempting to assist someone who had been hit with bird shot fired by Morsi supporters.
محاولة انقاذ شاب مضروب بالخرطوش من جانب انصار #مرسي بالخرطوش، راسه كان بها خرمين وتندفع منها الدم بلا توقف http://t.co/88wnCuseaT
A journalism student in Cairo named Aaron Rose, who described himself as an intern with the Daily News Egypt, an independent English-language publication, also posted a series of pictures from the clashes to Twitter.
Mr. Rose's pictures suggest that Morsi opponents may have come to Tahrir Square carrying weapons, including handguns and knives. Mr. Rose also said that he observed Morsi opponents and members of the country's security forces cooperating as they fought against Morsi supporters.
Anti-Morsi protestors advance with aid of MoI. MoI and anti-Morsi protestor run together as one group. http://t.co/cc0g5hEKjk
Anti-Morsi protestor at front line holds a knife. http://t.co/x1BHQDX4QV
Motorcycle burning outside UK Embassy. http://t.co/cuSslUmCwJ
Droves of MoI outside Street leading to @USEmbassyCairo http://t.co/11zn5S1FTt
While editing photos from today's clashes on Corniche found a pic of anti-#Morsi supporter w/ two handguns. #Egypt http://t.co/D4bsyv4Gat
#pt He's the man in the gray shirt with an orange decal slightly right of center. He is standing on Qasr El Nil St. with his back to Tahrir.