In a new song released online Tuesday, the Russian protest group Pussy Riot claims that billions of dollars of the nation's oil wealth have been looted by President Vladimir Putin and his allies.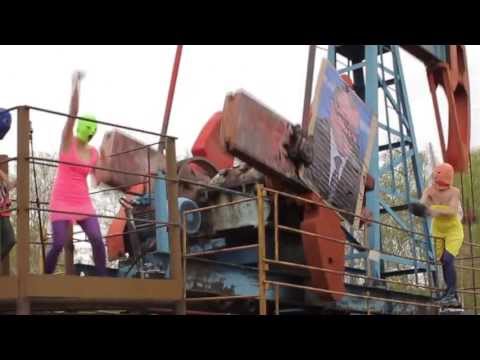 The song, "Like a Red Prison," was accompanied by a music video showing masked members of the group tossing black crude onto a portrait of Igor Sechin, the Putin confidant and former spy who is chief executive of Rosneft, the Russian state oil company, during a guerrilla performance at an oil facility.
A photojournalist who was present during the video shoot, Denis Sinyakov, said in a telephone interview that it was recorded in recent months, with one sequence, showing the group's banner unfurled on the roof of a Rosneft gas station, filmed in June. He added that the video was finished in a rush, according to the activists, so that it would appear before the trial of protest leader Aleksei Navalny concludes this week.
pussy-riot.info
Mr. Sinyakov, who is not part of the collective, but has been granted access at the planning stages to anti-Putin stunts carried out by other groups, said that he traveled with the women while they were not wearing masks. To the best of his knowledge, Yekaterina Samutsevich, a member of the group who was jailed with two others last year for performing a song at Moscow's main cathedral calling on the Virgin Mary to rid Russia of Mr. Putin, but later released by an appeals court, was not involved in the production.
For her part, Ms. Samutsevich claimed on Tuesday that the new release was not an official one, despite the fact that it was described as such on the group's Twitter feed.
МЫ СНОÐ'А Ð-Ð"ЕСЬ - впервые после панк-молебна! - C Ð-АХÐ'АТОМ НЕФТЯНЫХ ОÐ'ЪЕКТОÐ' РОССИИ - и туром "КАК Ð' КРАСНОЙ ТЮРЬМЕ" http://t.co/qh6M4E0zQj
The new song was also heavily promoted on a Twitter account run by Pyotr Verzilov, whose wife, Nadezhda Tolokonnikova, is one of the two women still serving time in a penal colony for the cathedral performance. Liner notes posted on a new Web site, pussy-riot.info, described Ms. Tolokonnikova as one of the authors of "like a Red Prison."
There have been signs of division between the women in the past, and the music video was uploaded Tuesday to a new YouTube channel registered in the group's name.
As the American-financed Radio Free Europe/Radio Liberty reports, the liner notes also claim that Russia's oil revenues amounted to 7 trillion rubles (about $215 billion) in 2012, "but only Putin and several of his friends see this 7 trillion." To focus attention on this, the group said, "We therefore decided to independently look into oil production and sing our new song about the red prison to oil and gas workers."
The song's lyrics include a reference to Mr. Navalny, the popular blogger and anti-corruption lawyer who expects to be convicted this week on charges of corruption filed against him by state prosecutors last year, after he emerged as a leader of anti-Putin street protests. In an interview with The Guardian last week, Mr. Navalny said that when the state's wealth boomed with a surge in oil prices, Mr. Putin "just bought everyone off. Now the money is ending… so now he has turned to repression as a means of running the country."
The Guardian. Alexei Navalny: 'The Kremlin want to jail me but they're scared too', by @MiriamElder http://t.co/zir0F1ZhFQ
As the Guardian correspondent Miriam Elder reports, despite the threat of jail hanging over him, on Tuesday Mr. Navalny published the results of an investigation into corruption by a senior Russian official on his Live Journal blog and invited Mr. Putin to look at the evidence.
Two days before verdict, @navalny publishes new corruption investigation into Russian Railways http://t.co/XffWM9IBHx
Last week, video posted online showed Mr. Navlany and his supporters marching to an election office in Moscow to submit the papers necessary to allow him to run for mayor of the city.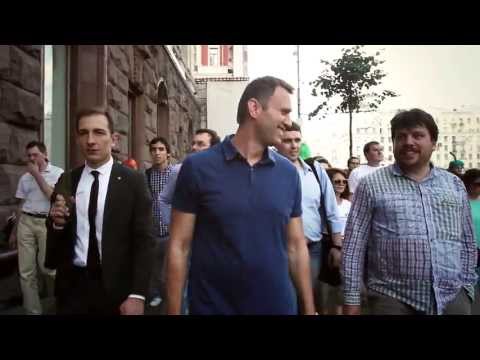 Mr. Navalny also invited readers of his blog to watch another video clip, "that depicts my wacky detention," after he emerged from the election office to address supporters and was hauled off by the police.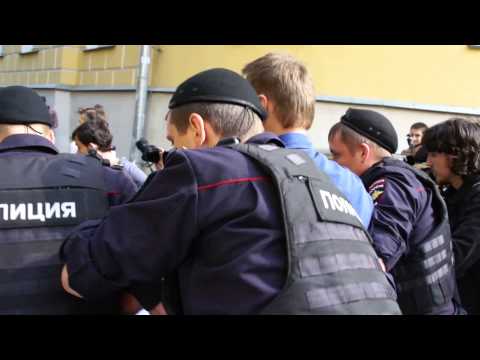 As he prepared to hear his fate in court, Mr. Navalny continued to press ahead with the race, posting images on Instagram of his "bustling" campaign office.