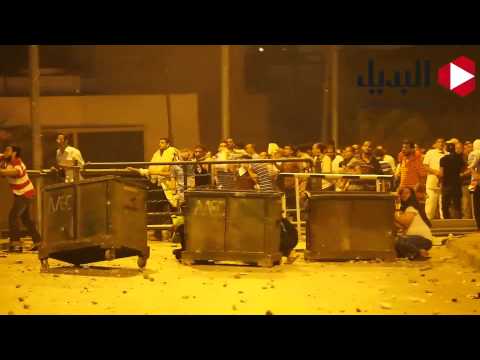 As my colleagues Kareem Fahim and David Kirkpatrick report from Cairo, hours before Egypt's new interim government was sworn in, "at least seven people were killed and more than 200 were injured in overnight clashes between Islamists and Egyptian riot police, health officials said Tuesday."
Images transmitted from the scene by reporters late Monday showed some of the fighting, which shrouded the downtown Ramses Railway Station with tear gas and smoke from burning tires as supporters of the deposed president, Mohamed Morsi, clashed with officers and young men in civilian clothes who hurled rocks and Molotov cocktails from behind police lines.
Youths starting to throw molotovs at Morsi side in Ramses. http://t.co/aQEatcJuHu
Police fire year gas from bridge backed by some youth who throw rocks down at Morsi supporters. Some fires lit http://t.co/CqvUlCIV2P
Nasty fight here on bridge and off ramp, and standoff. No retreat from Morsi side http://t.co/tgAh78FlCn
A more detailed picture of the fighting emerged from video posted online later by witnesses and photographers from local news sites, including El Badil and Al-Masry Al-Youm.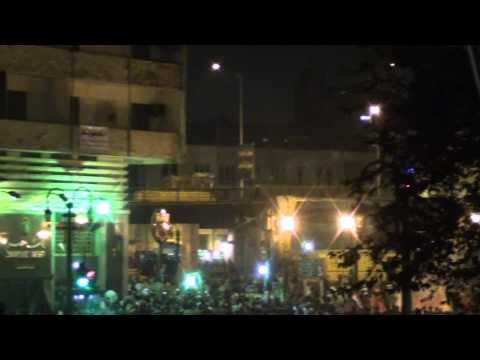 The fighting broke out after thousands of Islamists left their encampment near the defense ministry, blocking the 6 October Bridge, a central artery for the city's traffic that passes by the train station.
Pro-Morsi man with a pro-Morsi T-shirt on Ramses http://t.co/jOzPk1SWsG
Once the clashes began, the Islamists hit police officers with rocks and the officers, backed by men in civilian clothes on the bridge, responded with tear gas and rubber bullets.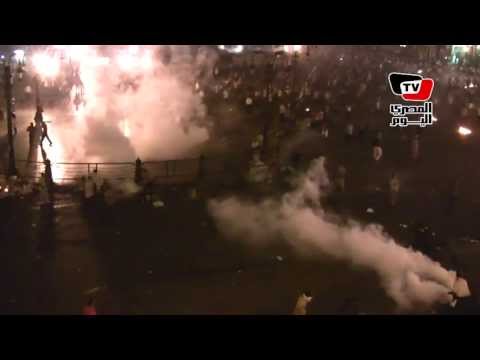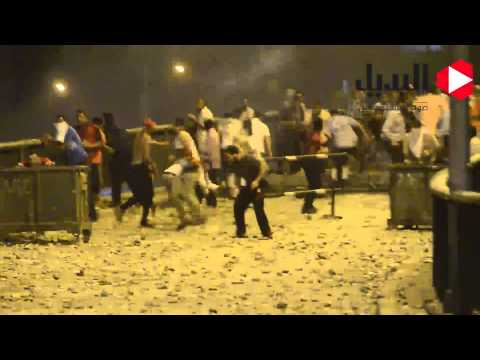 This post has been revised to reflect the following correction:
Correction: July 16, 2013
An earlier version of this post misspelled in a caption the surname of the activist blogger who posted a video of police officers firing tear gas. He is Mohamed El-Zahaby, not El-Zahabym.