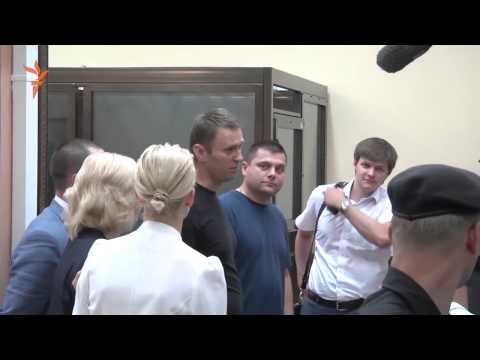 As my colleague David Herszenhorn reports, supporters of the anti-corruption blogger Aleksei Navalny, one of President Vladimir Putin's most dogged opponents, described his sudden release pending appeal on Friday as a reaction to street protests a day earlier.
Video from the courtroom in Kirov, where a judge had sentenced him to five years in prison on Thursday, showed that there was applause as Mr. Navalny was set free, for the moment. An image of the charismatic blogger's warm embrace of his wife, Yulia â€" published by Novaya Gazeta, the newspaper that once featured the work of the murdered Putin critic Anna Politkovskaya â€" was shared with relief by his supporters.
http://t.co/EHCTFwcwuY посмотрите фоторепортаж про то, как отпустили Навального и Офицерова http://t.co/Q8fJA1b76K
The photographer who captured the hug, Evgeny Feldman, jokingly compared it to another image, of Mr. Putin embracing a citizen he is more fond of, the French tax exile Gérard Depardieu.
ггг http://t.co/qEI72PUEyY
Mr. Navalny himself used a still frame of the hug in a post on his popular blog thanking those who took to the streets to call for his freedom, though he was careful to erase the logo of Russia Today, or RT, the Kremlin-owned network that captured the moment on video.
A Russia Today news report on the opposition activist's release stressed that he had just been convicted on embezzlement charges and featured an interview with an analyst who claimed that "for many in the West, the Navalny trial is just a pretext for criticizing Russia."
Mr. Navalny's longtime press secretary, Anna Veduta, also shared an image of his co-defendant, Pyotr Ofitserov, with his wife.
А также отдельное огромное счастье видеть вместе вот этих двоих http://t.co/PAilVi1w03
The activist's many fans online also gleefully shared video and photographs of him emerging from the court to be greeted by a scrum of reporters, including Nataliya Vasilyeva of The Associated Press, and a supporter with a plate of blini.
Alexei Navalny released (for now) from detention, greeted by crowd & pancakes. Puzzling day in Russian politics. http://t.co/gsbSa7k43U
@niktwick @navalny Navalny, who was convicted by man called Blinov, was offered to eat blinis.
Navalny outside the court: I'm standing here, and there are no bars on the sky _ that's all because of you.
МОЙ МЭР НА СÐ'ОÐ'ОÐ"Е http://t.co/8gIXYIAneV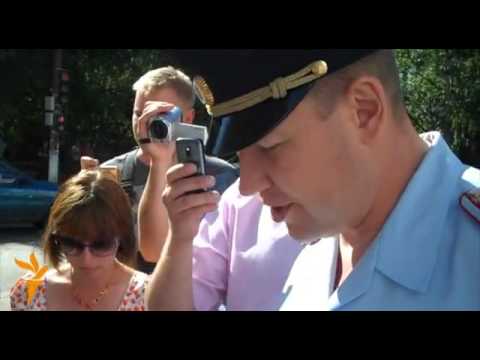 Meanwhile, as my colleague Ellen Barry noted, Judge Sergei Blinov, who sentenced Mr. Navalny to five years in prison on Thursday, was also spotted slipping out of the court, with less fanfare.
judge in @navalny case sheds his robes, heads home. note the cigarette RT @akselenc: Судья Ð'линов покидает суд. http://t.co/Fvqvj5f7dc
As soon as Mr. Navalny regained control of his phone, which he had handed to his wife as he was led to jail on Thursday, he thanked his supporters for pressing for his release and returned to jabbing at Mr. Putin's government with the winning mix of righteous anger and comic jesting that has made him such a popular focal point for the opposition.
Привет. Это снова я. Спасибо вам всем большое за то, что заставили выпустить меня и Петю.
As the BBC correspondent Daniel Sandford explained, Mr. Navalny then called on his hundreds of thousands of Twitter followers to join him in using the weeks ahead, before his appeal is heard, "to whack some more crooks." (It was Mr. Navalny who started the damning Internet meme that Mr. Putin's United Russia Party should instead by called the Party of Crooks and Thieves.)
Alexei @navalny showing usual humour.. "it may only be temporary but lets use the time to whack some more crooks" i.e expose more corruption
His tweet was illustrated by an image of Mr. Navalny pointing out from the "aquarium" he was confined in during the court hearing, joking that even from there he could spot corrupt officials.
Ð"аже если это временно, давайте используем время, чтобы потрепать жуликов. Мы их и из судебного 'аквариума' видим http://t.co/ppCBLmDEEe
Immediately after his release on Friday, Mr. Navalny told journalists in the courtroom that his campaign to be elected Moscow's mayor "will continue because it is about our communication with the voters, not with commissions,." But, he added, "As to what form it will take â€" in the form of a boycott or as the continuation of my election campaign â€" I will make that decision after I return to Moscow and meet with my campaign team."
Later, Mr. Navalny retweeted images of the enthusiastic young volunteers campaigning for him to be elected Moscow's mayor in September, an office he would be ineligible for should his conviction be upheld.
Пятница, вечер, в городе 20 кубов, в штабе @teamnavalny просто АÐ"ски кипит работа, куча волонтеров, шум и очень круто http://t.co/R8flT2ePcB
Люди пришли заявить куб на бульваре Ð"митрия Ð"онского вот http://t.co/jCEsrGr6d0
Ð"ичайшая команда Навального на м. Аэропорт УЖЕ раздала 2000 листовок и продолжает это доброе дело http://t.co/LjL38d27UN
Мокла под дождем ради @navalny #КомандаНавального http://t.co/3GHg6k1J9p