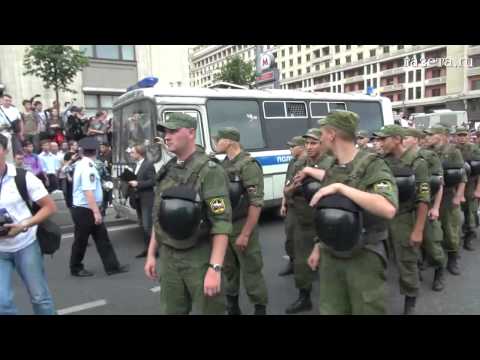 Last Updated, 9:49 p.m. Chants of "Russia without Putin!" could be heard in video streamed live from the streets of Moscow and St. Petersburg on Thursday, where supporters of the jailed opposition activist Aleksei Navalny, hemmed in by riot police officers, gathered after the anti-corruption blogger was sentenced to five years in prison.
Mr. Navalny, who was still posting evidence of official corruption on his popular blog on the eve of the verdict, told my colleague Ellen Barry in April that he fully expected to be convicted on charges of corruption filed against him by state prosecutors last year, after he emerged as a leader of street protests against President Vladimir Putin. He also expressed confidence, however, that the opposition movement would eventually succeed.
This is the one we'll be looking at for years. RT @gkates: #Navalny bids his wife farewell https://t.co/z4TWZ4e9lt
Although he has warned that "romantic ideas" about the power of the Internet to effect change are often "exaggerated," Mr. Navalny has used the Web to chip away at the positive image of Mr. Putin disseminated on state-controlled television. Even as his sentence was read out on Thursday in the city of Kirov, Mr. Navalny continued to send a stream of wry commentary, self-portraits and calls for fresh anti-Putin protests to hundreds of thousands of Twitter and Instagram followers from his phone.
Адвокат Ð"авыдова сообщает, что если приговор будет условным, то она 'метнÑ'тся за коньяком тревожным кабанчиком' http://t.co/GlIDuha3om
http://t.co/aRJwQDoNmr
As Glenn Kates explained in a post for Radio Free Europe/Radio Liberty, Mr. Navalny even found time to follow the discussion of his case on Twitter. He responded to another blogger who had captioned a frame grab of Mr. Navalny sending Twitter messages from court, "To put hipsters on trial is only to ruin the trial," by writing simply, "АХАХАХА," which is Russian for "AHAHAHA."
АХАХАХА "@Agonych: @navalny Хипстеров судить â€" только суд портить http://t.co/V3B7C5npgZ"
After he snapped an Instagram photograph of the judge in his case, Sergei Blinov, reading the verdict out, Mr. Navalny noted with approval that someone then Photoshopped the image to make it look like the official was taking part in a satanic ritual.


Похоже "@FakeNTV: http://t.co/z2vNYK7n0D"
At the end of the trial, Mr. Navalny signed off: "O.K. Don't miss me. And most importantly - do not be lazy." Referring to the Russian government, he added, "The toad will not remove itself from the oil pipeline."
Ладно. Ð'ы тут не скучайте без меня. А главное â€" не бездельничайте, жаба сама себя с нефтяной трубы не скинет.
Video of the complete court session posted online by a state news agency showed Mr. Navalny typing on his phone for a final time less than three minutes before he was handcuffed and led away.
As The Lede reported earlier this week, Mr. Navalny spent much of his time in the run-up to the verdict starting a campaign to get himself elected as the mayor of Moscow. A YouTube clip of the activist and his supporters marching to an election office to make his candidacy official last week offers a sense of the infectious optimism and enthusiasm that might have unsettled his enemies in the Kremlin.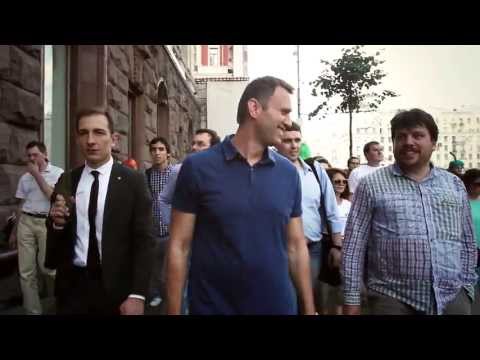 Journalists and bloggers in the Russian capital on Thursday, including Ilya Mouzykantskii, a contributor to The Lede, uploaded images and video of a tense standoff there between protesters and the police on Tverskaya Street, outside the Russian Parliament. As a video report posted on the Russian news site Lenta.ru showed, those streets were lined with protesters because the security forces had blocked access to the nearby square where the planned rally was to have taken place.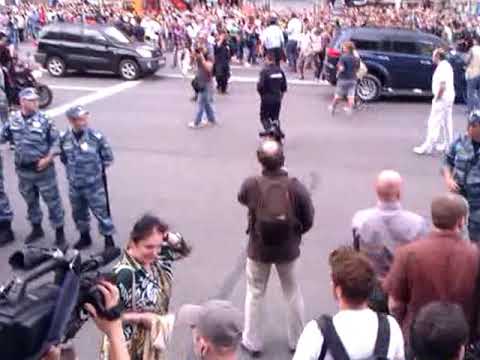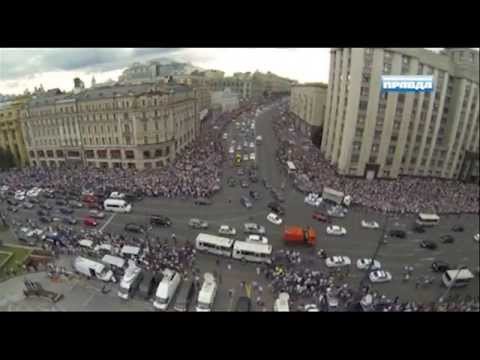 Moscow's main street closed down by protesters #Navalny #tverskaya http://t.co/aWfa9rXizb
People penned between army and wall. Police motorbiking down people on road http://t.co/wqNh1nvoMR
Riot Police to protesters: "Please listen â€" there's lots of you and few of us" #exactly
The irony is, riot police are pushing crowds out towards Revolution Square. #Navalny
Putin. Get out. Complete coward. http://t.co/I094dvPzlD
At the kremlin gates http://t.co/gVQcKmOdpZ
Riot police kettling off small groups of protesters and dispersing them â€" but thousands still here
And this is what the crowd looks like behind me http://t.co/qpVhEXraDI
Mr. Navalny's longtime press secretary, Anna Veduta, who was in tears at the end of his trial, later posted a screenshot on Twitter of the crowds jamming the streets outside the Duma.
Я просто оставлю это здесь. А вы утром проснетесь, посмотрите и поймете â€" ради чего всÑ'. http://t.co/ai7i8vmISV
Images collected from Twitter and Instagram by the news site Lenta.ru for a live blog on the protests offered ground-level views of the same scene.
ОЧЕНЬ много людей по тротуарам у думы и националя http://t.co/Egb7JkLlw5
Ð'се заняли! http://t.co/5YhgToB0xF
Lenta's live-bloggers also pointed to similar images of the protesters in St. Petersburg, rallying on a pedestrian street lined with police officers to chant "Freedom!"
Люди подняли газеты и скандирует вся Малая Садовая â€" говорит слово Свободу! Полиция начала простить расходиться http://t.co/MGlMzL7Ds0

- Ð'адим Суходольский (@sukhodolsky) 18 Jul 13
ОМОН становится между рядами â€" видимо скоро будут толпу рассекать http://t.co/NAPn4BB6bw

- Ð'адим Суходольский (@sukhodolsky) 18 Jul 13
Reporting from Russia for Britain's Channel 4 News, Jonathan Rugman produced a video report that included footage of protests outside the court in Kirov and arrests by the riot police in Moscow, as well as a useful highlight reel of Mr. Navalny's career to date.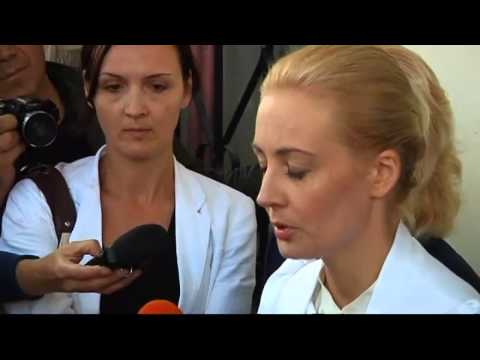 As the Russian blogger Ilya Varlamov reported on Twitter and his own live blog, protesters remained on the street late Thursday.
http://t.co/xxRobiBX3y
Roman Volobuev, a filmmaker who was detained at the protest in Moscow, uploaded an image of the view from inside the police paddy wagon.
Луи Ð'юитон! http://t.co/NAJjBDl2SF
Other images of the detained filled social networks late Thursday.
Ð'от вам командный лук из автозака. Люди поют и скандируют " свободу @navalny " #манежка подъезжаем к овд Арбат http://t.co/UZnynfZmwk
Video and still images posted on Instagram by Mitya Aleshkovskiy, a photographer, showed that the protesters, chanting for Mr. Navalny remained on the nearby streets late into the night, as did Mr. Varlamov, with his distinctive pile of curly hair.
Late in the evening, a new update appeared on Mr. Navalny's Twitter feed, reading: "Thanks to all! It is a crazy feeling when you understand that you don't stand alone!"
Спасибо вам всем! Это сумасшедшее чувство, когда понимаешь, что ты не одна!
A Tweet from Navalny's acct: "Thanks to all! It is a crazy feeling when you understand that you don't stand alone!" https://t.co/5rR8RGpgxQ