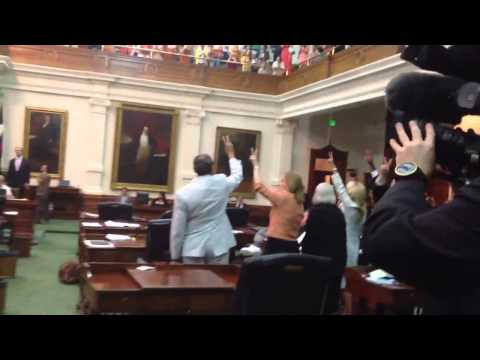 On Tuesday, the hashtag "#standwithwendy" started popping up on Twitter. By midnight, it was trending across the country, shared on more than 400,000 posts as State Senator Wendy Davis helped block a bill in the Texas Legislature that would have become one of the nation's most restrictive laws on abortion.
For more than 10 hours, Ms. Davis, 50, who began her college education as a sing le mother at age 19 and ended up graduating from Harvard Law School, led a Senate filibuster against the legislation, slowly gathering attention online throughout the day as tens of thousands of people on Twitter, Tumblr and Facebook began discussing the bill and her efforts to prevent a vote on it before midnight.
Still standing. 11:44 #WendyDavis http://t.co/fLwwkoER15
When Republican lawmakers tried to proceed with a vote just before the clock struck midnight, as my colleagues, Manny Fernandez and Erik Eckholm report, cheers and chants of "Wendy" erupted both online and from the gallery, packed with sup porters of women's rights and abortion rights.
Watching live video of the events unfold were more than 170,000 people, viewing the proceedings on YouTube and The Texas Tribune's Web site. On Twitter, officials said that posts with the hashtag "standwithwendy" were shared 4,900 times per minute.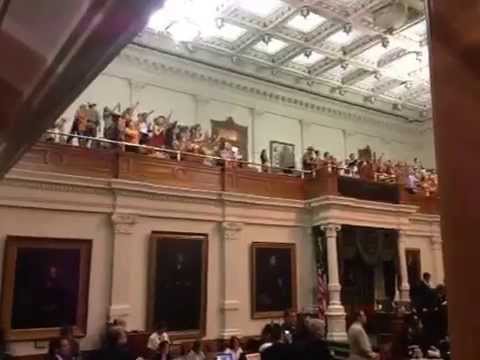 In a 2010 Texas Tribune profile, published in The New York Times, Ms. Davis was quoted as saying: "People are hungry for leadership that's not afraid of political consequence."
Her filibuster on the legislation restricting abortion rights was not the first time she used that tactic to block a bill. The profile was published shortly after she first gained statewide attention for her Senate filibuster in Emily Ramshaw of the Tribune said "torpedoed the 82nd legislative session by refusing to settle for a school finance plan that would leave public schools $4 billion short."
Ms. Ramshaw, in The Texas Tribune, wrote:
Ms. Davis's Senate filibuster last Sunday night - which prompted Gov. Rick Perry to send exhausted lawmakers, poised to adjourn Monday after a grueling budget battle, back into an immediate special session - has quickly become legend.

And it has catapulted this petite, eloquent and seemingly fearless politician into the spotlight, which she has seized to mobilize the state's downtrodden and outnumbered Democrats and to take jabs at Mr. Perry's potential presidential aspirations.

"I'm seeing hope being expressed by people who really felt it was useless, and that their voices didn't matter," said Ms. Davis, who would not rule out the possibility of her own run for governor run in the future.

The filibuster was a defining moment for Ms. Davis, a twice-divorced single mother who had her first daughter as a teenager, was the first in her family to go to college, and who worked her way from junior college and a Tarrant County trailer park to Harvard Law School and the Fort Worth City Council. But what effect, if any, the moment will have on school financing or Ms. Davis's political future remains unclear.
In a video uploaded in 2011 by Generation Texas, an organization promoting higher education, Ms. Davis talks about how she decided to go to school while a single mom and then to apply to Harvard Law School because she decided she wanted to be a lawyer, not a legal assistant.
The year before, in 2010, she addressed fellow Texas Democrats.
Throughout the day on Tuesday, people online talked about Ms. Davis standing firm at the podium for women's rights, una ble to take a bathroom break or even lean on the lectern in keeping with the filibuster rules.
The Tribune also uploaded a video showing aides to Ms. Davis helping her put on a back brace so that she could continue standing during her filibuster. She was not allowed to eat, lean or take a bathroom break.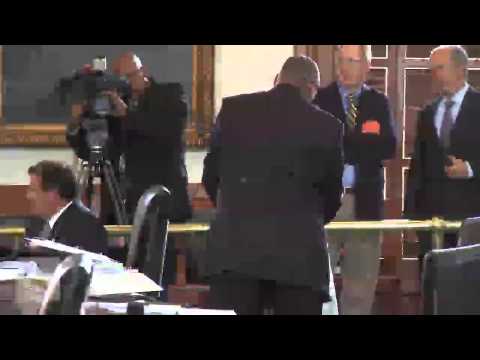 Joel Burns, a City Council member from Fort Worth, started a new hashtag, #sitwithwendy, in the early morning hours of Wednesday.
#sitwithwendy (Pic) @WendyDavisTexas sits down for 1st time in 15 hours. Talks to daughters, hydrates. So proud. http ://t.co/E1MidsvEkZ
On her Twitter account, @WendyDavisTexas, Ms. Davis began the day with about 8,000 followers. By Wednesday morning, she had more than 74,000 followers. She used it to thank her supporters early Wednesday after officials ruled that a vote by Republicans passing the bill failed because of procedural rules.
Thanks to the powerful voices of thousands of Texans, #SB5 is dead. An incredible victory for Texas women and those who love them.
But as my colleagues noted, the Democratic victory is likely to be short-lived. Gov. Rick Perry and Republican lawmakers have made the bill a priority, and Mr. Perry may call a special legislative session so that the measure could be considered again. Advocates say the bill would improve women's health care by making abortion safer. Opponents say the legislation restricting abortion after 20 years and imposing new regulations on abortion clinics would give Texas among the most restrictive abortion laws in the country.
As Ms. Davis left the Capitol early Wednesday, David Edmonson posted this photo on Twitter.
Senate Democrats (and @WendyDavisTexas) addresses supporters at the Capitol #sb5 #txlege http://t.co/902YTikCEC
Evan Smith, editor in chief and chief executive officer of The Texas Tribune, a nonprofit, nonpartisan digital news organization based in Austin, offered on Twitter an historical perspective about the events that unfolded Tuesday night and early Monday:
Have seen nothing like this in #txlege in 22 years. Not even close. Waiting for someone to yell "Attica."
Robert Mackey contributed reporting from New York.