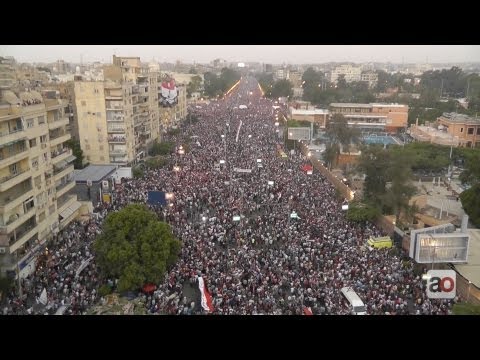 As our colleagues David Kirkpatrick, Kareem Fahim and Ben Hubbard report from Cairo, hundreds of thousands of Egyptians packed the streets of cities across the country on Sunday to demand the resignation of President Mohamed Morsi, exactly one year after his inauguration as the country's first democratically elected leader. The Islamist president's supporters held a rival rally in Nasr City, a neighborhood in the capital.
Video reports posted on YouTube by Ahram Online, an Eglish-language offshoot of a state-owned Cairo newspaper, showed protesters outside the presidential palace in Cairo chanting "Leave!" as members of Mr. Morsi's Muslim Brotherhood rallied in support of what they called his legitimacy as an elected president.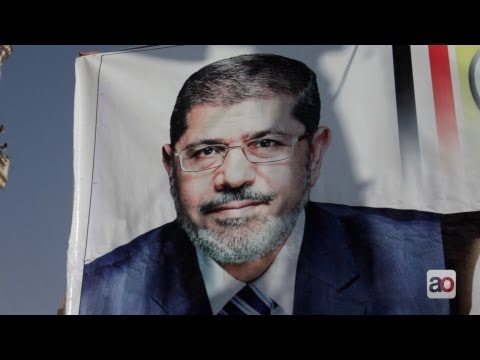 Participants in the rallies, as well as Egyptian journalists and foreign correspondents who witnessed the protests, uploaded images, video and text accounts of the massive crowds throughout the day and into the night. Once again, views of tens of thousands of protesters streaming into a packed Tahrir Square and swarming around the palace, known locally as the Itihadiya, were emblematic of the popular dissent.
I've been walking for 20 minutes away from #Tahrir. The flood of people doesn't end. #June30
Tens of thousands amidst honking cars and the screams: IR7AL! http://t.co/WVYh9cvZfY
Abassiya march heading to itihadiya #june30 http://t.co/yii1SA3xFC
STUNNING: View of #Tahrir from Cairo Tower.
#Jun30 #Egypt

Credit: Ahmed Harfoush http://t.co/3Fm7hgGid7
Bird's eye view of Pro #Morsi support sit-in at Nasr city Cairo during Dhur prayer
#June30 #Egypt @liamstack http://t.co/LIUHnOKrhz
الميدان مليان المسيرات مش عارفة تدخل http://t.co/Qruvm54c9P
Here's a photo of #itihadeya now… unbelievable. #June30 #Egypt http://t.co/pTU3deO170
Graffiti on military building: "supreme guide + military = shame & treason." Pro military people erasing "mlitary" http://t.co/CtWViTMUwU
Photo: The anti-Morsi demonstrations are THE biggest I've ever seen in #Egypt. #30June http://t.co/BTA0N18RVq
Took this picture overlooking Tahrir Square just now! http://t.co/CDR6bkYM92
More people arrive at palace as sun sets, as big a crowd here as I've seen. Lots of families. http://t.co/r5FvM9S6js
â€" Kareem Fahim (@kfahim) 30 Jun 13
At palace and Tahrir, anti-Morsi crowds are massive, possibly biggest ever. Question is, can Morsi simply ignore it? http://t.co/UoTSu3Xndg
Thousands of people in area surrounding presidential palace, minimal 3G and cell coverage #egypt #jun30 http://t.co/vzzeFjxZsa
#Tahreer : no need for comments. #Cairo http://t.co/NWhcWmufhl
Bloggers who helped to document the initial phase of the revolution online reported on Sunday that sentiment against the Islamist president and the Muslim Brotherhood was now so strong it had swept up even formerly apolitical family members and the upscale part of the capital around the palace.
My relative never protested or voted or cared, or even took part in protecting his building during jan28 as all did. Saw him in #Tahrir now!

â€" Bassem Sabry باسم (@Bassem_Sabry) 30 Jun 13
Call with mom, and all of a sudden she shouts: "Leave, leave". A march passing by her house and she started chanting.
#Egypt #Morsi
The protests took place amidst an atmosphere of deep mistrust and tension between Mr. Morsi's supporters and opponents â€" last week even the nation's top Islamic cleric warned of "civil war" between the two sides. Early in the day, protesters shared images of anti-Morsi activists protecting the headquarters of the Muslim Brotherhood's political party./p>
Abassiya march passing FJP headquarters now , cordone of MB outside chanting silmiya silmiya! (Peaceful!) #awkward http://t.co/hmFMJSZnwL
Anti-Morsi protesters protecting FJP office in Cairo. @gelhaddad @Ikhwanweb @FjpartyOrg @FJparty bet u won't RT this. http://t.co/nA6O0ezw7g
While the rival rallies remained peaceful throughout most of the day, tensions rose as night fell and local media began reporting clashes in cities outside of Cairo, including! attacks ! on Brotherhood offices. In the days leading up to Sunday's protests both sides said they feared violence, but would also not shrink from defending themselves in the face of any attack, amid uncertainty about the loyalties of the nation's police force.
A BBC correspondent, Jeremy Bowen, and Sherine Tadros of Al Jazeera, posted images on Twitter of Morsi supporters wearing martial arts gear and brandishing crude weapons.
#Morsi supporters in martial arts gear protecting their demo. #cairo http://t.co/mipDAI0L1z
Lots of sticks and batons being waved around at pro #morsi rally. They say it's to protect the Pres palace later http://t.co/cvkiNMK6S1
Sharif Abdel Koddous, a freelance journalist based in Cairo, captured a similar scene in video showing Brotherhood supporters in improvised armor, brandishing sticks.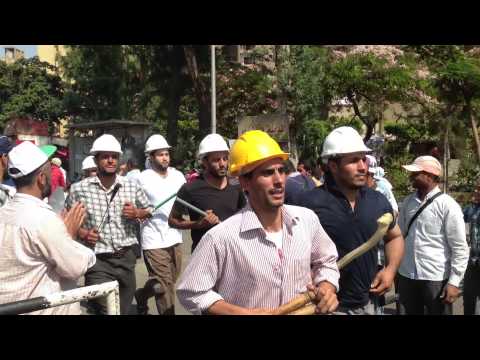 The Brotherhood's preparations were not just for show. Video posted online by Al-Shorouk, an independent ! Egyptian ! newspaper, appeared to show violent clashes at a the Muslim Brotherhood office in the rural province of Gharbiya, in the Nile Delta.
In the clip, several men standing on the roof of the local Brotherhood headquarters could be seen firing guns at stone-throwing protesters. As shots rang out, men on the ground could be heard saying, over and over again, "What a dark day! What a dark day!"
Several correspondents, including our colleague David Kirkpatrick, remarked late Sunday that the police had seemed to withdrawfrom the streets and let events unfold.
In Egypt I just saw the first police if the day- doing nothing 300 yards from an attack on Brotherhood HQ
I saw no police today. Not at #Tahrir, nor at the presidential palace. Did however hear helicopters fly over, people start cheering. #Egypt
Just got home to Maadi and saw my first uniformed police officer in 6+ hours. Wh! ere the h! ell are they all hiding today?? #june30
Sunday's protests were not the first sign of official anxiety about the police force and it's true loyalties.
Egypt's police force spent decades rounding up and torturing the very Islamist groups who now run the country, and despite widespread anger over police brutality â€" one of the original sparks of the Egyptian revolution â€" Mr. Morsi has not undertaken security sector reform. This past winter, thousands of police staged a nation-wide strike, forcing the military onto the streets in cities along the Suez Canal.
Another video clip from Al-Shorouk appeared to show members of different police force branches participating in anti-Morsi protests. It was not clear where the imags were filmed, and at least one of the men shown in the video, who smiled and cheered for protesters while waving a small Egyptian flag, claimed that he was not against the government. "I'm not against the regime," he said. "I came because everyone is free," to express their opinions, he said.
According to Priyanka Motaparthy, a researcher for Human Rights Watch, and Sherief Gaber, an activist blogger, police off! icers eve! n took part in the demonstrations in Alexandria.
Police and protesters posing together atop jeep chanting "the police and the people are one hand" #alexandria #june30 #Egypt
Police chanting for the martyrs. Whom they killed. Sigh
As night fell on Sunday, an attack on the Muslim Brotherhood's national headquarters in Cairo hinted at the depths of Mr. Morsi's alienation when one of his official spokesmen accused Egypt's polie force of participating in attempts to set it ablaze.
Writing on Twitter, the spokesman, Gehad El-Haddad, accused the police force of participating in the attack in the office, located in the upscale Muqattam neighborhood, alongside "thugs."
#MB HQ office in #Moqatam under attack by 150+ unrecognisable thugs w/ Molotov cocktail, Cartouche & stones. http://t.co/9Dy22iklpw
Police onsite joinging thugs in attack on #MB HQ in #Moqatam #Egypt
A te! levision ! station linked to the Brotherhood, Misr 25, reported that "hundreds" of assailants were involved in the assault, although video shared by Mr. Haddad that claimed to show the attack depicted a far smaller number of people throwing rocks and Molotov cocktails at the building.
A second video Mr. Haddad drew attention to, which appeared to be taken earlier in the day, shows young men outside the Brotherhood office breaking stones and hurling them at the building.
Kristen Chick, Cairo correspondent for The Christian Science Monitor, reported from the scene of the attack on the Brotherhood headquarters that no police were visible early in the evening.
What sounds like shots at MB HQ. Another Molotov in a window http://t.co/4H68CdHmf2
!

No police visible at MB HQ in cAiro as people attack it
Our colleague Kareem Fahim reported on Twitter later that the security forces did eventually appear at the Brotherhood headquarters, but departed half an hour later without intervening.
Molotovs and birdshot at the Brotherhood headquarters. No police, calls for def minister to get involved. http://t.co/sprkpIA7EX
Heavily armoured vehicle - someone said special forces? - arrives at Brotherhood hq and tells protesters to get back.
â€" Kareem Fahim (@kfahim) 30 Jun 13
Protesters tell men in armoured car to bring whoever is in Brotherhood building out in cuffs. http://t.co/xCI9KB28vD
Second armoured car arrives at Brotherhood hq, shooting continues, heavy smoke. Not sure what the cars intend to do.
Kids heckling the security guys now, to go get the Brotherhood men. Not sure that's why they're here.
The armoured cars at the Brotherhood headquarters apparently left, without intervening. Still shooting.