The sky was a clear blue above the Dayton International Airport in Ohio on Saturday, and Jane Wicker, a veteran aerial daredevil, or wing walker, was where she loved to be: hanging from the wing of a vintage biplane performing stunts at an annual air show.
Suddenly, Ms. Wicker's plane jerked earthward and hit the ground in a fiery ball. Ms. Wicker and her pilot, Charlie Schwenker, were killed.
No one else was hurt or killed in the crash, which occurred at the Vectren Dayton Airshow at about 1 p.m., a statement on the show's Web site said. No cause was given, but the statement said the Federal Aviation Authority was on the scene investigaing.
Both Ms. Wicker and Mr. Schwenker began performing aerial acrobatics over two decades ago. Ms. Wicker began her career as a wing walker in 1990 after answering a classified advertisement placed in The Washington Post by the Flying Circus Airshow in Bealeton, Va., according to a biography on her Web site.
During her typical act, Ms. Wicker would leave the cockpit in mid-flight and walk along the wings, hanging on without the aid of a safety strap or tether as the plane dove and rolled.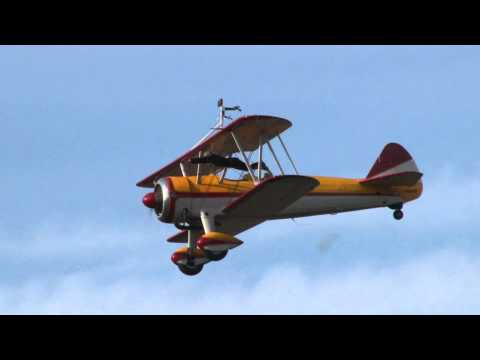 "I've always been the kind of person that gets bored easy,! " Ms. Wicker said in an interview with a local television station on Friday. "I'm never nervous or scared because I know if I do everything as I usually do, everything's going to be just fine."
In video taken during the performance on Saturday, Ms. Wicker is shown hanging upside down from the plane's lower wing and then moving into a seated position as the plane rolls over. In an instant, though, the plane appears to turn sharply downward before hitting a grassy field as bystanders scream.
A statement on Ms. Wicker's page on Facebook said she and Mr. Schwenker had been "tragically killed," but provided few other details.
"We ask for your prayers for the families and privacy of all involved and allow them time to grieve and work through these events," te statement said.