Live video of clashes in Kiev's Independence Square from the Ukrainian website Espreso.tv.
As my colleagues Andrew Higgins and Andrew Kramer report from Kiev, a violent standoff between protesters and the riot police continued on Wednesday in the center of the Ukrainian capital.
With opposition television channels forced off the air, hundreds of thousands of viewers again turned to YouTube for live video from the besieged protest camp in Kiev streamed by the local broadcaster Espreso.tv and Radio Svoboda, part of the American-financed Radio Free Europe network.
A BBC News video report showed the smoldering ruins of part of the protest camp in Kiev's Independence Square on Wednesday afternoon, after the authorities managed to regain control of some but not all of the area that has been occupied for months by antigovernment demonstrators.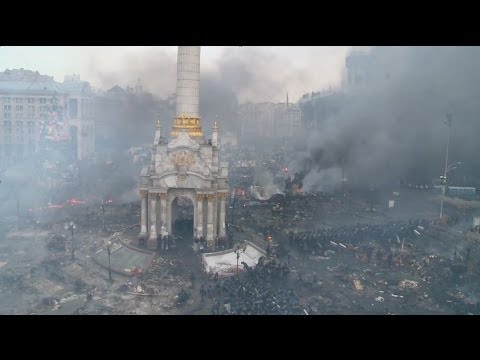 A BBC News video report from Kiev on Wednesday afternoon.
Ruptly, a Russian state-owned news agency, posted aerial video of the bonfires around the edge of the protest camp shot from a drone above Kiev.
Video shot from a drone above Kiev on Wednesday, posted onlien by Ruptly, a Russian state-owned news agency.
Meanwhile, activists, bloggers and journalists continued to post updates on the mayhem in the capital and share video clips documenting violence in other parts of the country.
One of the most widely-shared clips was graphic video of violence in the city of Khmelnytsky, where a woman collapsed in a pool of blood following a burst of gunfire as protesters attacked a local office of the S.B.U., the Ukraine state security service.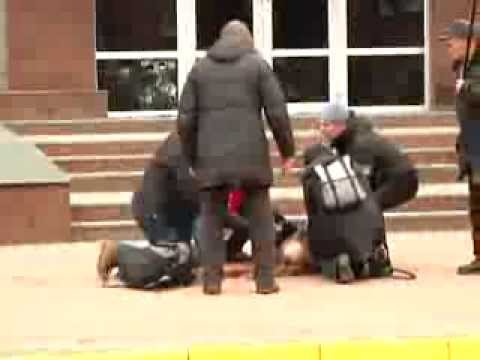 Graphic video of a woman in a pool of blood after shots were fired on Wednesday in the Ukrainian city of Khmelnytsky.
A report on the shooting from the regional channel TV7+ used some of the same footage and showed more of the protests in Khmelnytsky.
Christopher Miller, an editor at the English-language Kyiv Post, pointed to what seemed to be more video of the same scene streamed from the phone of a witness. That video, which was frozen during the shooting, showed the desperate race to save the woman as she lay bleeding on the pavement outside the building.
The BBC also broadcast video of soldiers surrendering to protesters outside a burning barracks in the western city of Lviv.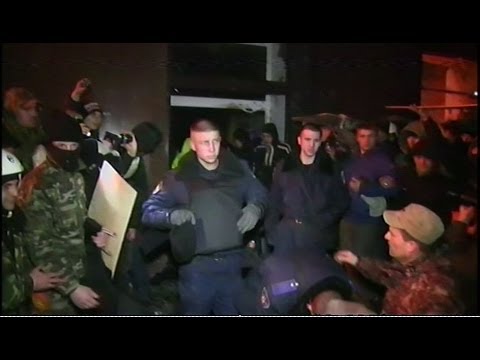 Video of Ukrainian soldiers surrendering to protesters in Lviv.
Ukraine's Channel 5 posted video of what the local government in Odessa described as a clash among citizens on Wednesday, as a phalanx of pro-government activists â€" armed with baseball bats, wearing helmets and "Stop Maidan" stickers, in reference to the pro-Europe protest movement known as Euro Maidan â€" attacked protesters and journalists.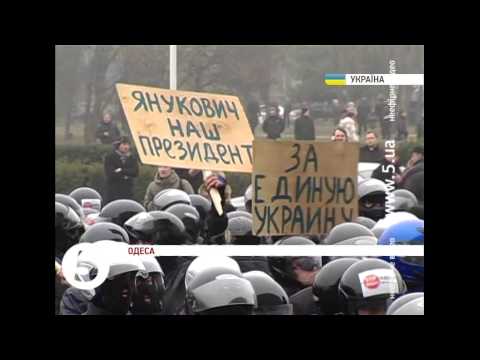 Video of protesgters in Odessa being attacked by government supporters armed with baseball bats.