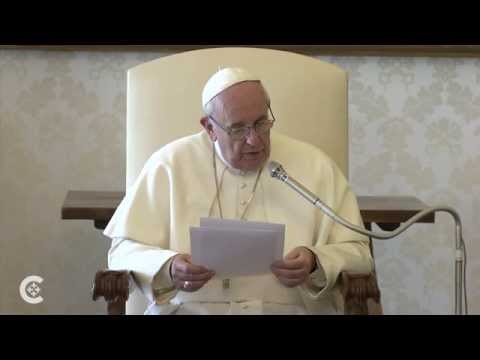 Catholic News Service posted this video of the Pope's remarks on April 11.
Pope Francis said in remarks broadcast on Friday that he was "personally" asking for forgiveness for the damage that priests have done in the sexual abuse of children.
The Pope's full statement â€" made as he met with members of the International Catholic Child Bureau, a non-governmental organization â€" was transcribed by Vatican Radio.
An excerpt where he addresses the sexual abuse issue, apparently departing from his prepared speech:
I feel compelled to personally take on all the evil which some priests, quite a few in number, obviously not compared to the number of all the priests, to personally ask for forgiveness for the damage they have done for having sexually abused children. The Church is aware of this damage, it is personal, moral damage carried out by men of the Church, and we will not take one step backward with regards to how we will deal with this problem, and the sanctions that must be imposed. On the contrary, we have to be even stronger. Because you cannot interfere with children…

The remarks came just a few weeks after the Pope made his first appointments to a special commission intended to signal the Vatican's new resolve in tackling the clerical sexual abuse problem.
The statement on Friday drew swift reaction on social media forums, where many said the Church needed actions more than words to end the problem of priest abusing children.
Colm O'Gorman, the executive director of Amnesty International in Ireland and the founder of One in Four, an organization that supports victims of sexual abuse, shared his thoughts on his Twitter account.
#Pope Francis needs to address the cover up and facilitation of abuse by priests, not the acts of abuse themselves. That is the real crime.
Apology for individual acts of abuse perpetrated by priests, which ignores cover up by Catholic Church is useless. Disappointing #Vatican
@DavidMical @Pontifex has restated earlier 'apologies', but fails to acknowledge Vatican role @childrensociety @savechildrenuk @The_Tablet
@DavidMical Vatican isn't responsible for acts of individual priests, but of cover up @Pontifex @childrensociety @savechildrenuk @The_Tablet
The Survivors Network of those Abused by Priests, a group founded in the United States that has now become international, said in a statement on its website attributed to its outreach director, Barbara Dorris:
We beg the world's Catholics: be impressed by deeds, not words. Until the Pope takes decisive action that protects kids be skeptical and vigilant.

This may be the first time a Pope has talked of sanctions against complicit bishops. But that is all it is: talk. (and if this ever happens, many, many tangible steps to safeguard children in the church must be taken)

On church governess, church finances, and simple living, he acts. On the rape of children he talks.
It's wrong for pope to ask forgiveness, SNAP says http://t.co/1Z9pQTNqH3
The Center for Constitutional Rights issued a statement emphasizing that three steps needed to be taken against abusers.
@BBCBreaking Time for #ActionNotWords. Here are 3 concrete actions #Pope #Francis must take If he's serious http://t.co/42uXINIn2Y
Remove all priests known to have raped children or others, and require reporting to secular authorities. Today, throughout the world, priests who are known to church officials continue to hold posts in congregations, schools, orphanages, and elsewhere, unbeknownst to local communities. The church has shown over and over that it cannot police itself. These matters must be turned over to the proper authorities, and it is well within the scope of Pope Francis's power to make sure this happens.

Punish church officials who have covered up cases of rape and sexual violence by clergy, failed to report them, and obstructed investigations by law enforcement. Pope Francis's promised "sanctions" must address the systemic impunity that helped to create the culture of rape and sexual violence that exists today within the church.

Encourage and protect church whistleblowers who have come forward with information about the crisis of sexual violence. So far church officials have intimidated and retaliated against whistleblowers. Pope Francis can and must work with whistleblowers to get to the root of the problem.
The Pope also made remarks about other forms of violence against children, urging the implementation of "projects against slave labor, against the recruitment of child soldiers and all forms of violence against children."