notabugsplat.com
While a series of deadly bombings in Pakistan this week threatens to undermine peace talks between the government and the Taliban, a group of rights activists and artists have launched a campaign to draw attention to the human cost of another sort of violence â€" American drone strikes aimed at militants, which have reportedly killed hundreds of civilians in recent years.
The centerpiece of the "Not a Bug Splat" campaign is a photograph of a child reportedly orphaned in one attack, which was made into an enormous poster and installed in a field in Pakistan to stare up at the pilots who operate the unmanned aerial vehicles by remote control. The project â€" which is the work of Pakistanis, Americans and the French street artist JR â€" takes its name from a piece of military software that generates computer models of the destruction a bombing raid might cause. When projected onto overhead images, those models are said to look something like the remains of a squashed insect on a windscreen.
The art project is described as an attempt to counter the dehumanizing implications of that metaphor. "Humans appear as disposable bugs when viewed through a traditional drone camera," the group writes next to an overhead image on its website. "We changed this. Now, a drone will see an actual face of a child, creating dialogue and, possibly, empathy."
One of the activists, Akash Goel, told The Lede in an interview that the poster was made from a photograph first published by Wired in 2010, of a young girl whose parents and brother were killed in a drone strike near the Afghan border on Aug. 21, 2009. The photograph was taken in the North Waziristan village of Dande Darpa Khel by a photographer from the region, Noor Behram, who works to document the impact of drone strikes by photographing children orphaned or killed in the attacks. (His images have been distributed by the British legal charity Reprieve.)
The missiles used in that 2009 strike killed 12 people, including women and children, when they struck a compound near an Islamic school set up by Jalaluddin Haqqani, an Afghan fighter and senior Taliban member, Pakistani officials told my colleagues Pir Zubair Shah and Lydia Polgreen at the time.
Another spokesman for the collective, Saks Afridi â€" a Pakistani-American creative director in New York â€" said that the project was part of the artist JR's "Inside Out Project," a series of large-scale photographs installed in public settings around the globe, supported by a $1 million grant from the TED foundation, awarded in 2011.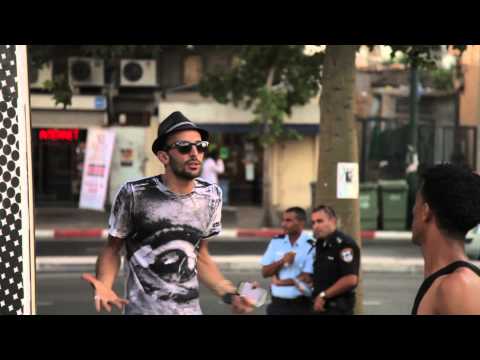 The trailer for a documentary about the French street artist's participatory art project, "Inside Out."
Although the poster was installed in Pakistan's Khyber-Pakhtunkhwa Province by Pakistani artists, Dr. Goel â€" an Indian-American physician in New York who has worked for the Clinton Foundation â€" said that the group wants to draw attention to what it sees as a global problem, the dehumanizing effect of the U.S. war by remote control, rather than a regional one. Asked what message the group hoped to send to the drone pilots, Dr. Goel said, simply, "This isn't a video game."
He also said that data compiled by the New America Foundation and the Bureau of Investigative Journalism suggests that only about two percent of those killed by the C.I.A. in Pakistan were high-profile militants targeted in the attacks. Noting that estimates of the total number of deaths vary from about 1,500 to more than 3,500, Dr. Goel added: "It is morally reprehensible that we don't even know who they are how many there are."
Images posted on Instagram by Insiya Syed, a Pakistani photojournalist, showed her traveling with some of the "creative masters" behind the project, and curious onlookers watching the installation near the town of Swabi in Khyber-Pakhtunkhwa on March 28.
As a challenge to the dehumanizing effect of aerial bombardment, the project also evokes a famous scene from the 1949 film "The Third Man," in which a war profiteer is asked, "Have you ever seen any of your victims?" Looking down at the world from the heights of the Wiener Riesenrad, the character played by Orson Wells says: "Look down there. Would you really feel any pity if one of those dots stopped moving forever? If I offered you 20,000 pounds for every dot that stopped, would you really, old man, tell me to keep my money, or would you calculate how many dots you could afford to spare?"
The dramatic campaign met with enthusiastic support in many parts of the world, and was praised in Pakistan by the former cricket star Imran Khan and supporters of his Pakistan Tehreek-e-Insaf party, which has advocated talks with the Taliban and suggested that drone strikes are to blame for Islamist militancy in the region.
PTI's sustained campaign against drone attacks gets increasing global support from UN to int artists. Latest is campaign #NotABugSplat.
Poster placed on the ground to STARE BACK AT DRONE Operators - This child is NO LONGER A BUG SPLAT #NotABugSplat http://t.co/OXYSJy2ZIa
Critics of Mr. Khan's party, including Pakistanis who complain of what they call a policy of appeasement of Islamist militants by the government, called the project's focus on foreign drones a distraction from the larger problem of domestic terrorism. In messages posted on social networks using the #NotABugSplat tag, the skeptics pointed out that while no drone attacks have taken place for more than 100 days, as the government pursues peace talks â€" and no civilian casualties have been reported in more than a year â€" the mass killing of civilians and targeted attacks on politicians and journalists who criticize the Tehreek-e-Taliban Pakistan, or T.T.P., has continued unabated.
2014: No US drone strike for 100 days in #Pakistan. 551 civilians & 183 security ppl die due to terrorism in same 100 days #NotABugSplat
Obama pursued a horrific drone campaign that killed 1500 Pakistanis, the TTP launched a horrific campaign that killed 25,000.
#NotABugSplat: Protesting drone attacks that aren't happening, fueling excuses for terrorist attacks that are.
Hundreds of Shia citizens, #KilledByCrazies #NotABugSplat
Hundreds of Ahmadi citizens of Pakistan #KilledByCrazies #NotABugSplat
@salmantaseer #NotABugSplat #KilledByCrazies
Mustafa, @Razarumi's dead driver #NotABugSplat #KilledByTerrorists
Malala shot in the head. By the Taliban. #NotABugSplat
So, for those who may be missing my point, those killed by crazy terrorists are also #NotABugSplat any more than innocents killed by drones
The spokesmen for the project stressed that it had been in the works for a year, and so was not tied to the current lull in strikes. They also noted that the C.I.A. drone war appears to have been paused rather than halted for good in Pakistan. Indeed, as my colleague Mark Mazzetti reported earlier this week, "American officials said that the drone program there could continue for years."
In a follow-up email, Dr. Goel explicitly denied that the campaign had any partisan political aims. "This project is by no means anti-American, anti-U.S. foreign policy, or even anti-drone," he wrote. "Our project is specifically a peaceful way for us to humanize the issue. We wanted to bring an awareness and sensitivity to the civilian casualties and collateral damage of the bombings. We have absolutely no political affiliation or political agenda other than promoting peace in the region."
Pakistani critics of the project also pointed out that it is not accurate to say that "drone attacks regularly occur" in the region where the poster was installed. When a senior member of the Haqqani network was killed in a strike in the province last November, Agence France-Presse reported that it was "the first time a U.S. drone hit a district inside Khyber-Pakhtunkhwa."
Another aspect of the campaign that is open to question is the assertion, in the project description, that "Predator drone operators often refer to kills as 'bug splats,' since viewing the body through a grainy video image gives the sense of an insect being crushed." Asked for a source for that information, Dr. Goel cited a Rolling Stone report on drone warfare published in 2012. In that article, Michael Hastings wrote:
For a new generation of young guns, the experience of piloting a drone is not unlike the video games they grew up on. Unlike traditional pilots, who physically fly their payloads to a target, drone operators kill at the touch of a button, without ever leaving their base - a remove that only serves to further desensitize the taking of human life. (The military slang for a man killed by a drone strike is "bug splat," since viewing the body through a grainy-green video image gives the sense of an insect being crushed.)
Mr. Hastings, who died last year, did not cite a source. According to a 2003 report from the Washington Post, however, Blugsplat was the name of a computer program that "generates bloblike images â€" resembling squashed insects â€" that military officials say more precisely model potential damage by a particular type and size of bomb dropped by a particular aircraft flying at a given altitude."
In 2011, the Washington Post correspondent Walter Pincus reported that a former C.I.A. director, Michael Hayden, had used the term during a conference in Washington. Mr. Hayden, the Post reported,
described how, with a Predator circling overhead, those involved in ordering use of its missiles from thousands of miles away can call up computer maps that show the potential effects of each weapon. Before any of the Hellfire missiles are launched, he said, the backup team asks for the "the bug splat" of the attack â€" a readout of the impact the missile would have on its ground target.
Micah Zenko, the author of the Council on Foreign Relations report "Reforming U.S. Drone Strike Policies," told The Lede that the term bug splat is indeed used by officials in the military and C.I.A. who chose targets for bombardment to describe not the appearance of a person killed in an attack but what the projected damage looks like. In an email, Mr. Zenko wrote that the term "refers to the collateral damage estimation methodology process that occurs before a weapons release is authorized. For drone strikes, they will routinely do several of them, which can show very different 'splats' depending on the type of weapon, the type of warhead, and which direction it is fired from."
Follow Robert Mackey on Twitter @robertmackey.