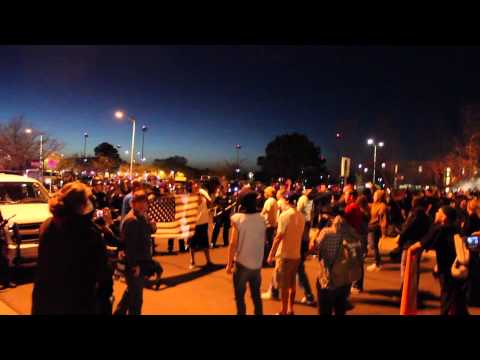 Video of the police using tear gas to disperse demonstrators in Albuquerque from the The New Mexico Daily Lobo, a student-run newspaper at the University of New Mexico, and the Howl, an online weekly newscast.
The police in Albuquerque used tear gas Sunday night to disperse hundreds of demonstrators who marched downtown to protest police shootings, including the shooting of a mentally ill homeless man whose death was captured on video by a camera attached to a police officer's helmet.
The protest was prompted by the March 16 shooting of the homeless man, James Boyd, 38, who was camping in the Sandia foothills when he died in a standoff with the police. In a graphic video that was released by the police department and has gone viral, Mr. Boyd appears to be turning away when he is shot. The police said he was brandishing two knives. Six live rounds were fired.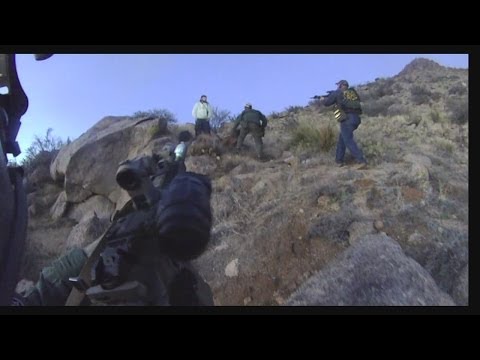 Graphic video from an officer's helmet camera of the Albuquerque police shooting a mentally ill homeless man.
The mayor, Richard Berry, called the shooting of Mr. Boyd "horrific." He asked the United States Justice Department to investigate, and he dismissed the police chief's description of the shooting as "justified" under the law.
Since last year, the Justice Department has been investigating the Albuquerque Police Department for possible civil rights violations and excessive use of force. In the last four years, police officers have been involved in nearly two dozen fatal shootings.
Anonymous, the hacking collective, urged people to take to the streets on Sunday to demonstrate over the shooting of Mr. Boyd and against what it described as the police department's excessive use of force. In addition to hundreds of demonstrators on the street, police officials acknowledged, their website was taken down by a cyberattack for several hours on Sunday.
The protest began peacefully around noon on Sunday, The Albuquerque Journal reported.
Then it went beyond a "normal protest," Mayor Berry said. He praised the police response. The police, including officers on horseback, used more than two dozen canisters of tear gas on Sunday night. At least five people were arrested.
A reporter, Caleb James of KOB-TV, posted live updates from the scene, even as he was hit with tear gas.
"It's like a war zone." #APDprotest @KOB4 http://t.co/SQ59BhWyve
Tear gas launched at protestors at Central and Yale @KOB4 We can hardly see. Incredible.
Here's a frame by frame of tear has launch on 5th and Roma. #APDProtest @KOB4 #abqprotest http://t.co/dMTAFpOpgB
Roberto E. Rosales, a photojournalist and a former photo editor at The Albuquerque Journal, posted several photos from the protest on Twitter.
Too bad these #apd #horses have to be a part of this. I hope they're OK #APDProtest #ABQ http://t.co/wS6UFRc6Fb
This is what it looked like about an hour ago after #APD fired #teargas on #APDProtest folks #ABQ #NM http://t.co/XYiGs7201H
Anonymous posted a video on YouTube from the protest.
Video posted by Anonymous of the protest in Albuquerque
Gordon Eden, Albuquerque's police chief, said that officers "acted with a tremendous amount of restraint" to the protests.
"Our officers acted with a tremendous amount of restraint." - #APD chief Gorden Eden #APDProtest @KOB4 http://t.co/4miAHIykET