The two best-known members of the Russian protest group Pussy Riot were assaulted on Thursday by six young men who hit the women and tossed acidic liquid and green dye on their faces while cursing at them for coming to the city of Nizhny Novgorod, five hours east of Moscow.
The feminist activists, Nadezhda Tolokonnikova and Maria Alyokhina, shared photographs of the aftermath of the attack on Twitter and described it in a blog post, which was translated into English for The Huffington Post.
Ð-она Права приехала в Нижний Новгород. Женскую Ик-2 посетить. У Нади - ожог глаза, у меня сотрясение и два шва. http://t.co/cbgBakgqFJ
They also drew attention to YouTube video of the attack, in which they explained that they had gone to the city to visit a prison where the inmates had appealed for help from their new organization, Justice Zone, set up to defend the rights of prisoners. (The video, recorded during and just after the assault, includes some of the assailants' obscene ranting.)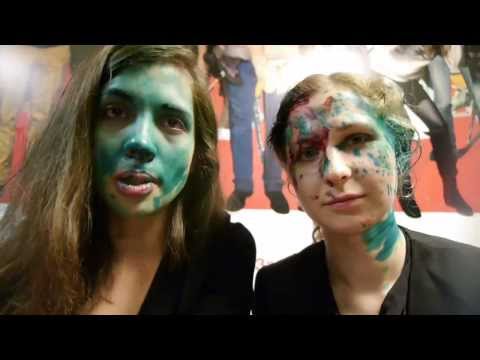 Video of the assault on the Pussy Riot activists Nadezhda Tolokonnikova and Maria Alyokhina on Thursday in Nizhny Novgorod, Russia. Contains obscene language; subtitles can be turned off by clicking on the closed-caption button at the lower right of the player.
Both women were recently released from prison colonies after spending nearly two years in jail for taking part in a protest against Vladimir V. Putin's return to the presidency in 2011. Their protest took the form of a "punk prayer" performed by Pussy Riot in a Moscow cathedral.
As Amnesty International suggested, "The attack appears to have been premeditated by an organized group: the assailants chanted slogans, held aloft a banner and filmed the entire incident." The assault took place at a McDonald's near the Nizhny Novgorod train station. According to the women, the location was not far from the local headquarters of Russia's security service, the F.S.B., successor to the Soviet-era K.G.B. that President Putin once served in.
A still image of some of the young men â€" who wore ribbons associated with remembrance of World War II and carried a sign reading "Dirty whores out of our town" â€" was shared on the @gruppa_voina Twitter account run by Ms. Tolokonnikova's husband, Pyotr Verzilov.
Уже началась увлекательная игра по опознанию нападавших. Ð'от этот юнец с георгиевской лентой - самый горластый http://t.co/VG4WaPZ5q9
Similar ribbons have been worn by Russian activists involved in recent violent attacks in Ukraine, including one that took place in front of a Times photographer on Monday in which the victim's face was also splattered with green liquid.
Follow Robert Mackey on Twitter @robertmackey.