Baz Ratner/Reuters
Russia's defense minister and foreign minister both denied on Wednesday that there were any Russian troops among the large contingent of masked men in armored vehicles with Russian military plates blockading government buildings and Ukrainian military installations in Crimea.
The defense minister, Sergei Shoigu, dismissed visual evidence â€" including numerous photographs and video clips taken by foreign correspondents and residents of the region â€" as "an act of provocation," the state news agency Itar-Tass reported. Asked about viral video said to show soldiers on the Crimean side of the Kerch Strait, at the peninsula's closest point to southern Russia, admitting that they were Russian, the minister said anyone who made such a claim was uttering "complete nonsense."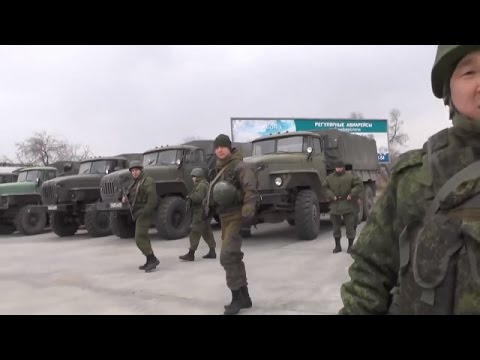 Video posted on YouTube by Ukrainian activists, said to show soldiers in unmarked uniforms in Crimea admitting that they were Russian.
The defense minister also said that he had "no idea" where the groups of mostly silent soldiers in unmarked uniforms the Kremlin calls local "self-defense units" got military vehicles with Russian plates, including trucks and armored carriers known as Tigers.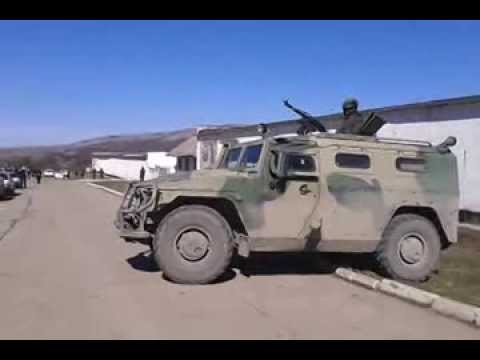 Video of a Russian GAZ-Tigr armored vehicle in Crimea.
License plates of military vehicles in Belbek #Crimea show they came from Russia. No 21 is Chuvashiya zone. #Ukraine http://t.co/69Z5xc4tOi
The point-blank denial comes after images of the well-armed troops driving vehicles with Russian military plates spread widely online, along with accounts of open admissions from a few of the men in camouflage that they are Russian soldiers
These shy gents found in Simferopol proper. http://t.co/gH9Ov0rn3i
Это еще вчерашний снимок «ополченцев» у Ð'ельбека (AP/Иван Секретарев). Машина, форма и оружие куплены, видимо, http://t.co/fcCjO20zkx
Finally got some mystery camo guys to identify themselves. Russian 810 marine brigade out of Sevastopol. "We're just here to help."
I have a recording of a lieutenant general of Russian army telling Ukrainians his troops there at Putin's request. Guess he was lying too.
As one blogger pointed out, the license plate on a Tiger vehicle seen in footage recorded Tuesday near the end of the dramatic standoff at Belbek airbase appears identical to one photographed last year before a Russian military parade in the nearby city of Rostov-on-Don.
In a video report for Vice News, the correspondent Simon Ostrovsky was told by the Ukrainian commander of a base swarming with Russian soldiers, "it's a real occupation." The Vice crew even caught Russian and Ukrainian officers joking about the crowd of irate pro-Russia activists gathered outside the gates.
Asked about the mysterious force occupying Crimea at a news conference in Madrid, Russia's foreign minister, Sergey V. Lavrov, echoed President Vladimir V. Putin's remarks the day before, saying, "If you mean the self-defense units created by the inhabitants of Crimea, we give them no orders, they take no orders from us."
The state-owned network Russia Today, or RT â€" which is recommended as an official source of information by Russia's foreign ministry and has repeated government claims that a "Crimean popular army made up of locals and former Ukrainian armed forces" has assembled to fight off "right-wing radicals making their way toward the region" â€" labeled reports from the ground in Crimea that appeared to undercut the official narrative "misinformation," in a media analysis segment broadcast on Wednesday. Introducing the report, the channel's British anchor said with a tone of disbelief, "The Western media has been flooded with reports going as far as suggesting the Russian Army is invading Ukraine."
Russia Today, the Kremlin-owned channel known as RT, reported Wednesday that news of Russian troops occupying Crimea was false.
The analysis, by the network's New York correspondent Anastasia Churkina, dismissed reports of troop deployments across the peninsula as "misinformation" and scoffed that "to judge by the mainstream media, however, it's as if Crimea has been swarming with Russian forces for days." She then introduced a report from the regional capital, Simferopol, in which a correspondent interviewed a member of a pro-Russia civilian volunteer group but made no mention at all of the mysterious soldiers surrounding military installations, the local Parliament and the city's airport.