Video of a commentary on relations between the United States and Russia broadcast on state television in Moscow on Sunday night.
As the United States condemned a referendum on the future of the Crimean peninsula staged by pro-Russian separatists on Sunday, one of Russia's most influential television hosts appeared on the evening news in Moscow, before a huge mushroom cloud graphic, to remind viewers that Russia is still "the only country in the world capable of turning the U.S.A. into radioactive dust."
On Russian state TV: lovely closing ceremony of Sochi Paralympics v. warning that Russia can turn the US into radioactive dust. Good night.
Although the saber-rattling comments came from Dmitry Kiselyov, a news anchor well-known for his "mad as hell" delivery of diatribes on the supposed threats to Russia posed by foreign plotters and native homosexuals, the report still stunned viewers of the state broadcaster's main channel.
Киселев продолжает!

Прямо сейчас: Россия - единственная страна, которая может превратить США в радиоактивный пепел http://t.co/zNTh7imMKz

â€" Коробков-Ð-емлянский (@korobkov) 16 Mar 14
One reason is that, as the Russian journalist Leonid Ragozin observed, Mr. Kiselyov was the man recently chosen by President Vladimir Putin to lead an official news agency charged with explaining Kremlin policy to the world, a media organization to be called Rossiya Sevodnya, or Russia Today.
Kiselev is not your average moron. He is Russia's most senior government media executive, essentially minister of propaganda.
Mr. Ragozin noted that the anchor also claimed that President Obama was deeply worried by Russia's nuclear arsenal.
Kiselev then talks abt Russia's 'dead hand' system that will destroy America automatically after all Russians are dead.
Kiselev claims a publication about "Perimeter" - the Russian nuclear extermination system - prompted Obama's frantic calls to Kremlin in Jan
The Associated Press Moscow correspondent Laura Mills reported that the broadcaster then moved on to attack a "fifth column" of supposedly traitorous Russian dissidents who had signed an open letter against the Kremlin's "de facto annexation of Crimea."
Russian state TV anchor lists intellectuals who oppose Crimean annexation, says: "If this isn't the fifth column, what IS the fifth column?"
Mr. Kiselyov's appointment, and the shuttering of a more independent state news agency, was described by Russia's respected business daily Vedomosti as a sign that Mr. Putin had abandoned any hope of convincing educated Russians to embrace his policies, my colleague Serge Schmemann explained. "The Kremlin acknowledged that it has lost the educated community," the editors of Vedomosti wrote in December, "and has neither the means nor the will to hold a dialogue about values, and therefore instead of culture began to impose ideology, and instead of information, propaganda."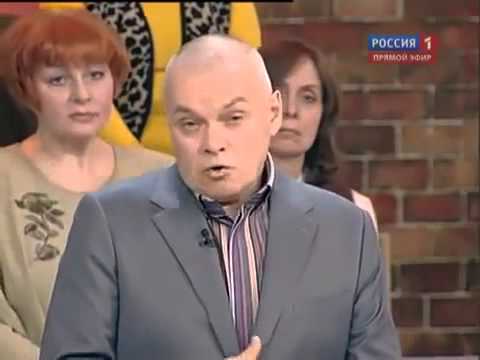 Virulently anti-gay comments from the Russian television host and executive Dmitry Kiselyov, subtitled by Russian activists.
The instant online reaction to Mr. Kiselyov's Sunday night riff from Russian bloggers seemed to indicate that they are indeed not the target demographic for his editorial commentaries.
A screenshot of the segment, with a caption suggesting that the host might have a substance abuse problem, was posted on the Twitter feed of Aleksei Navalny, an opposition leader currently under house arrest whose blog was blocked by Russian Internet authorities last week.
Он наркоман конечно http://t.co/xvuh7IPOtb
Mr. Navalny's feed, which is ostensibly under the control of his wife until the end of his ban from using the Internet, also drew attention to another opposition activist's suggestion of how the segment should have ended, with the host being dragged away by men in white coats.
По логике вещей, эта клоунада должна закончиться так http://t.co/z9abXeb0dW

â€" Ð'ладислав Наганов (@naganoff_ru) 16 Mar 14
Other bloggers heaped scorn on Mr. Kiselyov's false claim that President Obama's hair had turned grey from worry over Russia's nuclear might.
Киселев говорит, что Обама резко поседел из-за того, что боится Россию.
Это, конечно, какой-то КÐ'Н,а не журналистика. http://t.co/ZMzXq9rENs
As my colleague Ellen Barry reported on Saturday, some influential members of the Russian president's inner circle "view isolation from the West as a good thing for Russia," and seem to welcome the revival of Cold War tensions. On Sunday, she noted, the director of the Carnegie Moscow Center, Dmitri Trenin, told RT, a Kremlin-funded news network that broadcasts in English, that the new standoff between Moscow and the West "closes the books on what I would call inter Cold War period" that began with the fall of the Berlin Wall.
An English-language interview with Dmitri Trenin, the director of the Carnegie Moscow Center, on the Kremlin-funded channel RT.
Russian bloggers also turned their attention to reworking an A.P. photograph of a confrontation on Saturday between the U.S. Ambassador to the United Nations, Samantha Power, and her Russian counterpart, Vitaly Churkin.
John Minchillo/Associated Press
"@Fake_MIDRF: И пусть весь мир подождÑ'т! http://t.co/5aDfr3ciDh" лучшая картинка для 93%
Follow Robert Mackey on Twitter @robertmackey.