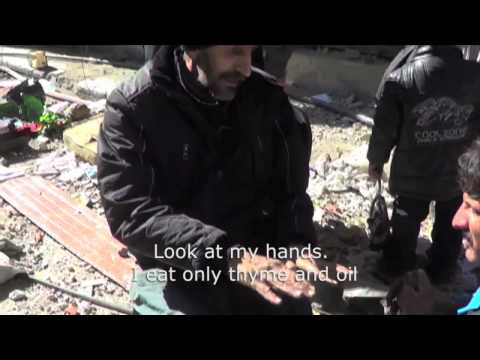 World Food Program footage, posted on Feb. 12, of food and medicine aid to the Old City of Homs.
As my colleagues reported from Geneva, the halls of United Nations headquarters were quiet on Thursday morning, with no meetings between the two sides in the Syrian peace talks.
But far from European conference halls, activists and aid workers in Syria have continued to post ample signs of the human costs of the war there, and of the urgent need for aid to civilians trapped by fighting.
Last week, food and medical parcels finally made it into neighborhoods in besieged parts of Homs, for the first time in 600 days. Residents in this video from the World Food Program described barely surviving on oil and spices, or coping with sickness, cold and daily bombardment.

Diplomatic pressure was building to allow humanitarian agencies to deliver aid to more than six million Syrians in need of support after nearly three years of brutal conflict, including a quarter of a million people believed to be trapped in the besieged areas.
In Homs, a local governor told Reuters on Thursday that a cease-fire had been extended for at least three more days to allow aid to be delivered.
Recent Syrian activists' work has illustrated how crucial a ceasefire will be for the aid deliveries to reach people in need. One video from Homs shows civilians earlier this week coming, as the caption describes, under fire by pro-government forces preventing aid convoys from reaching people.
Another video shows a United Nations worker gesturing to civilians, waiting for the food to arrive at the other end of the road, to stay back because of gunfire.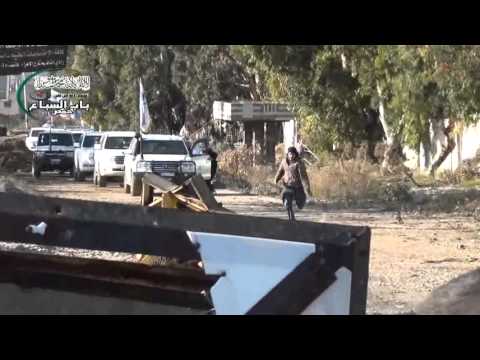 Activists in Homs released this footage on Feb. 11 of civilians under fire in Homs as aid convoys wait to approach them.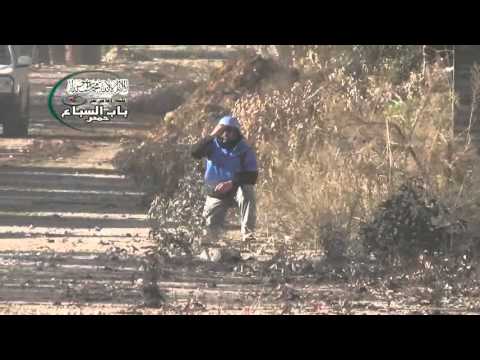 A U.N. worker gestures for civilians to keep away from an area where gunfire erupted as an aid convoy tried to reach them.
Another activist video of more than four minutes shows an aid convoy on arrival, loaded with sacks of flour, beans, pasta and oil.
Activists posted footage on Feb. 12 of United Nations aid arriving in a besieged part of Homs.
Access for aid was also dire in the Palestinian refugee camp of Yarmouk, where some aid is getting through but it is still limited.
This week the United Nations Relief and Works Agency, which provides services for Palestinian refugees, said in a statement that it had finally been able to deliver food aid to refugee families but "the scale of need remains immense."
It quoted a refugee as saying that a 4-month old niece died and her 14-month old son was close to death before she was able to persuade a soldier at a checkpoint to allow her to reach a clinic outside the camp, where they had been barely surviving for months on grass and boiled water with spices.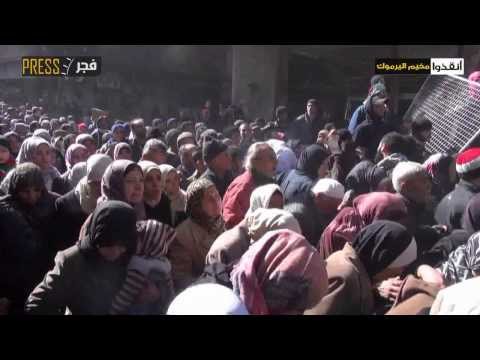 Local activists published video on Jan. 30 showing first aid distributions in Yarmouk.
UNRWA official in footage posted on Feb. 11 says more access is needed for aid to adequately reach Yarmouk.
Amnesty International said in a report on Thursday that it has received the names of more than 100 men, women and children who have died in Yarmouk during the siege imposed by Syrian forces last July following clashes with armed opposition groups.
"Starvation, lack of adequate medical care and sniper fire have been the main causes of death," it said.
Fighting intensified in the Qalamoun area along the Lebanese border on Thursday. Antigovernment fighters reported a new development for that area, the use of so-called barrel bombs â€" large payloads of explosives often dropped from helicopters â€" on the town of Yabroud, Ms. Barnard reported.
As this video shows, as recorded from the Qalamoun Media Center, which is run by activists, a Syria government war plane launched an air raid on a building on Feb. 13.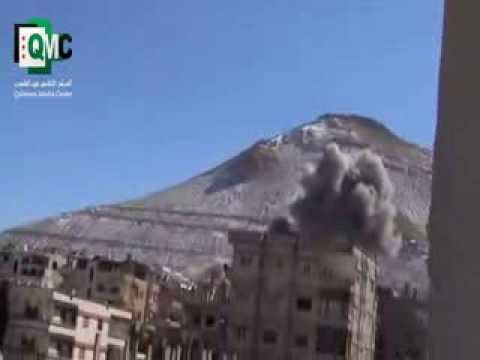 Qalamoun Media Center activists recorded footage of an airstrike on their town Feb. 13.
Follow Christine Hauser on Twitter @christineNYT.