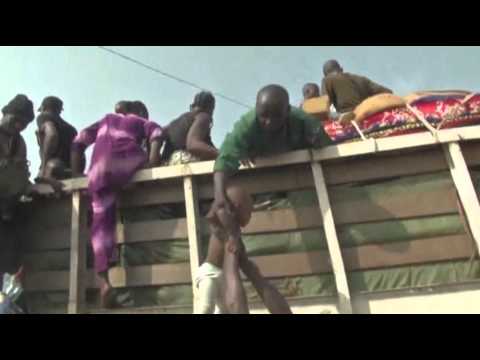 Raw footage from The Associated Press showing Muslims fleeing violence in the Central African Republic on Friday.
Witnesses have been documenting the violence in the Central African Republic over the past few days, with relentless slaughter and traces of entire communities wiped out as thousands of Muslims fled their homes to escape retaliatory attacks.
The killings gained pace against Muslims seen as supporting a Muslim rebel group that seized power last year and ruled through January and was widely blamed for atrocities on Christians.

The emergency director of Human Rights Watch, Peter Bouckaert, has been tracking the violence on the ground, sending out a constant stream of updates on his Twitter account, @bouckap, which reads like a narrative of a dying nation. On Tuesday, he made a reference to international forces' intervening in a lynching.
Woman shot by #antibalaka last nite at PK12 Peuhl camp died this am from her wounds. #CARcrisis
#Sangaris, #Misca prevented another lynching of Muslim in downtown #Bangui this AM.
Over the weekend, Rwandan peacekeepers intervened to halt an attack on Muslims, shooting and killing a member of a crowd that had killed two people in Bangui, the capital of the Central African Republic, a Rwandan military spokesman said, according to Reuters. In that weekend alone, nine people were killed in interreligious violence, according to residents quoted by the news agency.
More carnage in #CARcrisis 10 killed so far with lynchings and shootings this morning. Bodies hacked to death burning in street in kilo 5.
The presence of several thousand French and African Union troops has largely failed to stem the bloodshed. The United Nations High Commissioner for refugees expressed concern in a statement on Tuesday that there was the feeling that the killing could go on without fear of punishment, especially as seen in recent actions of the anti-Balaka Christian militia.
"Particularly worrying is the climate of complete impunity in the country, illustrated most glaringly by public statements from anti-Balaka elements claiming responsibility for the crimes and murders they have committed," said Rupert Colville, a spokesman. "Such brazen admissions are furthering the culture of impunity and encouraging more people to resort to violence."
Witnesses have been chronicling the exodus of large numbers of the Muslim community in the Central African Republic, including Thomas Fessy of the BBC, as they fled retaliation and destruction of their neighborhoods.
Still haven't heard any #UN official say it: Muslims are being pushed out of #CAR, neighbourhoods destroyed, burnt down = Ethnic Cleansing??
The photographer Marcus Bleasdale has chronicled the exodus, as has Joanne Mariner, a crisis response official for Amnesty International, which will release a report on Wednesday on its evidence of ethnic cleansing in the Central African Republic. Both posted updates on the expanding retaliations and anti-Muslim sentiment.
A father and son waiting for convoy to depart - evacuating ovr 10,000 muslims fleeing from Bangui to Chad #CARcrisis http://t.co/a9i5jL3GLE
Spiraling anti-balaka violence. What started with attacks on Muslims quickly broadening. A monster has been created. #CARcrisis
Anti-Muslim graffitti in looted Miskine district - propagating popular lie that says all Ms r foreigners. #CARcrisis http://t.co/STS1EF8S9o
Mr. Bouckaert also followed the remaining traces of Muslim neighborhoods as their community fled.
Exodus continues, dozens of large trucks loaded up in last remaining Muslim neighborhood #Bangui, Kilo 5, waiting for next convoy 2 Chad
Graffiti on home in abandoned PK13: #Antibalaka have taken power. This house now belongs to Captain Batoury
#antibalaka comes up to me in destroyed PK13, go ahead and film what we destroyed, no more Muslims in CAR, we are Christian only country.
Neighborhoods can die, we are in completely abandoned PK13 Muslim neighborhood of #Bangui, every home destroyed and empty.
Follow Christine Hauser on Twitter @christineNYT.