Live video of clashes in Kiev's Independence Square from the Ukrainian website Espreso.tv.
Last Updated, 2:54 p.m. | As the deadly clashes in the Ukrainian capital, Kiev, continued late Tuesday, hundreds of thousands of people followed the violence as it unfolded, reading Twitter updates from reporters and activists in Independence Square and watching the local website Espreso.tv's live YouTube video stream from the besieged protest camp there.
Как же они ненавидят Украину. #Євромайдан #Евромайдан #Euromaidan http://t.co/sYv3UEs6mW
Tens of thousands more viewed a second live video stream from the square posted on YouTube by Radio Svoboda, an American-financed broadcaster.
Live video from Kiev's Independence Square, streamed by Radio Svoboda, an American-financed broadcaster.
One antigovernment activist, Kateryna Kruk, reported that the riot police, known as the Berkut, were slowly edging into the square protesters have rechristened Euromaidan, or Europe Square, to mark their defiance of President Viktor Yanukovych's decision to reject an economic pact with the European Union in favor of closer ties to Russia.
very slowly but berkut is comming inside #euromaidan ….they use water cannons as a shield and move behind it
writing tweets about #euromaidan 's crackdown is a torture for me.if only this was just a bad dream!
In a recorded video clip posted on YouTube, Radio Svoboda also documented the deadly cost of the police action on Tuesday, with graphic images of the dead bodies of two protesters.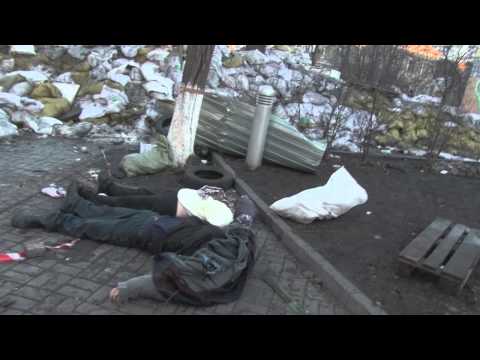 Graphic video of dead protesters in Kiev from the American-financed Radio Free Europe/Radio Liberty
A dead or unconscious officer's limp body could also be seen at one point in video of intense clashes earlier in the day on Shovkovychna Street in Kiev posted online by the Ukrainian affiliate of the congressionally financed Radio Free Europe/Radio Liberty network.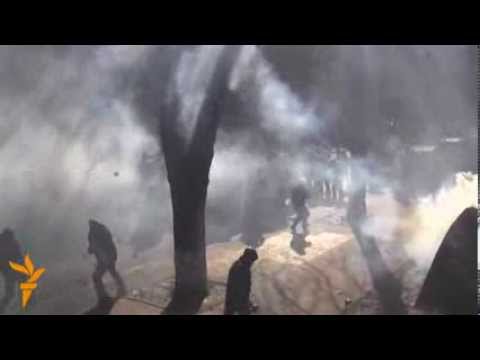 Video of clashes in Kiev on Tuesday from the American-financed Radio Free Europe/Radio Liberty
While the crackdown was initiated by the police, officers were also injured and killed in the fighting. One brief video clip uploaded to YouTube on Tuesday afternoon, headlined simply "Captive," appeared to show an officer with a bloody face who had been captured by protesters.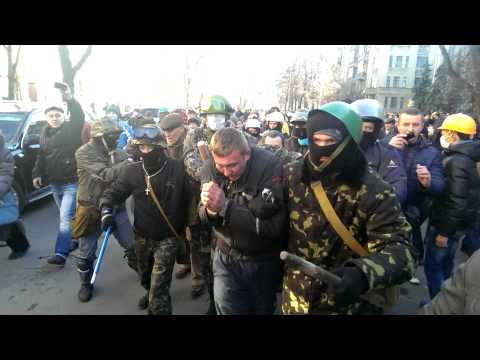 Video said to show a Ukrainian police officer captured by protesters during Tuesday's clashes.
Follow Robert Mackey on Twitter @robertmackey.