Live video of protesters in Kiev's Independence Square from the Ukrainian website Espreso.tv.
As live video streams and messages posted on social networks from Kiev's Independence Square showed, Ukrainian protesters remained defiant on Friday, calling for the resignation of President Viktor Yanukovych, even after political leaders signed a peace deal brokered by European diplomats.
German, French + Polish FMs welcome the signing of the agreement on settlement of crisis in #Ukraine. Full Statement: http://t.co/Xam6hOlq4M
Among those denouncing any agreement that leaves the president in place, following the killing of dozens of protesters this week, were moderate political activists in the square, like Kateryna Kruk, and ultranationalist militants from the coalition known as the Right Sector, who have manned the barricades in deadly clashes with the police.
I know negotiations are important and peace should come,but Ukraine will be in chaos as long as Yanuk's Pres.ppl won't obey him now.
Official @pravyjsektor response to #Yanukovych peace offer: "The revolution continues" http://t.co/7p9jXkUVqQ
Katya Gorchinskaya, an editor for the English-language Kyiv Post, explained that Oleg Tyagnibok, the leader of a far-right, ultranationalist opposition party, was jeered by protesters gathered near the spot where demonstrators were shot to death on Thursday when he announced that the president had agreed to early elections, but not until December.
here snipers killed people on #Euromaidan. when #Tiahnybok said prez wants elex in Dec, crowd roared in rage http://t.co/5e3GnFtkFg
Nataliya Gumenyuk, a founder of the independent Internet television station Hromadske.TV, and Jack Stubbs of Reuters reported that large numbers of people had come to the square to pay tribute to the dozens killed there during the government's failed attempt to end the sit-in on Wednesday and Thursday.
many-many people head to #maidan to pay a tribune to the death. #ukraine http://t.co/Gl0ROQz94e
#Euromaidan crowds mass on Independence Square in #Kiev, #Ukraine. Credit: @reuterspictures http://t.co/dajXENPeZI
Christopher Miller, a Kyiv Post correspondent, reported that the mood on the square, known in Ukrainian as the maidan, was "unwavering."
On Maidan, people unwavering in tier demands - Yanukovych must go, they say. No other deal will get them to go home.
Many 1000s on Maidan now, protesters and others who appear to be here for first time. Metro lines and bus routes open today.
The determination of the protesters to stay in place was boosted by the reported defection of some members of the police force, according to Olaf Koens, a Dutch correspondent.
Police from Lviv joins the protests. 'We're just doing our jobs', they say http://t.co/dwWpF3wb8y
These guys welcomed like heroes. They get tea and helmets. Oh, and they brought their guns too http://t.co/LPHWY0VtC3
The pic all of #euromaidan have been waiting to see. @Reuterspictures: #Lviv policeman joins protesters on barricades http://t.co/xNAFxsc6ON
Journalists and bloggers continued to post intense video of the violence this week online. Ilya Mouzykantskii, a former intern in the New York Times Moscow bureau, drew attention to dramatic footage shot on Wednesday and Thursday in Kiev by Andrey Kiselev and Lena Horev for the Russian news site Lenta.ru.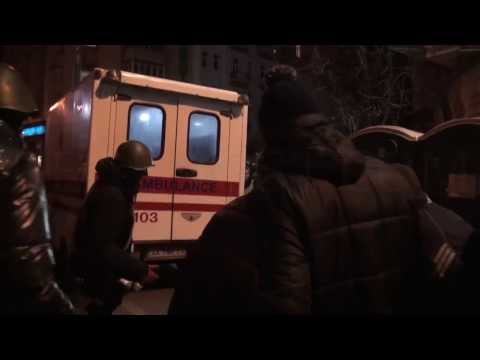 Video of the violence in Kiev posted on YouTube late Thursday by journalists from Lenta, a Russian news site.
In another video clip, recorded by a blogger named Konstantin Piontkovsky as the sun set Thursday evening, an apparent lull in the clashes was shattered by the sound of a single gun shot, and a man collapsed to the pavement in front of the distinctive columns of Kiev's October Palace, just off the square.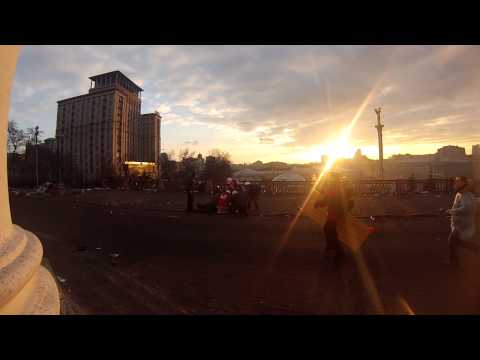 Video of a shot ringing out in Kiev on Thursday evening.
Glenn Kates, a former colleague who is now manning the Radio Free Europe/Radio Liberty live blog on Ukraine, explained that Olesya Zhukovskaya, a young medic who was reportedly wounded by a gun shot on Thursday, posted new messages on Twitter Friday saying that she had survived, but apologizing for not being able to take calls.
Injured medic: Sorry for not taking calls.Vry Painful to talk. RT @OlesyaZhukovska: Ð'ибачте,що не відповідаю на дзвінки,дуже боляче говорити
Я жива! Ð"якую всім,хто підтримуÑ" та молиться за мене! / Я в лікарні.стан поки що стабільний!
Follow Robert Mackey on Twitter @robertmackey.