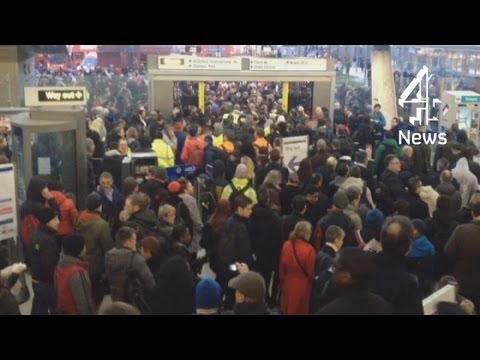 Channel 4 News posted video of a packed Stratford station on Feb. 5, the first day of the subway strike.
Commuters documented the chaos of getting to work on Wednesday, the first day of a strike on the London Underground that disrupted service for millions of people.
Jonny Hallam, a BBC news producer, posted images of the long lines of people waiting at one of the main subway, or Tube, stations in London, and taking alternative forms of transportation.
Long queues and 100s of commuters waiting for few buses at #Waterloo. #Tube #Strike http://t.co/gTUGsmwzRa
On Facebook and Instagram, commuters posted short videos of people struggling to get into packed trains near Haringey, a borough of London, and of crowds trying to get through the turnstiles at Waterloo station.
An editor based in the United Kingdom, Gemma Louise Lowe, showed what happened when a train finally did stop.
Oh for the love of Odin, this is inhumane. People being squeezed in Japanese train style. #tubestrike http://t.co/Mg0IDNDMJR
James Coatsworth, a media researcher, and others observed that the strike brought out more of the city's iconic red buses as ground transportation was pressed into service.

Three generations of red London buses being used to overcome the tube strike. Bravo. #tubestrike http://t.co/ubwVlB0GjX
We have 16 vintage vehicles out as extras on various routes due to #tubestrike #routemaster it was an early start http://t.co/DyijEl6DOI
Any one need a bus? I have twenty four outside my office window right now. #tubestrike http://t.co/IKzlhI1K05
As my colleague Stephen Castle reported, the 48-hour strike on the London Underground, which began Tuesday evening, was called by two unions to protest plans to cut about 950 jobs and close all ticket offices as part of a restructuring plan.
It shut down several parts of the subway system, which normally has some 3.5 million passenger trips each day. The lines that remained open were operating on a reduced schedule, forcing commuters to cram into overcrowded buses and trains or walk or cycle to work.
RMT, a transport union that includes underground workers, shared photographs that it described as showing "lethal" overcrowding at Waterloo station.
News organizations called out to commuters to share their experiences online via Twitter. The Times of London posted a gallery of images on its Facebook account.
On Twitter, commuters shared their long, circuitous journeys to work, or suggested alternate routes, many using the hashtag #tubestrike, such as Lucy Tobin, a writer at the Evening Standard.
Chaos at Earls Court. #tubestrike But thanks to the 4 working Tube drivers who got me this far.. http://t.co/yhlpze0XSJ
@BBCLondonNews @BBCNews Normal day 30 minutes. Today it has already been an hour and I'm still on my way!
Nearly two hours after 9am rush and police are still helping clear crowds at bus stops in Paddington #tubestrike http://t.co/IyZbuAX72Y
Symeon Brown, a journalist in London, told fellow travelers where not to go, and was credited on the Channel 4 News web site for the video showing the call to evacuate Stratford station because of overcrowding.
Stratford station. Avoid. http://t.co/0k5qKBvJCk
If you cannot cycle, walk or drive in to work and play today take two till Friday. TfL can be an assault course at the best of times.
Follow Christine Hauser on Twitter @christineNYT.