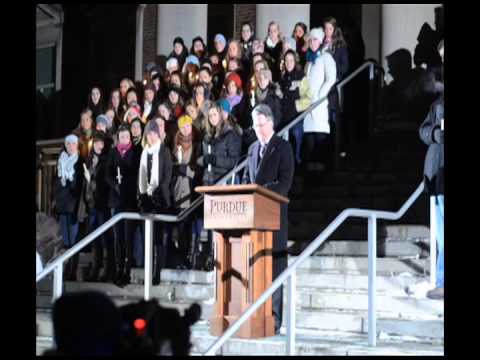 Video from the candlelight vigil at Purdue University from the Purdue Exponent, the campus newspaper, on YouTube.
More than 1,000 students and staff members at Purdue University gathered in the bitter cold for a candlelight vigil Tuesday night to remember 21-year-old Andrew Bold who was shot and killed inside a classroom in the university's Electrical Engineering Building by a fellow teaching assistant.
As the Purdue Exponent, reported police have not yet disclosed the motive in the death of Mr. Boldt, who was a senior working as a teaching assistant. The suspect, Cody M. Cousins, 23, walked out of the building and surrendered to authorities shortly after witnesses reporting hearing four or five gunshots, which sent students ducking under desks and put the entire campus on lockdownpolice said.
At the vigil outside Hovde Hall on campus, Mr. Boldt, who was an Eagle Scout as a child growing up in West End, Wis., was remembered as a highly capable student who was always willing to help fellow classmates with schoolwork and technology issues.
A young, smiling Andrew Boldt on Facebook. #RIP #BoilerStrong #RIPAndrew http://t.co/e8LTldMq8E
Prayers for Andrew Boldt and his family and friends. Inspiring turnout tonight. Thanks to @Purdue_SG. #BoilerStrong http://t.co/T4mJc3aZlI
Mitch Daniels, president of Purdue University, was traveling in South America but issued a statement Tuesday night that was read at the vigil by university officials.
Violent crime, whenever and wherever it occurs, shocks our conscience and incites our rage. When it happens in our home, to a family member â€" and as a Boilermaker, Andrew Boldt was family to us â€" those emotions are more powerful still. Our prayers tonight are with Andrew and with his parents, who have suffered a loss beyond calculation or consolation. In our grief, we pause to thank this event's organizers, but equally each person in attendance. Through your caring witness, you are demonstrating your love for the Boldts, and for each other in the very special community we call 'Boilermakers.'
At a second news conference on Tuesday, Chief John Cox of the Purdue police said the shooting that took place around noon "appears to be an isolated and intentional act."
He said that Mr. Boldt appeared "to have been targeted by the suspect, no more or less than that. This was not an active shooter incident."
Mr. Cox said that Mr. Cousins is being held at the Tippecanoe County Jail on the preliminary charge of murder.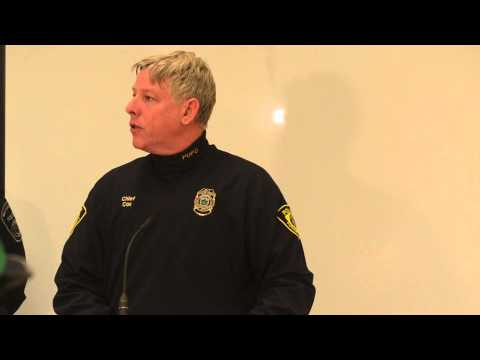 Video of Police Chief John Cox at a news conference for reporters after the shooting of Mr. Boldt. (via the Purdue Exponent)
At Northwestern University, a group of students showed their support during the university's basketball game against Purdue, with a message: Stand With Purdue.
Many reasons yesterday to be proud we're part of the @NorthwesternU community. Most of all, this. #B1GCats #BoilerUp http://t.co/VuwksTqKIn
Classes were canceled Wednesday, but officials began to let students who left belongings behind during the lockdown back into the Electrical Engineering building.
Moments before the police tape is removed, some individuals walk into ee building http://t.co/jKH7r5BBgG