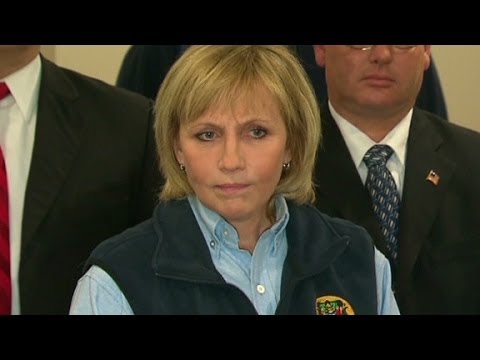 via CNN on YouTube
Lt. Gov. Kim Guadagno of New Jersey flatly denied allegations made over the weekend that she linked federal aid to support of the Christie administration, as my colleague Alan Feuer reports.
"I deny any suggestion made by Mayor Zimmer that there was ever any condition on the release of Sandy funds by me," Ms. Guadagno said in a statement to reporters at a previously scheduled service project for Martin Luther King's Birthday in Union Beach, N.J. on Monday morning. She was referring to Mayor Dawn Zimmer of Hoboken.
"Mayor Zimmer's version of our conversation in May of 2013 is not only false but is illogical and does not withstand scrutiny when all of the facts are examined," she said in what was the first response from a senior Christie administration official about the allegations that Ms. Zimmer first made public in an interview with Steve Kornacki on MSNBC-TV Saturday. "Any suggestion that Sandy funds were tied to the approval of any project in New Jersey is completely false."
Ms. Guadagno refused to answer questions from reporters or explain what she did discuss with Ms. Zimmer during their conversation in the supermarket parking lot last year about the redevelopment project and hurricane aid. As my colleague Patrick McGeehan reports, Ms. Zimmer said she met with officials from the United States attorney's office on Sunday about the allegations.
After the meeting, where Ms. Zimmer said she turned over a diary and other documents, she repeated her assertion that Ms. Guadagno told her in May that the real estate project in Hoboken was important to Gov. Chris Christie and that she risked post-storm aid that state officials were distributing for projects that would minimize flood damage in the event of another storm. More than 80 percent of Hoboken was under water during Hurricane Sandy in the fall of 2012.
"They came and they made a direct threat," Ms. Zimmer said, referring to Ms. Guadagno and another state official.
In the diary, Ms. Zimmer said she wrote:
.@dawnzimmernj comes forward on @upwithsteve saying the Christie camp held Sandy aid hostage http://t.co/rDg0Pe3Piq. http://t.co/E4Exq7eTGD
As my colleague Nicholas Confessore reported, Mr. Christie spent the weekend in Florida, raising funds from top Republican donors in his role as chairman of the Republican National Governors Association.
In a meeting with donors, amid reports of a widening scandal since he fired two aides in connection with a manufactured traffic jam in Fort Lee last September as an act of political retribution, Mr. Christie said that his own presidential ambitions were on hold until next year.
Mr. Christie is scheduled to take his oath of office Tuesday for a second term as governor.