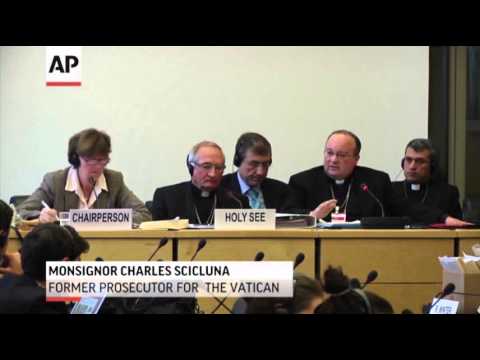 The Vatican
The Vatican's former top sex crimes prosecutor told a United Nations committee on Thursday that "the Holy See gets it" when he was sharply questioned about the Roman Catholic Church's slow response to handling cases involving clergy members' sexual abuse of children.
In the toughest public questioning of Vatican officials on the abuse scandal to date, members of the United Nations' Committee on the Rights of the Child, meeting in Geneva, grilled top Vatican officials about why priests with a history of abuse were moved around to different parishes, and in one case to the Vatican, instead of being aggressively investigated.
The United Nations meeting came a day after the Archdiocese of Chicago turned over thousands of pages of documents to lawyers for sexual abuse victims, as part of a legal settlement. The documents, including personnel files, are expected to identify 30 former clergy members accused of abusing children, and the church officials who helped protect the accused priests. Those people are expected to be publicly identified next week.

"I want to offer apologies to all victims affected by these sins and crimes," Bishop Francis Kane said during a news conference as described in this video report from Chicago's WGN.
In Geneva, members of the United Nations committee asked Vatican officials why church officials evaded and covered up cases rather than expose the extent of the problem and deal with it.
#Quote: "The Holy See gets it." - Monsignor Charles Scicluna, the Vatican's former sex crimes prosecutor
Msgr. Charles Scicluna, the Vatican's former sex crimes prosecutor, told the committee that members of the Holy See â€" the city-state's diplomatic entity â€" understood the problem.
At the same time, in response to questions, he relied on the Vatican's longtime defense that local prosecutors, not the church, are responsible for criminal cases involving abusive priests and that the Vatican was responsible for responding to abuses committed within the confines of the Vatican state.
As my colleagues Jason Horowitz and Jim Yardley reported this week, Pope Francis has been taking steps inside the Vatican to address the problem. They write that Pope Francis is not only changing the tone of the church with his humble approach but also reshaping the bureaucracy of the Vatican.
In a first step, Pope Francis appointed a commission to propose measures to address the abuse scandals that have rocked parishes across the world. The committee is expected to issue a nonbinding report with its recommendations in February.