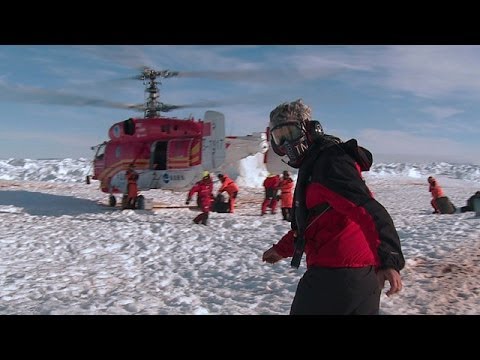 A team of rescuers from a Chinese icebreaker may need to be rescued themselves, soon after they plucked dozens of people from the Antarctic ice aboard a ship that had been stranded for more than a week.
Chris Turney, a leader of the expedition whose members were evacuated by the Chinese vessel Xue Long's helicopter on Thursday, shared more photographs of the mission and then an update on Twitter about the unexpected turn of events in the rescue ordeal.
Gutted to hear Xue Long issued distress call. All hopes are with courageous Captain Wang and crew. http://t.co/9jdP3BEW4t #spiritofmawson
Dr. Turney and his team were among the 52 scientists, journalists and tourists aboard the chartered Russian Akademik Shokalskiy ship, which became lodged in ice in the Antarctic on Christmas Eve. The Xue Long, or Snow Dragon, icebreaker and an Australian icebreaker Aurora Australis each tried to reach the ship but were prevented by the harsh weather and ice.
During their predicament about the research vessel, Dr. Turney and others had been an online source of firsthand information, sharing videos and photographs of how they were keeping occupied as they waited to be rescued, and then posting photographs of the rescue itself.
On Friday, the updates from Dr. Turney's and other online accounts continued to flow as it appeared the polar ice had yet to loosen its grip on any of the participants in the saga.
CCTV, China's biggest television network, in its English-language broadcast, reported that the Chinese ship was stuck in heavy ice which had complicated the rescue operation.

Journalists from The Guardian posted footage showing some of the passengers climbing aboard the helicopter, settling in and then spotting the icebreakers below as they swept over them.
Alok Jha, a journalist for the newspaper and a BBC presenter, shared more images and videos online on his Twitter account @alokjha, as did Laurence Topham, a producer working for the newspaper. Both men had joined the expedition to report on it, posting to Antarctica Live via @GdnAntarctica.
Second Antarctic rescue? Aurora Australis on standby to free icebreaker http://t.co/B3TReSjpuG via @guardian
Our wonderful new home - the Aurora Australis (seen from our Chinese rescue helicopter) via @loztopham for @guardian http://t.co/1zkbsn5VOm
Dr. Turney shared a message from Australian maritime authorities that said the Aurora was on standby as a precautionary measure to assist the Chinese ship if needed:
Xue Long notified AMSA at 1pm AEDT this afternoon it has concerns about their ability to move through heavy ice in the area.

The Aurora Australis has been placed on standby by the Australian Maritime Safety Authority's (AMSA) Rescue Coordination Centre Australia (RCC Australia) to remain in open water in the area as a precautionary measure.

The Xue Long has advised RCC Australia that it will attempt to manoeuvre through the ice when tidal conditions are most suitable during the early hours of 4 January 2014.

There is no immediate danger to personnel on board the Xue Long.
He also shared an extensive blog post describing the evacuation, which left the Russian crew behind to look after the ship, and the rescued passengers landing on the Aurora, which will take them onward to Tasmania by mid-January. He wrote, in part:
Team members, luggage, science gear and samples from the expedition were transported with good grace, humour and professionalism, whilst also bringing food supplies back for the Russians (we only had five day's supply left).

Everyone held together to the end, supporting one another and keeping good humor under very trying conditions.

Everyone is well and in good humor - albeit a little relieved. The helicopter voyage over some 14 nautical miles of jagged, broken sea ice just reaffirmed to the team how massive the ice breakout must have been that trapped us.
The ordeal was widely followed online and received widespread news coverage, including a televised appearance on New Year's Eve.
They are stuck in #Antarctica, but they found a way to party with @andersoncooper and @KathyGriffin. Watch: http://t.co/9suz0x5vje
My colleague Andrew Revkin wrote about how the rescue efforts, while vital, disrupted other scientific efforts and provided a distraction from serious research on the impact of climate change on Antarctica.