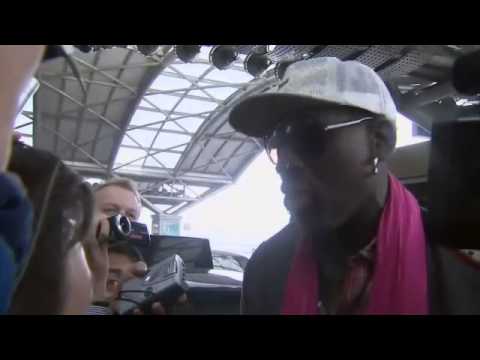 Dodging tough questions about politics, Dennis Rodman is back in North Korea to play basketball, this time accompanied by former National Basketball Association players who will star in an exhibition game with a local team as part of celebrations Wednesday on the birthday of the country's leader, Kim Jong-un.
In videos and on social media, Mr. Rodman's trip is being portrayed as upbeat, even as he and teammates get tough questions thrown at them about the country's politics and human rights record. Mr. Rodman, who has repeatedly called his visits "basketball diplomacy," brushed aside any suggestion that he use his influence with the North Korean leader for anything other than sports.
The British television channel Sky News recorded Mr. Rodman being asked why he would not speak to Kim Jong-un about the country's prison camps, considering he has called him a "friend for life" and has access to the North Korean leader. Mr. Rodman replied that it was not his role to do so, that he was leading a team to play basketball, and that he felt "love" for the soon-to-be 31-year-old North Korean leader.

The Associated Press quoted Mr. Rodman as saying after he arrived in Pyongyang on Monday that he was not a "politician" or an "ambassador."
Social media postings suggested a buoyant mood in the Rodman camp. Michael P. Spavor, a Canadian consultant accompanying Mr. Rodman, has been providing a glimpse of Mr. Rodman's latest venture into the secretive nation, posting photographs on Twitter of unrelated scenes: the centerpiece of what looks like a banquet table; the hotel room in Pyongyang; nighttime streets devoid of any other traffic but their own, taken from their car window; and a self portrait or two in which he stands for a close-up, with the players in the background of the airplane or on the tarmac.
On his website, Mr. Spavor, who is originally from Calgary, Canada, says he now lives in China and works as a full-time consultant specializing in business, sports and cultural exchanges with North Korea. He speaks the North Korean dialect and at one time lived in North Korea.
In an interview last month with Maclean's, Canada's weekly current affairs magazine, Mr. Spavor, who has accompanied Mr. Rodman on previous visits, was quoted as saying: "In the media, Marshall Kim Jung-un is portrayed as serious. But we were able to see a more charismatic, friendly side to him. He has a good sense of humor."
Heading home to the koryo hotel http://t.co/okTrJFvmj8
Masik? @rodman @ dprk http://t.co/obFzGXreMf
On his Twitter account, @mpspavor, Mr. Spavor posted photographs of some of the members of the American basketball team, which includes Charles D. Smith, Jerry Dupree, Vin Baker, Eric (Sleepy) Floyd) and Doug Christie.
Charles Smith gives a wonderful welcoming talk to the NBA players and the Ministry of Sport. @dprk http://t.co/estTIhjDY0
Touching speech by Mr. Vin Baker. @basketball @dprk @rodman http://t.co/QIFL8fHdS2
Dinner speech at a famous 랭면 restaurant. http://t.co/L3GPuJHlgG
Home sweet home again! http://t.co/RW77behGyP
A beautifully tailored DPRK suit. http://t.co/9k0qwfwH0s
We've arrived safely in Pyongyang! From the outside of our air Koryo plane. http://t.co/slK8whPPzY
Landing in Sunan International Airport. Everyone is pretty excited, really! @rodman http://t.co/Rw2E9XSk6B http://t.co/yDisH3b1ax
Joseph D. Terwilliger, a geneticist who is affiliated with Columbia University's Genome Center in New York City, also accompanied the group. On his Twitter account, he posted messages about his excitement just before arriving there with Mr. Rodman and the other players.
Heading to Pyongyang tomorrow with a fantastic group of men with big hearts and refreshingly positive attitudes. This is gonna be awesome!
Mr. Terwilliger also posted a photograph taken from a previous trip to North Korea with Mr. Rodman.
I was lead blocker…. http://t.co/SGPT7bVs4Z
Koryo Tours, which arranges tours to North Korea, posted images on Google Plus of some of the tourists who left to attend the exhibition game.
Mr. Rodman's latest visit also follows in the wake of the execution last month of Kim Jong-un's uncle for plotting a military coup, an announcement that was a highly unusual admission of instability from the reclusive, nuclear-armed country.
The news organization NKNews.org reported on Monday that growing criticism led Irish betting giant Paddy Power to pull out of sponsoring a previous trip by Mr. Rodman on Christmas Eve, citing "changed circumstances."
"We have been reviewing the partnership on an ongoing basis, and with the benefit of hindsight, we probably got this one wrong," a company spokesman for Paddy Power, an Irish bookmaking company, was quoted as saying.
In a segment on Mr. Rodman's trip, Karl Penhaul, a correspondent for CNN, noted that it was unclear what the financial arrangements were after the withdrawal of the Paddy Power bookmakers.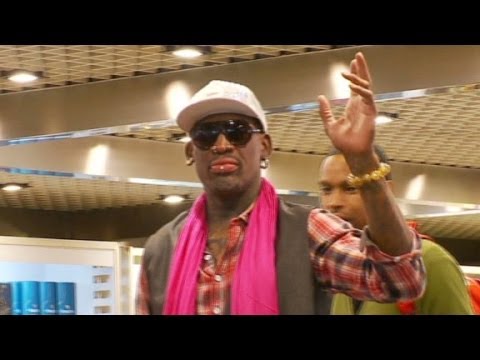 Speaking with CNN, Mr. Smith, one of the former N.B.A. players accompanying Mr. Rodman, said: "The extreme views on North Korea come about because most people have not been there. And because people have a sense of fear of the unknown and lack of knowledge, it becomes an illusion. We have an opportunity to take that illusion and make it factual."