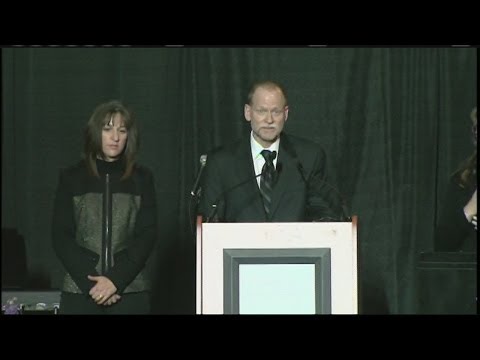 The father of Claire Davis, the 17-year-old Colorado girl who was shot and killed by a fellow student at Arapahoe High School last month, asked people during a New Year's Day memorial service to honor his daughter by forgiving the gunman and showing empathy and compassion to troubled individuals.
With his wife, Desiree, standing at his side, Michael Davis struggled to maintain his composure as he spoke to more than 1,000 people gathered to remember his daughter at the National Western Livestock Show complex in Denver, where Claire had competed regularly in equestrian events. She died a week after she was shot on Dec. 13 by Karl Pierson, 17. The gunman arrived at the school, heavily armed, looking for the school's debate team coach who had disciplined him earlier in the year. Ms. Davis was a random victim.
Mr. Davis, with his voice often breaking, said:
My wife and I forgive Karl Pierson for what he did because he didn't know what he was doing. We would ask all of you here and all of your watching to search your hearts and also forgive Karl Pierson. He didn't know what he was doing. Karl's no longer with us.

So it's no longer our responsibility to pass judgment.

Unchecked anger and rage can lead to hatred, and unchecked hatred can lead to tragedy, blindness and … loss of humanity. The last thing that Desiree and I would want is to perpetuate this anger and rage and hatred in connection with Claire. Claire would also not want this. As citizens of our community, the state of Colorado, our nation and the world, we must strive for kindness, compassion, peace and love to maintain our humanity. We can't allow anger, rage or hatred to take root now or ever.
He said that the best way to honor his daughter would be for people to join him and his family "by forever showing compassion, forgiveness, inducing whatever is within your power to reach out to those around you that might need the light of your love to help guide them to through the darkness."
While others have been reluctant to publicly use the gunman's name, Mr. Davis emphasized that "the young man who shot Claire had a name."
"His name was Karl Pierson," he said. "For reasons most of us or all of us will never know, Karl allowed himself to be full of anger, rage and hatred. That anger, rage and hatred blinded him. He blindly followed a path that no one should ever do, take an innocent person's life. He took our daughter's life."
Mr. Davis made public a brief encounter that his daughter had with the gunman before she was shot in the hallway.
"Claire's last words were poignant, profound," Mr. Davis said. "She said, 'Oh my gosh, Karl, what are you doing?'
"The fact is that Karl was so blinded by his emotions that he did not know what he was doing," Mr. Davis said. "In her most innocent, precious way, she tried to shine a light on Karl's darkness."
Mr. Davis described his daughter's wit and grace in his remarks. "Claire was a gift to her mother and me and although we desperately wanted to hold onto this gift it was time for us to return the gift to the giver," he said,
The CBS affiliate in Denver made available video of the full memorial service, which included music from students and others sharing memories of Claire.