Indranil Mukherjee/Agence France-Presse â€" Getty Images
PARIS â€" Just hours after President François Hollande announced over the weekend that he had split up with Valérie Trierweiler, de facto first lady of France, Ms. Trierweiler arrived in the Indian city of Mumbai on Sunday, looking composed, perfectly coiffed and resolute, even as she was swarmed by paparazzi.
It was a striking contrast to recent weeks, with Ms. Trierweler having been hospitalized after an emotional collapse on the day Mr. Hollande's affair with the French actress Julie Gayet was revealed by a tabloid.
For all the protestations of Gallic indifference to the private lives of politicians, the news media have jockeyed to offer play-by-plays of the breakup worthy of a soccer match.
Television coverage of Valérie Trierweiler's visit to India Jan. 26.
Le Parisien noted that the separation had been negotiated over the last week in a flurry of text messages, on the telephone and over a lunch Thursday between Mr. Hollande and Ms. Trierweiler. Yet it said that when the president tried to phone Ms. Trierweiler  on Friday night, apparently to hammer out the final details of the breakup, he was greeted by her voice mail.
"She acknowledged with sadness that their relationship was over, but she did not want to co-sign a text, she wanted him to make the decision on his own," Le Parisien quoted an unnamed friend of Ms. Trierweiler as saying. An unnamed confidante of Mr. Hollande's, meanwhile, told the paper that Mr. Hollande, often mocked by the French for his Hamlet-like indecisiveness, had hesitated until the last minute. "It is difficult," the friend said.
"Pressing the button makes things irreparable. François hates that," he said, adding, "It was she who probably enabled him to become the head of state."
After her two-day trip to India on behalf of a charity, her first as a private citizen, Ms. Trierweiler will return to the rented apartment in the 15th arrondissement of Paris where she lived with Mr. Hollande before his election in May 2012.
On Saturday, Mr. Hollande, who had promised to clarify his relationship with Ms. Trierweiler before heading to Washington on Feb. 11 to meet President Obama, issued a statement, saying: "I am making it known that I have ended my shared life with Valérie Trierweiler."
On Twitter, she expressed her gratitude to the "extraordinary personnel" at the Élysée Palace: "I will never forget their dedication, nor the emotion at the time of departure."
Toute ma gratitude va à l'extraordinaire personnel de l'Elysée. Je n'oublierai jamais son dévouement ni l'émotion au moment du départ.
In its post-mortem of their relationship, Le Figaro noted Sunday that Mr. Hollande had once said that Ms. Trierweiler, a twice-divorced journalist, was "the woman of my life." But it said he had later regretted not having added "today" at the end of that sentence, out of deference to Ségolène Royal, a prominent Socialist politician who was his partner for nearly 30 years and the mother of his four children before he left her for Ms. Trierweiler.
The French - who can be as icy as they are sentimental - never warmed to Ms. Trierweiler, at once elegant and fiercely independent. Questioned by French radio a few days after Mr. Hollande's election on how she would define her new role as first lady, Ms. Trierweiler got off to a bad start by replying that in her heart, she was foremost a journalist.
Then she created a small scandal in June 2012, shortly after Mr. Hollande's election, when she lent her support on Twitter to a party dissident who was trying to defeat Ms. Royal. Socialist Party officials and Ms. Royal's elder son were reported to be furious.
The damage in public opinion was seemingly irreversible. Le Monde noted that she had become one of the most detested personalities in France. In March 2013, an elderly woman was filmed in Dijon asking Mr. Hollande not to marry her. "We don't like her," the woman implored. The video quickly went viral on social media.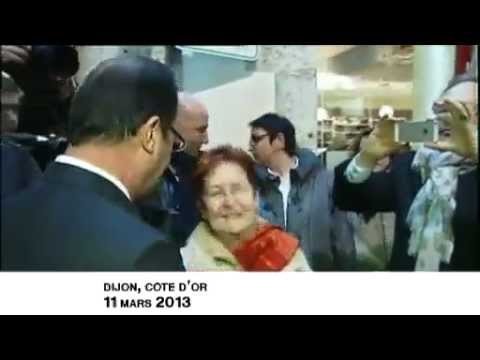 A Frenchwoman asking Mr. Hollande not to marry Ms. Trierweiler in March 2013.
Ms. Trierweiler, born in 1965, came from humble beginnings. Her father was disabled after losing a leg in a mine explosion in 1944 and her mother worked as a cashier at an ice rink and she grew up on a housing project in Angers, in western France. She studied political science at the Sorbonne before becoming a journalist, most recently for the well-known magazine Paris Match.
Ms. Trierweiler met Mr. Hollande in 1988, and the two became friends in 1997, when she was covering the Socialist Party for Paris Match. She was married at the time.
Nadia Le Brun, the author of a biography of Ms. Trierweiler called "The Queen of Spades," told RTL, a French radio network, that Ms. Trierweiler did not agree with Mr. Hollande's decision to split, and that she had not negotiated her exit in the way she would have liked. "She is not the kind of woman who would be rejected like a courtesan during the time of the king," she said. "She is the kind of woman who stands up for herself."