As the bitter cold moved east and continued to keep much of the center of the country in a deep freeze, travelers found themselves stranded at airports, on Amtrak trains and in their driveways.
For the sixth consecutive day, airlines canceled thousands of flights across the country, according to FlightAware.com. The American Automobile Association reported a double-digit increase in calls from motorists unable to start their cars because of subfreezing temperatures. Downed overhead lines disrupted commuter rails and Amtrak service in the Northeast.
And, in the Midwest, nearly 500 passengers were trapped on three Amtrak trains stuck in a remote part of Illinois, as Chicago's local television station, WGN, reports.
The passengers, who were on three different trains headed to Chicago from Los Angeles, San Francisco and Quincy, Ill., finally began arriving at their destination Tuesday after snow and ice, combined with subfreezing temperatures, made the tracks impassable starting late Monday afternoon. Some passengers made the final leg of the journey to Chicago's Union Station by bus. Others spent the night at a rail yard while other passengers remained aboard the heated train cars near Mendota, about 80 miles west of Chicago, until another train arrived to rescue them, officials said.
One train passenger, Mary Beth Bush, posted regular updates of the ordeal on her Twitter account, beginning Monday around 5 p.m. with a first report that the train was stuck.
My train that was already 2 hours late is stuck in a 12 ft snow drift
She included dozens of updates that included observations of how some of the passengers and crew were responding to the delay. She also posted a photo of a beef stew meal that she said was distributed to passengers by Amtrak employees.
BON APPÉTIT!!! http://t.co/Vo9CXN1OWY
A passenger inside one of the trains also captured video that was shown on a local television station.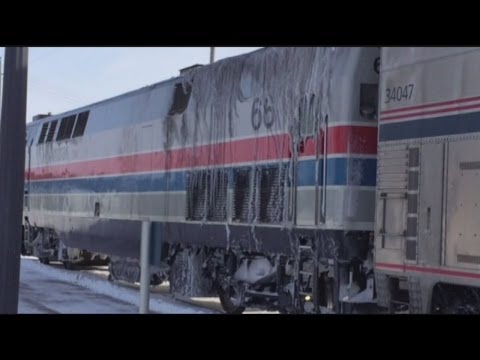 Because of the rescue operation and the condition of the tracks, Amtrak canceled multiple trains in the Midwest on Thursday, and train service was also disrupted along the Northeast Corridor because of mechanical problems and overhead wires, officials said.
But even though temperatures are expected to go up on Wednesday, air travelers may find themselves still struggling through the weekend to get where they need to go.
According to FlightAware.com's online flight tracker, almost 2,400 flights into and out of United States airports had been canceled by Tuesday afternoon, on top of the 4,000 flights canceled on Monday. Of those canceled flights, more than 1,600 of them were at Chicago's O'Hare International Airport.
Sleeping at the Orlando Airport… This is what happens when your flight gets delayed. #TeamNap #goodnight http://t.co/XDruqEpKMQ
In an unusual move, JetBlue Airways grounded all of its flights starting at 5 p.m. on Monday for 17 hours at New York City's three major airports and at Boston's Logan International Airport. JetBlue officials said it would resume full operation by 3 p.m. Tuesday.
"We regret the impact to our customers," the airline said in a statement, explaining the decision was made because of the deep freeze on the East Coast and a need to give pilots required rest after weekend delays.
The decision was met with frustration by some customers on Twitter and Facebook.
@JetBlue are you kidding? you advised us to contact you but won't respond for 5-7 days and won't answer the phone? http://t.co/Mt4mqP7y72
Service resumed on Tuesday, but in a statement, JetBlue said it could take some time for people to find an available seat.
These industry wide cancellations, on top of the previous days' cancellations, have now left millions of air travelers displaced, struggling to find any available seat to get to their destinations. With planes already full with previously booked holiday travelers, remaining seats are quickly filled, (for some of the other guys, even overbooked), and some customers aren't seeing available seats for nearly a week.
#Travelalert #jetblue slowly ramps back up. Many #airlines have some cancels & delays today. #Airtrain no delays now http://t.co/XZLOB6EtnO
Some travelers were thankful to finally reach their destination. Steve Burgess, who said he took Amtrak to New York City from Chicago, posted this photo on Twitter of the inside of his train when he arrived at Penn Station on Tuesday.
Made it to the isle of Manhattan on an icy train after 28 hrs. Thanks @Amtrak for somehow getting us out of Chicago. http://t.co/jNktasMqrB