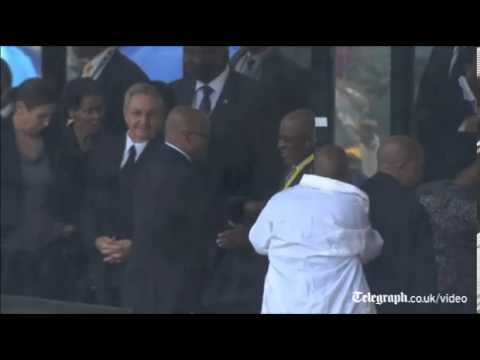 As boos rained down on South Africa's president, Jacob Zuma, during the memorial service for Nelson Mandela on Tuesday, and American conservatives reacted with fury over President Obama's handshake with President Raúl Castro of Cuba, it was not hard to imagine sighs of relief being breathed by top officials in Israel and Iran who decided that they were too busy, ill, or frugal to make the trip themselves.
In Israel, after Prime Minister Benjamin Netanyahu first said that he would attend the ceremony, but then canceled, saying he could not justify the expense, and President Shimon Peres also declined to travel, citing a recent flu, there was speculation that both men may have wanted to avoid the possibility of an unruly reception, or awkward questions, over Israel's security cooperation with South Africa's apartheid government during Mr. Mandela's long imprisonment.
As Larry Derfner reported on the Israeli news blog +972, a well-connected columnist for the Tel Aviv daily Yediot Ahronot, Eitan Haber, reminded his readers on Monday that "Israel in the '70s and '80s was a full, enthusiastic partner of the apartheid regime. Until this day, millions of South African citizens have not forgotten nor forgiven Israel's role." Given that, Mr. Haber wrote:
The cancellation of Netanyahu's flight to the ceremony shouldn't have surprised anyone. The leader has not yet been born who will knowingly step into a boiling pot of hatred and contempt. Netanyahu, if he were to go to the funeral, could attract headlines in the world media - negative ones. It's a great honor to stand at a funeral alongside the presidents of the United States and other countries, next to kings, prime ministers, princes and the who's who of the world. But it's a very small honor indeed to have hundreds of TV cameras aimed at you when you are rejected, ostracized, disgraced.
Instead of speaking at the memorial, Mr. Netanyahu expressed his admiration in a YouTube message saluting Mr. Mandela as "one of the stellar figures of our age," who "never became proud or haughty."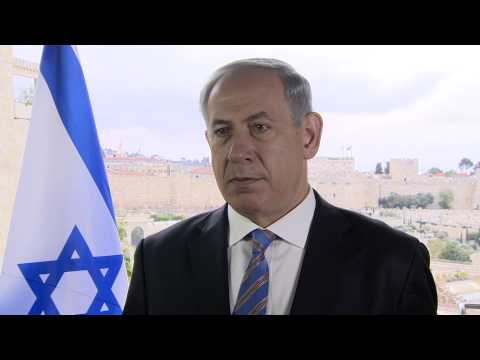 Although health concerns for Mr. Peres, who is 90, are hard to dismiss, Mr. Derfner was not alone in suggesting that the president's decision not to travel could have been related to renewed scrutiny of his central role in forging Israel's military alliance with the white-minority rulers of South Africa.
Israeli leader who mourned Mandela's death helped white regime get missiles http://t.co/PHxMjtAoSh
On Sunday, the NBC News correspondent Robert Windrem reported:
In the 1970s, while Mandela was languishing in a damp prison cell on Robben Island, Peres was making deals with South Africa's apartheid regime, according to interviews and documents gathered by NBC News, a recent documentary and a book based on Israeli and South African government documents. With the help of an Israeli operative now famed as the Hollywood mogul behind "Pretty Woman" and "Fight Club," Peres traded missiles for money and the uranium needed for atomic bombs.
The fascinating history of the military cooperation between the two countries was brought back into the spotlight in 2010 with the publication of Sasha Polakow-Suransky's book "The Unspoken Alliance: Israel's Secret Relationship with Apartheid South Africa." The author, who was an editor at Foreign Affairs at the time, later joined The New York Times, where he now works on the international opinion pages.
After his book was published, Mr. Polakow-Suransky described the documentary evidence he had uncovered showing that Mr. Peres was deeply involved in cultivating the relationship in an interview with Amy Goodman and at a New America Foundation forum.
Like Mr. Netanyahu, Mr. Peres elected to pay tribute to Mr. Mandela online, in his case on Facebook, and stay home. Israel's delegation to the memorial was led by the Parliament speaker and a West Bank settler, Yuli Edelstein, who was himself a political prisoner in the 1980s, before his emigration from the Soviet Union. After the ceremony, Mr. Edelstein posted a photograph of himself speaking with former President Jimmy Carter, a staunch opponent of Israel's occupation of the West Bank, which he has compared to South African apartheid.
For Iranians, meanwhile, almost as soon as news of the ceremony broke, anticipation started again over the possibility of a handshake between the presidents of Iran and the United States.
Rouhani-Obama handshake? @julianborger: Mandela funeral to bring together world's most powerful people: http://t.co/NxSKLC8mHK #Iran
Given that President Hassan Rouhani and Foreign Minister Mohammad Javad Zarif are engaged in a delicate balancing act at home â€" trying to pursue talks with the international community over Iran's nuclear program without giving ammunition to hard-line conservatives who would like to sabotage the negotiations â€" perhaps neither man wanted to run the risk of encountering Mr. Obama's outstretched hand this week.
Perhaps, too, they recalled the controversy after the funeral of Pope John Paul II, when Israel's president at the time, Moshe Katsav, insisted that he had shaken hands with Iran's president then, Mohammad Khatami. After Mr. Katsav's account of the greeting was reported in Israel, Mr. Khatami was quoted in Iran's state media strongly denying that he had engaged in "any meeting with a personality from the Zionist regime."
In the end, they too offered online condolences and dispatched a delegation led by a lower-ranking official.
With a heavy heart, we say goodbye to Nelson Mandela. Surely, his legacy will remain a source of #inspiration and courage for all people.
My deputy, VP for Executive Affairs Mohammad Shariatmadari, to depart in hours for Johannesburg to attend memorial service of Mr #Mandela.
We in Iran join the people of South Africa in mourning the death of Nelson Mandela, who inspired humanity with his courage&compassion
Zarif: "unfortunately" not able to go to South Africa for Mandela memorial due to "important" mtg w Lavrov in Tehran https://t.co/WwhnzMFb36