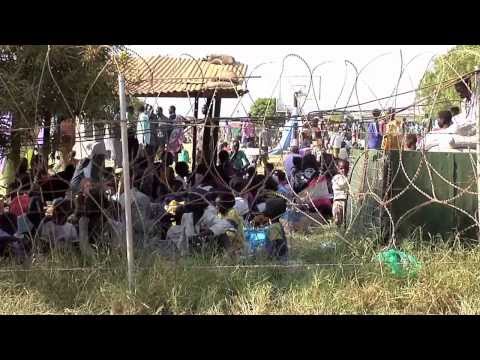 Thousands of civilians have been seeking shelter at United Nations facilities in South Sudan to escape fighting that has flared in the capital, Juba, and the demand for a safe haven has grown so great that the crowds are spilling outside of the gates.
As my colleague Isma'il Kushkush reported, political tension has hung over the fledgling country for months, and on Monday, President Salva Kiir said soldiers loyal to the former vice president of South Sudan tried to overthrow the government.
On Tuesday, Hilde Johnson, the United Nations secretary general's special representative at the United Nations mission in South Sudan, spoke to the British Broadcasting Corporation about the situation:
We have approximately 12,000 civilians that have sought shelter in the two UNMISS compounds we have in Juba. We also have people that have been given protection outside our gates because we cannot accommodate many more. It is a major logistical challenge. However, the most critical issue now is that they are safe, protected, can receive water, and if there is any critical medical needs that they are catered for, but we all would like to see everyone return home.
As another day of fighting was reported, the airport was closed, a curfew imposed and communications shut down. The United States mission in Juba said it could not operate as normal and was evacuating nonessential personnel, while its Twitter feed became a source of description about what was happening in the capital area.
We still hear gunfire in parts of Tongping. We urge everyone to remain indoors during curfew and keep safe. #SouthSudan
(1/4) The Embassy recommends that U.S. citizens currently in #SouthSudan depart immediately…
Virginia Moncrieff, a journalist in South Sudan, wrote of heavy gunfire late into the night and forecast that many people would try to leave.
Huge volley of gun fire just went off. Sounded like it was near the hospital. Still shots going now. 11.45pm #juba #southsudan
Bullets now raining on Juba for third straight night #SouthSudan
Many people packing tonight in order to evacuate in the morning. Will be a mass exodus. #SouthSudan #juba
While some witnesses have spoken of ethnically driven violence, the numbers of casualties have been hard to pin down, even from official sources.
South Sudan's information minister, Michael Makuei Lueth, told civilians seeking refuge at the United Nations mission to return to their homes. He also said he could confirm that 75 people had died in the fighting in the capital. The United Nations mission posted his statement on its Facebook page.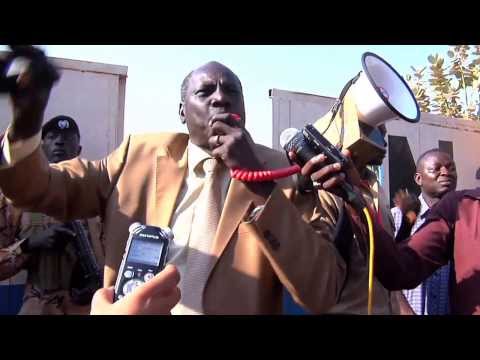 Eye Radio Juba also posted updates on its Twitter feed,@EyeRadioJuba, from the minister about the number of deaths, but it was not clear where the final death toll stood.
Minister of Information now on saying no solid information on deaths and injuries. No statistics yet released. #southsudan #juba
Radio Miraya, affiliated with the United Nations in South Sudan, reported on some of the injuries.
Radio Miraya News: 100 gunshot wounds treated at hospital http://t.co/YKZB0bhqa8
Hannah McNeish, a journalist based in East Africa, wrote extensively about the latest unrest and shared some of the reporting on Twitter as well.
@ICRC #SouthSudan says more than 300 wounded people treated in 2 hospitals in capital Juba after clashes, fears many more can't be reached.
The State Department deputy spokeswoman Marie Harf said in a briefing, in response to a question on Monday in Washington, that the United States was concerned about the fighting spreading in the region.
"Well, we certainly don't want that to be the case," she said. "That's why we're calling on all parties to resolve their differences through peaceful means. But certainly it's something we're concerned about and watching."