As my colleagues Nicholas Kulish, John Eligon and Alan Cowell report, the sign-language interpreter accused of botching the translation of remarks by a host of world leaders at the memorial for Nelson Mandela this week in Johannesburg spoke in his own defense in a series of interviews on Thursday.
The interpreter, Thamsanqa Jantjie, told BBC News that he was "absolutely" aware that some of the sign language he used during the ceremony was incorrect. In his defense, he said that he had experienced hallucinations during the event, as he stood next to a series of world leaders, including President Obama and Archbishop Desmond M. Tutu. "While I was working, I had a breakdown when I see angels come from sky to the ground, and I start knowing that I'm not well, because it's not something possible," he said.
In another, deeply uncomfortable interview with a Johannesburg radio station, Talk Radio 702, Mr. Jantjie noted that he had previously interpreted for senior South African officials, including President Jacob Zuma, without any complaints. Pressed to say if he was suffering from an illness, Mr. Jantjie began to stutter but eventually said that he was "currently a patient receiving treatment" for schizophrenia.
As South Africa's Mail & Guardian reported, video recorded last year showed Mr. Jantjie interpreting for President Zuma as he sang the controversial song "Shoot the Boer" at centenary celebrations for the African National Congress.
Thelma Kotze, who had provided the live sign-language interpretation of President Obama's speech broadcast by the state television network SABC on Tuesday, explained in an interview the next day that she had reviewed YouTube video of Mr. Jantjie's work and concluded that "it's not worthy of being called an interpretation, it's unintelligible; I mean, you cannot understand a thing that he was doing."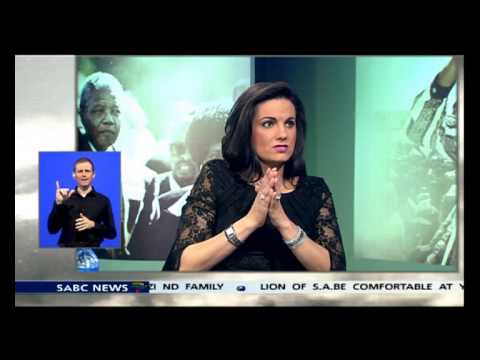 Reviewing more footage of Mr. Jantjie's performance for her colleagues, Ms. Kotze said that "he seems to be repeating the same hand gesture over and over again," before concluding: "There's no meaning in what he's doing."
Speaking at a news conference on Thursday, which was broadcast with sign-language interpretation by Ms. Kotze, Hendrietta Bogopane-Zulu, South Africa's deputy minister for women, children and people with disabilities, told reporters that after her department spoke to the owners of the company that had provided Mr. Jantjie, they "vanished into thin air." It appeared to be the case, she added, that "over the years, they have managed to get away with this; they have been providing substandard sign-language interpreting services to many of their clients and nobody has picked up on it."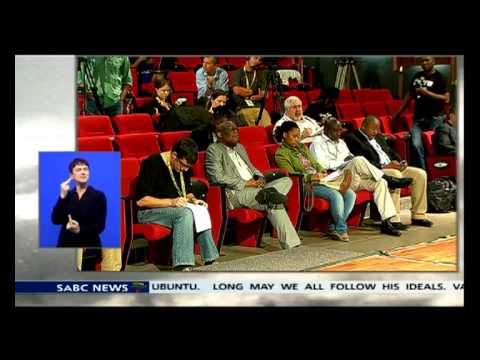 Ms. Bogopane-Zulu, however, rejected the idea that the mishap was a national embarrassment, pointing out that the SABC had provided accurate on-screen interpretation for deaf viewers who watched the memorial on television, as it does routinely during news broadcasts and presidential addresses. Mr. Jantjie had been retained only for the benefit of deaf members of the audience at the stadium. She also suggested that he simply "got tired" during the event and made some mistakes.
Watching that news conference on television, a deaf member of Parliament from the ruling African National Congress, Wilma Newhoudt-Druchen, expressed dismay and anger on her Twitter feed as her colleague spoke.
@GautengANC Cde hendrietta should have gotten advice from deaf people before talking. She's making matters worst
@Xolani_M_Sokoyi arrogance is really wht we don't need right now. A simple apology and acceptance that mistakes were made is just enough
@ANCKgalema what had been said by dep minister today is hurtful, harmful and uninformed
Late Thursday, Ms. Newhoudt-Druchen replied to critics who suggested that she was being unfair to a man suffering from a mental illness.
@mkpopper76 @BrunoDruchen @ANC_KKhoza when he was standing on the stage we didn't know he had a mental illness.
@mkpopper76 @BrunoDruchen @ANC_KKhoza if he knows a stressed and pressured assignment can trigger an attack then don't take the job