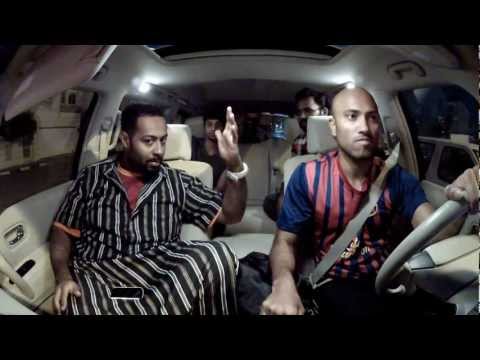 In the opening scene of their satirical video, the amateur filmmakers posted a sober message against a black background to make it clear they meant no insult to the people of the United Arab Emirates.
"The following events are fictional and no offence was intended to the people of Satwa and UAE."
But it apparently did little good to keep the participants in the nearly 20-minute video out of jail.
On Monday, a State Security Court in Abu Dhabi handed down a one-year jail term and a fine of 10,000 dirhams, or about $2,700, to a 29-year-old American man, Shezanne Cassim, and two Indian men for their part in a video posted online, a satire set in the Dubai neighborhood of Satwa.
The verdict, reported by the state-owned newspaper The National, also gave two Emirati citizens eight month sentences each and fines of 5,000 dirhams, while three foreigners were sentenced to a year each in their absence, it said.
Mr. Cassim, who is from Woodbury, Minn., and the four other men were detained in April for questioning by the Emirati authorities over the video, which is a comedy sketch about the fictitious Satwa Combat School. In the film, an instructor named "Saloom Snake" trains combatants to throw sandals, use the thin ropes of an Arab headdress as weapons and summon help on Twitter for fights that never actually occur, as my colleague Ben Hubbard wrote this month.

The video refers to Satwa, an area in Dubai where in the 1990s, teenagers coined the term "Satwa Gs" to describe peers who had adopted hip-hop fashion and listened to rap music, said a statement released by Mr. Cassim's family after the verdict.
"These "gangstas" were known for their decidedly mild behavior and were seen as the total opposite of actual criminals. The fictional training depicted in the video teaches techniques that include the best way to throw a sandal at a newspaper and, ultimately, how to use the mobile phone when in trouble. That's the extent of the 'Satwa Gs' combat," the statement said.
With no jury, the judgment and sentence is entirely at the judge's discretion, and there is no chance for appeal, it said.
The National reported that the two Emirati nationals would be released based on time already served, while Mr. Cassim and the others would be released next month. But hours after the verdict was made public, Susan Burns, a lawyer in Minneapolis who is representing the Cassim family, said in a telephone interview that the details had not been made clear to her or the family and that they had not seen the actual judgment. She said they learned about the verdict from the family's lawyer in the emirates, who was in court and called Mr. Cassim's brother.
Ms. Burns said that when he was first taken in for questioning, Mr. Cassim offered to remove the video from YouTube, where it only had about 200 hits at the time, but was not allowed. He and the others were subsequently charged under the cybercrimes statute in the United Arab Emirates, but there were numerous delays, and Mr. Cassim was allowed to see a lawyer only about three times, each time with guards present.
In the meantime, the video has now racked up about 189,000 views.
"Essentially he was regarded as a threat to national security," Ms. Burns said. "So the fact that they were saying the video was a threat and at the same time did not allow him to take it down left me speechless."
"There is essentially no due process, and the country holds itself out as a modern society," Ms. Burns said.
The case has set off a campaign to press the authorities into releasing Mr. Cassim, who had been working as a business consultant in Dubai since 2006. Local elected representatives weighed in, and the United State government was in direct contact with the Emirati authorities.
Dubai court: 1 year in prison for Minnesotan Shez Cassim for making mock video. UAE must end this outrageous abuse & release Shez now.
On Dec. 13, a deputy State Department spokeswoman, Marie Harf, said at a briefing in Washington that Mr. Cassim had been incarcerated for five months before he was notified of the charges, and that the United States had been expecting a verdict since Sept. 30 but there had been five delays.
News also spread online with the hashtag #freeshez, for Free Shezanne, using his nickname, on Twitter and on Facebook. A website was set up to post updates on his condition and to link to articles about his case, and even Will Ferrell and other American comedians recorded a video supporting him.
The arrests and subsequent trial have led to scorn and criticism for the United Arab Emirates, which portrays itself as a regional hub for finance, trade, and international cultural and sports events.
The verdict was criticized by human rights organizations. The Emirates Centre for Human Rights said in a statement that the defendants were charged under Article 28 of the cybercrimes law, which provides for jail and a fine of up to 1 million dirhams for anyone who uses information technology to publish caricatures that are "liable to endanger state security and its higher interests or infringe on public order."
But it pointed out that the law had been applied retroactively, as the video was posted on Oct. 10, 2012, while the cybercrimes law was believed to have been passed on Nov. 12th, 2012.
The human rights center said that in accordance with local regulations, time served would be taken into account and the men would be released once they had served three quarters of their sentence.
"Given that the filmmakers were arrested on April 7th, 2013, this means that the Emirati defendants should be released immediately and that Shezanne Cassim, along with the two Indian men, should be freed on January 8th, 2014, at midday," the center said.
Rori Donaghy, the center's director, shared reaction and developments on his Twitter account @roridonaghy86.
#Dubai filmmakers convicted of defaming "#UAE society's image abroad". The only people harming #UAE's image are the authorities. #freeshez
Interesting. @7DAYSUAE have taken down story about popular #UAE rapper jailed for role in making Satwa Gs. Why? http://t.co/fZqm3CJBlW
After the verdict, Mr. Cassim's brother Shervon said in an interview with CNN that the family did not believe justice was served.

He said in the statement, in part:
This is so painful and unfair we can hardly believe it. It's become apparent that the court has more knowledge of what is in the video â€" including the disclaimer that appears at the beginning of the video. So it's obvious the intent and content of the video is not meant to cause harm. Yet, Shez is still in jail.

Shez is coming up on nine months incarceration for making a parody. This isn't justice.

The Dubai International Film Festival just ended nine days ago. At that festival AMPAS announced that short films screened at that festival can be eligible for Oscar contention. Meanwhile, my brother is in jail for making a short film. It would be funny if we weren't talking about a man's life â€" and our family facing Christmas with Shez in jail.