Market analysts researching the buying habits of Americans have noted a growing trend in online shopping on Black Friday, the frenetic day after Thanksgiving when retailers try to boost annual sales with steep discounts.
But consumers who venture out from behind their computer screens to brave the packed parking lots and long lines of brick-and-mortar stores can find themselves in elbows-out, fists-flying confrontations that have traditionally distinguished the start of the most important shopping period of the year.

As my colleague Elizabeth Harris reported, long lines started to form on Thursday, as department and retail stores opened overnight with major deals that went straight into Friday. Some big-box stores posted employees as guides and introduced other safety measures.
But a number of arrests and shootings were reported across the country, while some shoppers or the merely curious shared online footage of the spectacle of people vying for flat-screen televisions or discounted electronics.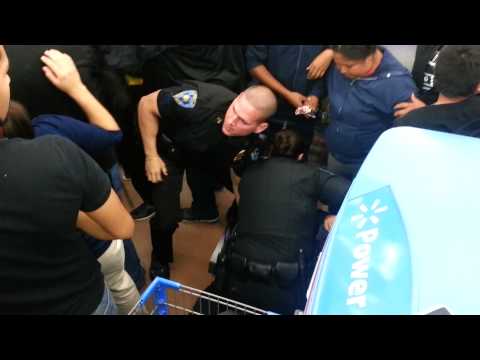 In Romeoville, outside of Chicago, Mark Turvey, the police chief, said in a televised appearance published by The Chicago Tribune that during an attempted arrest, a police officer shot a shoplifting suspect who tried to drive away, dragging the officer with him in a Kohl's parking lot on Thanksgiving night. The suspect was not believed to be in serious condition.
In California, the Carlsbad Police Department said in a statement that just after midnight, officers arrested Javier Covarrubias, 18, a suspect in the stabbing of another man at the El Camino Real mall.
On Thanksgiving day, the Carlsbad police had issued safety guidelines to holiday shoppers on its Twitter account showing, somewhat unrealistically, a photograph of an older woman with her arms full of new toys in an aisle completely empty of other shoppers.
On your mark … get set … go shopping! Safely. Here is how http://t.co/VlOsrwq5zO #CrimeFree #HappyHolidays! http://t.co/kSBEch0bIL
The Las Vegas Metro Police Department said they were investigating a shooting near a Target store involving an attempted robbery of a man carrying home a new flat-screen television, the local news site 8 News NOW reported.
The Star-Ledger reported that a man was pepper-sprayed by the police at a Walmart in Garfield, N.J., after he became belligerent. The man, Richard Ramos, 23, was arrested, the newspaper said in its online report.
In Virginia, the television station WVVA reported that two men were arrested after an argument at a Claypool Hill Walmart escalated into a nonfatal stabbing of one of them.