@ormoc city http://t.co/9jWc7oXi8Z
As my colleague Floyd Whaley reported, a powerful typhoon called Haiyan tore through the center of the Philippines on Friday, causing at least four deaths, officials said.
While dramatic video and images began to surface showing damage from the storm, the full extent of its impact and loss of life was unknown late Friday because downed power lines and mobile-phone towers made it difficult for national emergency management officials to reach local officials in some areas.
Three of the large island provinces â€" Samar, Leyte and Bohol â€" were hard hit. The Philippine Star reported that emergency management officials, for example, had not been able to contact anyone in Guiuan after the typhoon, known locally as Yolanda, made landfall.
Ritchel M. Deleon posted photos on Twitter of the debris-filled streets in Ormoc, on the island of Leyte, located in the path of the storm.
@Ormoc city http://t.co/vs7rFC3fmG
More pic super typhone yolanda Ormoc city leyte…please have mercy on us http://t.co/mvk4eTg5ik
Ren Hechanova Liza's video posted on Facebook shows heavy damage near Ormoc.
In Lingig, a town in the province of Surigao del Sur, Hernel Tocmo showed the effects of the storm surge, combined with the heavy winds, on homes.
6 houses in Cateel, Davao Oriental were washed away by huge waves last night. #YolandaPH @ABSCBNNews http://t.co/BpAbALjGpX
13 houses in purok 13, Lingig, Surigao del Sur were also destroyed by big waves. #YolandaPH @ABSCBNNews http://t.co/HoF5oT8AwB
The Philippine Atmospheric, Geophysical and Astronomical Services Administration posted hourly updates on the typhoon, which weakened as it sped across the country into the West Philippines Sea toward Vietnam.
Track of Typhoon #YolandoPH as of 8 p.m., 08 November 2013 http://t.co/Lwyc6XqJG3
#YolandaPH MTSAT ENHANCED-IR Satellite Image 2:30 a.m., 09 November 2013 http://t.co/t3NgCiyTdJ
In hard-hit Tacloban, a city on the island of Leyte, Atom Araullo reported live during the storm for ABS-CBN, until communication problems made it impossible to continue.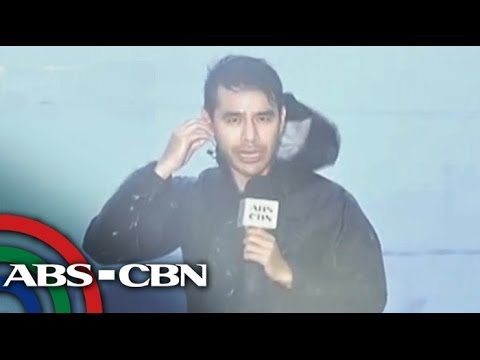 Street level, Tacloban, Leyte. (Video) #YolandaPH #Haiyan http://t.co/DoZMczynPn
Concern about Mr. Araullo's safety prompted the television network to report hours later that he had made it through the storm.
ABS-CBN News team survives super typhoon http://t.co/7Cc7dSmKit
Damage was also significant in Rojas, as can be seen in a video that Jackie Vee Sajise See posted on Facebook.
On Instagram, Jeff Canoy shared multiple pictures and videos from Bohol.
On Leyte, local television footage broadcast by GMA in the Philippines showed the effects of the storm surge as floodwaters filled downtown streets.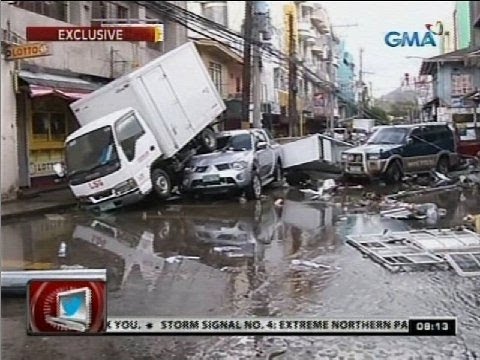 The storm sped across the Philippines roughly twice as fast as a similar storm last year, Typhoon Bopha, which killed more than 1,000 people.