As my colleagues David Kirkpatrick and Mayy el-Sheikh report, Egypt's deposed president, Mohamed Morsi, appeared in court on Monday to face charges of inciting the murder of protesters, his first public appearance since his removal from office in July.
Video of Mr. Morsi and other leaders of the Muslim Brotherhood in the courtroom was broadcast on state television and widely shared online.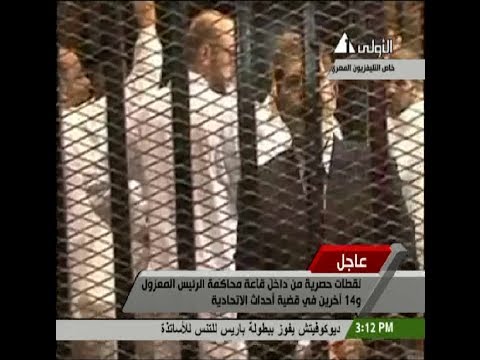 As the Brotherhood's official Twitter feed noted, Mr. Moris and the other leaders of the movement flashed the four-finger hand sign that has become a symbol of their resistance to the military-installed government since the killing of hundreds of protesters outside the Rabaa mosque in Cairo in August. (The mosque takes its name from the Arabic word for the number four.)
President Morsi waves #R4BIA sign inside courtroom, galvanizes #AntiCoup movement by his steadfast & unwavering resolve #Egypt
The Reuters correspondent Hadeel Al-Shalchi noted that Mr. Morsi wore a grey suit, rather than the prison-issue white track suits worn by the other leading Islamists in the caged dock alongside him.
#Morsi was dressed in a grey suit in courtroom, judge wanted him in a white tracksuit, the usual gear for trial suspects. #Morsitrial #egypt
As the Egyptian blogger who writes on Twitter as @GalalAmrG noted, Cairo's Tahrir Square was completely sealed off as the president elected after Hosni Mubarak was forced from power by a sit-in there in 2011 went on trial himself.
Tahrir Square completely shut down in front of traffic and pedestrians ahead of trial of ousted leader Mohamed Morsi. http://t.co/0qxIeWKB1P
Even still, the same blogger explained, Morsi supporters did rally on the streets of the Egyptian capital, and were even served by equal-opportunity street vendors selling images of the deposed president, along with the army chief who forced him from power, Gen. Abdul-Fattah el-Sisi.
If Egypt could be embodied into a person, it would be this guy. #MorsiTrial http://t.co/Dz7k8oC7GW
The Cairene blogger Zeinobia gathered images and video of the pro-Morsi protests, which devolved into clashes with his opponents, posted online by journalists in a comprehensive live blog.
Only part of what has turned into a pretty massive pro-Morsi march on the cornishe http://t.co/M2CKqsEI2f
Pro Morsi demo making its way north along corniche away from courthouse http://t.co/tWA1lUT3G7
March heading over bridge 30 mins ago. http://t.co/GEJBSvVrlo
MB thugs attacking media around Morsi's trial.. Pic via @AlMasryAlYoum http://t.co/PyE83PGZfj
Islam Abdel-Rahman, a leader of the Brotherhood's Freedom and Justice Party, shared an overhead image of one rally along the Nile, and a second photograph of what he called Egypt "under occupation" by its own military.
One thing this revolution misses this time is professional photographers.Pic taken from today's #AntiCoup demo at SCC
http://t.co/BcXGFdPcIs
#Egypt ……..under occupation

http://t.co/rxrFW9poF4

#AntiCoup #DemocracyOnTrial #Morsi