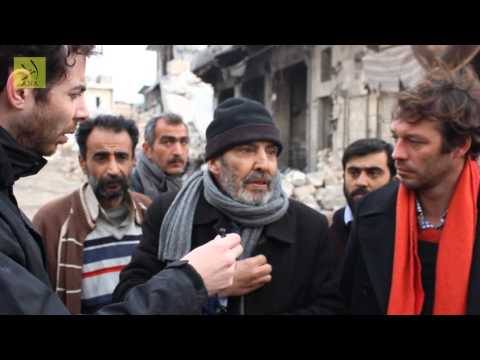 Syrian media activists working to establish a credible alternative to the state broadcaster in areas of the country held by rebel groups were dealt a blow this month in the northeastern province of Raqqa, where a radio station that aired criticism of Qaeda-linked militants was closed down by the Islamists and one citizen journalist was kidnapped.
According to the British-Syrian activist Rami Jarrah, who has been working to transform a network of media activists into citizen journalists in areas of Syria outside government control, militants from the Islamic State in Iraq and Syria, or ISIS, raided his group's office in Raqqa on Oct. 15, seizing equipment, two weeks after they detained one of his journalists, Rami al-Razzouk.
Speaking by Skype from the Turkish city of Gaziantep, Mr. Jarrah told The Lede that the militant group's attacks on his ANA New Media Association came after residents of Raqqa had complained on a call-in radio show about repression by the Islamists, who control the town. In addition to closing down the Radio ANA broadcast center there, the militants have also carried out reprisals against callers, Mr. Jarrah said. After one man voiced concern about ISIS on the air, the activist said, his cousin was kidnapped by the Islamists.
ANA has also angered the Islamists by posting video online in which other rebel factions criticize ISIS.
Mr. Jarrah, who adopted the pseudonym Alexander Page to report on the uprising from Damascus in early 2011, has been a frequent critic of the Islamist militants he accuses of hijacking the peaceful, secular uprising his network of media activists has helped to document on video.
It takes much bravery to stand up to our enemies but it takes as much power to stand up to our friends (FSA Vs ISIS round 1) #Syria
ANA's official statement on kidnapping of Rami Al Razzouk and ISIS shutdown of it's media office in Raqqah https://t.co/8yBlN3SXFu #Syria
@TAbugharsa @mike_giglio the narrative is clear, any group or entity that wishes to silence our media freedoms is an enemy, whoever they are
The Syrian activist who writes as Edward Dark â€" who supported the initial uprising against President Bashar al-Assad but has recoiled in horror from the Islamist militancy â€" has also helped to document the growing influence of ISIS and the abuse of non-Islamist activists by the militants.
in pictures, how ISIS is taking over civil society(aid, schools, courts,polics, public services, media) in #Syria https://t.co/TI4zCYRM1t
in the beginning, the opposition welcomed Jihadists & defended them when the U.S labeled Al Nusra terrorists. Now they're crying foul #Syria
horrific pic: this is what ISIS in Al Raqqa did to activist Mohamed Shoaeb after 2 days of detention https://t.co/BOj0voGvgE #Syria
In a sign of how complex the relationships between secular activists like Mr. Jarrah and Islamist fighters in Syria, he said that he was working to free Mr. Razzouk with the help of an intermediary from Jabhat al-Nusra, another Qaeda-linked Islamist group. The intermediary, he added, confirmed that Mr. Razzouk was being held in the ISIS headquarters in Raqqa last week.
Mr. Jarrah also explained that his group's relations with the Nusra Front have been strained since they were granted permission by that militant group to set up their office in Raqqa, but gave a false address for their broadcast center there.
The ISIS militants, Mr. Jarrah said, have accused Mr. Razzouk of being a spy because he works for an organization that is financed by Western donors. The ANA New Media Association relies of stipends from nongovernmental organizations dedicated to fostering civil society and free expression in Syria, according to Mr. Jarrah.
On his Twitter feed, Mr. Jarrah drew attention this week to a statement from the American Ambassador to Syria, Robert Ford, urging the release of Mr. Razzouk. Writing on Facebook, Mr. Ford said, "By targeting activists and fighters who are not al-Qaida followers, ISIS works against the Syrian Revolution's principles of dignity, freedom, and human rights."
US Embassy in Damascus release statement condemning kidnapping of Rami Al Razzouk by ISIS https://t.co/hiFCRdA33h

#Syria
Mr. Jarrah has also been circulating the following petition to media organizations, asking for their support:
Nearly three years ago, Syrian people took to the streets and sparked a popular revolution, demanding freedom and opposing a repressive regime, its security apparatus and its pervasive censorship.

This revolution birthed a vibrant and creative civil society, and a quickly developing, pluralistic media landscape. Media activists were then, and have remained, primary targets of the regime's retaliation as it attempts to control access to information. As areas in Syria became liberated with the strengthening of an armed opposition, journalists and media activists hoped they could then operate safely.

However, certain armed groups in "liberated" areas are increasingly acting with hostility towards anyone opposing their behavior or disagreeing with their ideology. As a consequence, journalists and media activists are increasingly harassed, kidnapped and murdered.

On October 1st, forces from the armed group the "Islamic State of Iraq and Syria" (ISIS) raided Radio Ana offices in Raqqa, shortly after kidnapping the journalist and activist Rami al-Razzouk at a checkpoint on his way to Toubqa. On October 15th, they raided the office a second time, taking possession of all radio and communications equipment hence ANA's office was shut down.

This example of abuse against press shall not remain unnoticed, nor should it be considered as an isolated case. The "Islamic State of Iraq and Syria" (ISIS) is targeting the newborn independent Syrian press in a deliberate strategy to crush press freedom and to impose a renewed and constant censorship upon the Syrian people.

We, the undersigned,

Refuse any form of intimidation against journalists, citizen journalists, media activists or media organizations, by any group, in any context and under any pretext. Press freedom and freedom of expression are inalienable human rights. Any abuse against these universal rights should be condemned and opposed.

We call on the whole Syrian civil society, its political institutions and media groups, to take relevant actions to expose these practices, to oppose them, and to protect the media from these dangers. We demand the immediate release of all detained journalists and citizen journalists held by any group. Additionally, we call on international media and those organizations in support of press freedom to join this initiative and to take relevant action for the safety of journalists and freedom of speech in Syria.