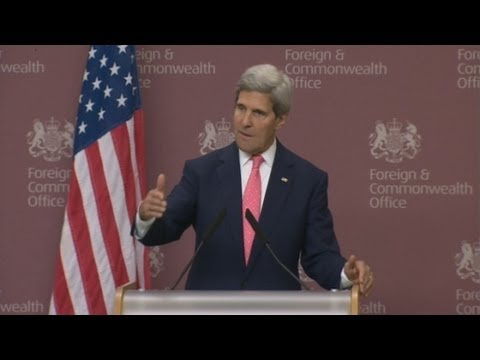 At a news conference in London on Monday, Secretary of State John Kerry was asked by Margaret Brennan of CBS News if there was anything President Bashar al-Assad of Syria "could do or offer that would stop an attack?" As video posted online by Britain's ITN shows, Mr. Kerry replied: "Sure. He could turn over every single bit of his chemical weapons to the international community in the next week. Turn it over, all of it, without delay, and allow a full and total accounting for that. But he isn't about to do it, and it can't be done, obviously."
After Mr. Kerry's remark was greeted with enthusiasm by Russia's foreign minister, Sergey V. Lavrov, the State Department suggested that it was not a proposal at all, but simply a "rhetorical" device employed by the secretary, as Hannah Allam of McClatchy Newspapers reported from Washington.
State Dept: We'll take a look at what the Russians have said…The secretary was not making a proposal, it was a rhetorical statement
As our colleagues Michael R. Gordon and Steven Lee Myers report, although "there is no indication that Mr. Kerry was searching for a political settlement to the Syrian crisis," his Russian and Syrian counterparts quickly seized upon the remark to suggest that putting chemical weapons â€" which Syria has threatened to use but never officially acknowledged having â€" under international control could offer a way out of the crisis.
Last year, before he defected, Syria's Foreign Ministry spokesman, Jihad Makdissi, told reporters, in English: "Any stock of W.M.D. or unconventional weapons that the Syrian Army possesses will never, never be used against the Syrian people or civilians during this crisis, under any circumstances."