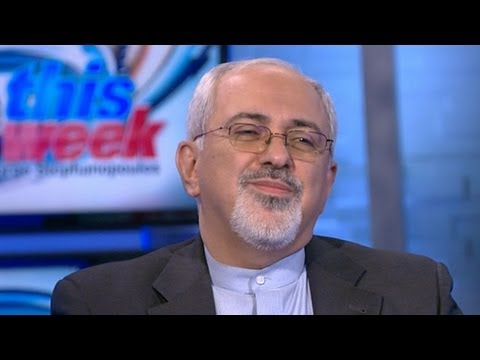 Iran's foreign minister insisted on Sunday that his country does not deny the historical reality of the Holocaust, which he called "a heinous crime," and "a genocide," which "must never be allowed to be repeated."
Near the end of an interview with ABC News that was otherwise concerned with negotiations over Iran's nuclear program and the prospect of improved relations with the United States, Iran's chief diplomat, Mohammad Javad Zarif, was challenged on his claim during a Twitter conversation about the Holocaust last month that "Iran never denied it." He argued that a statement calling the Holocaust a "myth" still posted on the English-language Web site of Iran's leader, Ayatllah Ali Khamenei, was poorly translated from Persian.
Mr. Zarif, who is fluent enough in both American culture and English to have included a reference to the film "Lost in Translation" in his response, skirted around the convening of a state-supported conference for Holocaust deniers in Tehran in 2006, and referred to a series of previous remarks by Iranian officials on Israel and the Holocaust that have set off disputes about the parsing Persian remarks and metaphors.
I have spoken to the leader on this issue; he rejects and condemns the killing of innocent people…. No, the Holocaust is not a myth. Nobody's talking about a myth. If it's said â€" I haven't seen it â€" if it's there it's a bad translation, and it is translated out of context and they are using it…. He was talking about the reaction to somebody talking about a historical faâ€"incident and requiring research about that historical incident, and said, 'What is it that people are so upset that people are simply asking that we should do some studies of that?'

But, you see, this is the problem when you translate something from Persian to English, you may lose something â€" as the film goes, 'Lost in Translation' â€" you may lose some of the meaning. This has been unfortunately the case several times over.
Mr. Zarif then took up an argument made by Iran's new president, Hassan Rouhani, last week: the claim that Israel has used the mass murder of European Jews by Nazi Germany to shield the Middle Eastern state from criticism of its treatment of the Palestinians.
The point is: we condemn the killing of innocent people, whether it happened in Nazi Germany or whether it's happening in Palestine. One crime, however heinous â€" and Holocaust was a heinous crime, it was a genocide, it must never be allowed to be repeated â€" but that crime cannot be, and should not be, a justification to trample the rights of the Palestinian people for 60 years. We should abandon this game and start recognizing the fact that without respect for the rights of the Palestinians, we will never have peace in our region.
Asked if the translation of the leader's remarks would be changed on his Web site, Mr. Zarif said, "I will talk to them." One day later, the translation remains on Khamenei.ir, unchanged, along with several similar statements.