Video from KCNC-TV in Colorado of rescue crews saving a motorist near Jamestown.
At least three people in Colorado have been killed in flash floods that began Tuesday night during heavy rain along the Front Range. The flooding trapped motorists, cut off mountain towns, washed away homes and made roads impassable in and around the cities of Boulder, Estes Park and Lyons.
On Thursday, the National Weather Service warned of an "extremely dangerous and life-threatening situation" throughout the region. Colorado's governor, John W. Hickenlooper, declared an emergency, and the University of Colorado, Boulder, shut down its main campus. Officials in Boulder and Larimer Counties warned residents to stay inside, or in some towns, asked residents to evacuate, as floodwaters continued to rise in some areas, making it impossible for emergency vehicles to reach those in need of help.
Severe #flooding collapses road. Three vehicles submerged. Live reports with @TaRhondaThomas on channel 20 http://t.co/FI2AmmcEnW
Boulder County Sheriff Joe Pelle asks that Boulder County residents stay inside and stay off the roads. #boulderfire http://t.co/zC1VRp5Ss0
"This is not your ordinary disaster," said Joe Pelle, the Boulder County sheriff, at a briefing on Thursday. "All the preparation in the world can't put people up those canyons with walls of water coming down."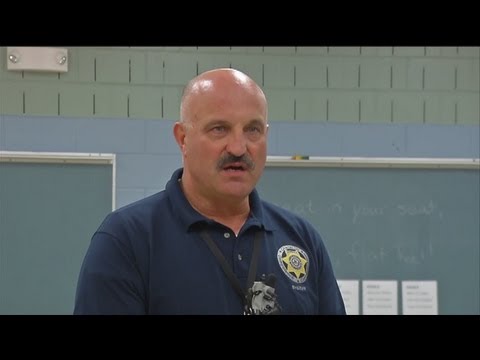 We've approved disaster declaration & will request emerg. declaration from FEMA 4 search & rescue & emergency protective actions. #cowx
In a video from the campus of the University of Colorado, Boulder, students were seen playing in the rising floodwaters late Tuesday night, with a few students using inner tubes after an underpass turned into a fast-moving stream.
While Boulder County was hit the hardest, flooding was reported from Colorado Springs to north of Fort Collins, officials said, and the threat of flash floods remained throughout the day.
FLASH FLOOD WARNING for Big Thompson Canyon has been extended to 5:00 pm tonight according to Nat'l Weather Svc
In Jamestown, northwest of Boulder, which was also hit hard by flooding, residents took to a message board to communicate information.
Other photos of the flooding were shared on Twitter by emergency officials, including images that showed parts of Highway 34 that washed away.
HWY 34 @ Dam Store. http://t.co/gWzQT1qqfA
Eastbound lane of Hwy 34 at MM74.5 has collapsed. Westbound lane has a large crack and is impassable. Hwy 34 remains closed.