As my colleagues, Dan Frosch and Jack Healy reported, Colorado's worst flooding in years has killed at least four people, washed away homes and roads and forced thousands of residents from Pueblo to Fort Collins to flee.
Aerial video footage and images captured on Friday by videographer Payton H. Peterson show the extent of the damage in Longmont and Lyons after 12 inches of rain.
On Saturday, the authorities said they would use helicopters to try to reach the 172 people in Boulder who remained unaccounted for, mostly in remote sections of the county, where landlines and cell service were down, the Denver Post reports. More rain is expected through Sunday.
"There might be further loss of life," Sheriff Joe Pelle of Boulder County warned at a news conference on Saturday. "It's certainly a high probability … With an army of folks and an air show we're hoping to reach everyone as soon as possible."
An evacuation of fifth-grade students is planned for Saturday. They were attending an outdoor education program at the Cal-Wood Education Center in Jamestown when the town was cut off by floodwaters. To help keep nervous families informed, the center's Facebook page posted regular updates on how the children were doing, including what they had for dinner last night.
"They are having hard tacos with all of the fixings. Then for the evening program they are having a dance party. We have had contact with our executive director who shared that the students, teachers, and parents are doing very well. Fireside teacher Mary K. says 'they are having an absolutely great time.'"
From a helicopter, the scale of the damage is evident. In this video, Mr. Peterson captured aerial footage of Lyons, which is west of Longmont, and where many people were rescued Friday after being trapped and cut off by the rising waters and destroyed roads.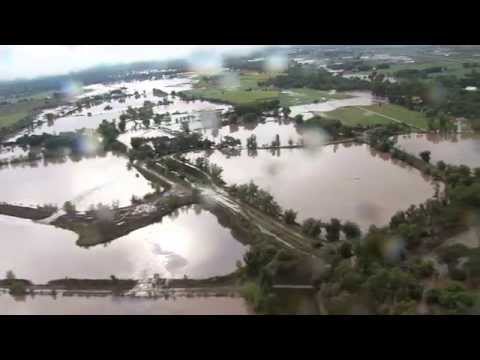 Another aerial video footage of Longmont from Mr. Peterson on YouTube.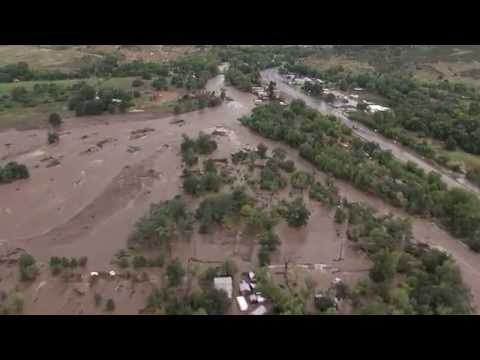 Denver's Channel 7, the ABC News affiliate, posted a video on YouTube with interviews of people rescued in Lyons on Friday by the National Guard.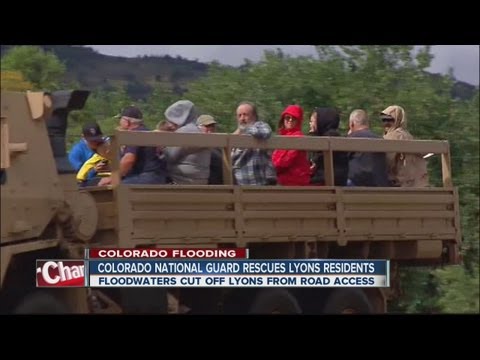 On Facebook, Sheriff Justin Smith of Larimer County, north of Boulder, posted regular updates and multiple aerial images showing damage in the Big Thompson Canyon area. "The devastation being brought on by this floodwater is almost incomprehensible, especially near the Big Thompson River," he said. "Highway 34 has been wash out cutting off a major route to Estes Park. In fact the only way to communicate with Estes Park presently is via radio; Century Link is urgently trying to repair the phone lines. Here is a look at pictures we are seeing from what is left of Highway 34."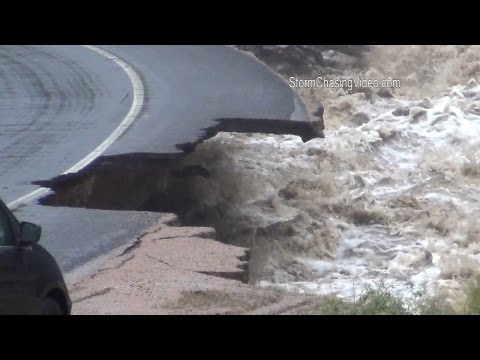 On Thursday, floodwaters filled the streets of downtown Estes Park, the gateway to Rocky Mountain National Park. By Friday, portions of major roadways washed away, including part of the main road leading to the YMCA Camp of the Rockies, prompting evacuations on Friday.
Unable to keep up with the traffic to their news site, the Estes Park News Inc. used its Facebook page to keep residents informed with updates and images and videos sent in by residents, including this YouTube video.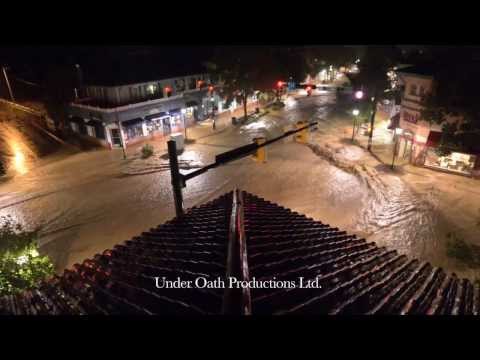 Rocky Mountain National Park closed.
Trail Ridge Rd, Hwy 36/34, open for essential travel only (no recreation). Otherwise, RMNP closed. TRR open as long as conditions permit. ks
In Boulder, Jeremy Papasso of the Boulder Daily Camera, posted multiple videos online of the havoc the floodwaters created in the city and a dramatic rescue.
A Boulder flood victim was rescued from her flooded home by a Summit County Rescue team on Friday, Sept. 13. http://t.co/4Sq9S8vpFL
The campus at the University of Colorado at Boulder was quiet Saturday. The school canceled the football game, only the third time in its history.