Zainab al-Khawaja, an opposition activist in Bahrain who charted the uprising in the country on her @AngryArabiya Twitter feed until she was detained this year, has sent an audio message to her supporters from prison.
The audio recording was passed on to The Times by Ms. Khawaja's sister, Maryam al-Khawaja, who is in exile. In it, Zainab al-Khawaja recites what she says is one of her father's favorite poems and dedicates it to "to the brave people of Bahrain who I miss greatly, and to all freedom-loving people of the world." Ms. Khawaja's father, Abdulhadi al-Khawaja, is also in prison, serving a life sentence for charges of plotting to overthrow the government.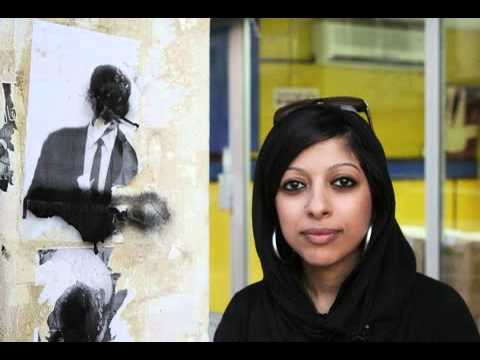 Speaking first in Arabic and then in English, she recites the verses: "If one day, the people desire to live, then fate will answer their calls, and the night will begin to fade away, and their chains to break and fall."
Ms. Khawaja is serving a yearlong prison sentence for her involvement in a pro-democracy uprising that began in February 2011 and has been met with brute force by the ruling monarchy, which is dominated by Bahrain's minority Sunni Muslim community.
With the world's eyes trained on Syria, the steady drumbeat of repression has carried on in Bahrain, which has American and British security advisers. The monarchy in Bahrain has responded to continued demands for reform with tear gas, beatings and handcuffs. At least 87 people have died at the hands of government security forces since the uprising began, and thousands of protesters have been detained, according to the Bahrain Center for Human Rights. Reports of torture are commonplace. For their part, the protesters, who initially staged peaceful demonstrations, have become more violent as conditions on the streets deteriorated.
Ms. Khawaja, an outspoken critic of Bahrain's monarchy on social media and on the streets, described her determination to continue protesting despite the risks in a Skype interview with The Lede in December 2011. Two weeks later, after The Times published a video report featuring Ms. Khawaja's conversation with Nicholas Kristof, an Op-Ed columnist who visited the kingdom, she was arrested in an episode that was caught on video by opposition activists.
She was ultimately released pending trial, but was detained again this February and has spent the last six months in prison. The charges against her range from "inciting hatred against the regime" to "insulting a public official" and will keep her behind bars until next February. The Bahrain Center for Human Rights, a rights group founded by her father, has complained about Ms. Khawaja's conditions in prison, noting that she has been incarcerated alongside people infected with hepatitis A and B, and has not received a vaccination.