What at first appeared to be a daring political stunt â€" having the prime minister of Norway pose as a cab driver, ferrying unsuspecting passengers around Oslo to eavesdrop on the national conversation â€" turns out to have been at least partly staged, as five of the citizens whose shocked reactions were caught on hidden cameras had been cast in the roles, the Norwegian tabloid VG revealed on Monday.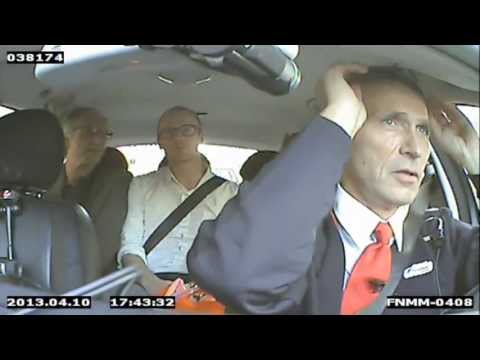 In the introduction to the video, which has been viewed more than a million times since it was posted on the governing Labor Party's YouTube channel on Sunday, Prime Minister Jens Stoltenberg explained that he was going undercover to listen to citizens, "because in taxis, people really say what they mean."
On Monday, though, his party's communications director, Pia Gulbrandsen, admitted that the video, in which only mild disagreements with the prime minister were voiced, obeyed the conventions of staged reality television rather than those of observational documentary. To ensure a diversity of age, gender and background, Ms. Gulbrandsen said, some participants were recruited in advance through "street-casting" by the ad agency that produced the video. "They're five ordinary people who were asked if they wanted to take part in a video for the Labor Party and who knew nothing else, except that they were going to be picked up in a taxi," she told Agence France-Presse.
Mr. Stoltenberg, who told VG that he did not know until later that those five participants had been paid to take part, stressed that "no one who came into the taxi knew that I was the driver. And that was the whole point."
In a post on the party's Web site that includes more footage of the encounters, Ms. Gulbrandsen wrote that she had been assured by the advertising firm that a majority of the passengers shown in the edited video had been picked up at random and had no idea that they were taking part in a political ad.
Mr. Stoltenberg, who trails in the polls ahead of next month's election, is perhaps best known outside Norway for his moving pledge in 2011 to respond to domestic terrorist attacks by a right-wing extremist with "more democracy, more openness and more humanity." Most of the victims of those attacks, in Oslo and Utoya, were young Labor Party activists hunted down by a nationalist gunman, Anders Behring Breivik, who deplored their embrace of multiculturalism.