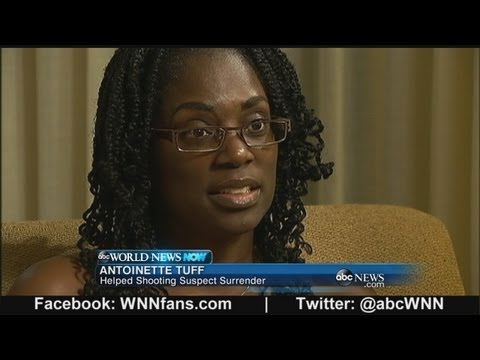 A 20-year old man who entered a Georgia elementary school with an AK-47, then exchanged fire with the police before being arrested, was facing charges on Wednesday as details emerged about him and the tense moments before his arrest.
No one was killed or injured on Tuesday in the armed invasion of the school, the Ronald E. McNair Discovery Learning Academy, in Decatur, Ga. But the gunman, Michael Brandon Hill, held one or two school employees captive in an office, then opened fire about half a dozen times at the police before surrendering, the authorities said.
On Wednesday, the police gave more information about the charges and their investigation, and released a photograph of Mr. Hill holding a gun.
DeKalb PD just shared this selfie of the #McNairShooting suspect holding a gun. #wsbtv http://t.co/pUF4FB9VgF
Cedric L. Alexander, the police chief in DeKalb County, said on Tuesday that Mr. Hill parked his car in front of the school, then likely gained access to the building by following someone else inside. He also spoke on Wednesday about the case.
DeKalb PD: Hill will face 3 counts of aggravated assault on officer. Police talking to friends/family of suspect. #mcnairshooting
DeKalb PD: Weapon has been recovered. AK-47 type assault rifle. We covered some other bags, 500 rounds of ammo #mcnairshooting
DeKalb PD: Suspect may appear in court tomorrow. ATF testing weapon. No other weapons at school. #mcnairshooting #wsbtv
Chief Alexander: He came there to do 1 of 2 things: Do harm to the children or any first responders. #mcnairshooting #wsbtv
News coverage has focused on how the start of the academic year was kicking off with yet more images of students fleeing a gunman in their school and that it conjured up memories of the Sandy Hook Elementary School shootings in Newtown, Conn., in December, in which 20 children were among the 26 people gunned down before the shooter killed himself.
On Wednesday, the school's students were sent to classes in a nearby high school, where administrators said they were providing meals and lessons to try to give them as normal a day as possible. But attendance was apparently low.
PHOTO: #McNair Elementary students have begun arriving at McNair High School. #wsbtv (credit @johnjspink) http://t.co/nV4nvqcr2w
School officials say 145 of 600 #McNair elementary students came to school today. 67 of 90 staff members. http://t.co/OcH1vjBISP #wsbtv
Mr. Hill was expected to be charged with aggravated assault on a police officer, terroristic threats and possession of a firearm by a felon, The Associated Press reported earlier.
CBS reported that Mr. Hill had been arrested in March for "terroristic threats and acts" but was given three years' probation and ordered to take anger management classes.
In an interview with WSBTV, an ABC affiliate, Mr. Hill's brother Timothy said that Michael had a troubled past.
"I couldn't tell you what his mind-set was when he went up there. I honestly can tell you he's got a long history of medical disorders, including bipolar," Timothy Hill was quoted as saying.
Brother of yesterday's Atlanta school shooting suspect says his brother was bound to "do something stupid." http://t.co/zp4I68L697
A WSB-TV reporter, Mark Winne, said on his Twitter account @MarkWinneWSB that investigators said Mr. Hill was taken into custody without resistance, while explaining that he had not been taking his medication.
"When we took him into custody he said, 'I'm sorry, I'm off my meds.' He seemed like he was tired," said Investigator T.L. Wortham, of the DeKalb County Sheriff's Fugitive Unit.
DCSO InvWortham: "when we took him in custody he said 'im sorry im off my meds.' #mcnairshooting #WSBTV
As my colleagues Kim Severson and Alan Blinder reported, Antoinette Tuff, a school employee, tried to keep Mr. Hill engaged throughout the ordeal. She said in a televised interview that he appeared agitated, "willing to kill," and at one point put clips into his weapon.
"He said that he didn't have any reason to live and that he knew he was going to die today," she said, adding that he tried to leave the office to where the students were. "I called him back and kept talking to him to keep him calm, to stay inside with me, because I knew that if he got outside, that he was going to start shooting the kids."
In a longer version of her remarks, Ms. Tuff explained in an interview with WSB-TV's Channel 2 that she had been sitting in someone else's desk temporarily when he entered with his gun drawn, and he said; "I am not playing, this is for real, this is not a show."
A 16-minute interview with the clerk who talked a man out of shooting up a school in Atlanta yesterday. http://t.co/IE7jtz7gKi
Ms. Tuff said she kept talking to him, telling him about her life and the loss she went through when her husband died. She said Mr. Hill instructed her to call a television station to come to the school and record events, and to apologize for him over the school intercom, which she did. He made phone calls to an unidentified person, who she tried to speak with as well. Eventually she got through to him, and at one point she told him to put the gun down.
"I told him to put the guns down on the table, empty his pockets," she said, adding he had ammunition, bags and a bottle of water "to sit for a while."
"He put it all down on the counter," she added.
She then told him to get down on the floor, and he did, putting his hands behind his back, saying "tell them I am on the floor." Shortly thereafter she sat behind the desk so the officers could see she was not harmed. The police, who had been shot at while closing in, arrested him.