As my colleagues Ben Hubbard, David Kirkpatrick and Mayy El-Sheikh report from Cairo, large protests in support of the ousted president Mohamed Morsi were marred by violence on Friday, when witnesses said that at least five demonstrators were killed by security forces outside the Republican Guards barracks where it is believed Mr. Morsi is being held.
Reuters reported that one of its journalists saw Egyptian security forces fire into the air, then "heard shotgun fire" and saw "at least eight demonstrators hit," as a military helicopter flew over the crowd.
Simon Hanna, a British-Egyptian journalist in Cairo, drew attention to a video posted on YouTube on Friday that appeared to show at least one pro-Morsi protester shot in the head from close range by Egyptian troops standing behind barbed wire outside the barracks where Mr. Morsi is believed to be held. The video contains graphic content.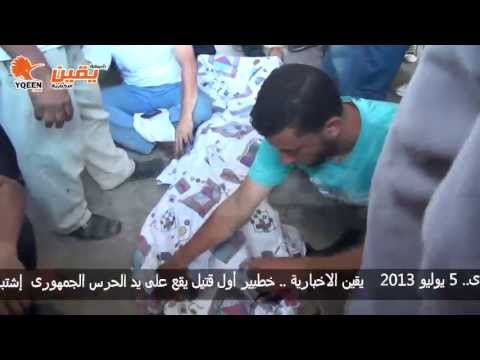 I supported removal of #Morsi but no way am I going to accept army soldiers shooting protesters dead in the street http://t.co/XoM6Wz4Dsy
Cliff Cheney, an American photojournalist who lives and works in Egypt, drew attention to a second video that appeared to show the same dead protester from a different angle. Mr. Cheney was not in Egypt on Friday.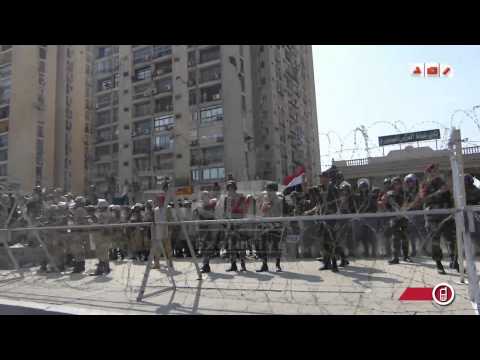 Before the shooting began, Reuters said that its journalist observed the following interaction between pro-Morsi protesters and Egyptian soldiers guarding the barracks.
He had seen hundreds of demonstrators approach the military cordon. A handful of men walked to a barbed wire barrier and place a poster of Mursi on it. A soldier removed it and tore it up. The crowd shouted curses at the soldiers, some waved shoes in a traditional gesture of insult.
The Egyptian-British journalist and blogger Sarah Carr, who was at the scene of the shooting, said in an update posted to Twitter that a witness told her that a man was shot by Republican Guards after he tried to put a picture of Mr. Morsi on the barbed wire ringing their barracks. She later posted a picture of the man to Twitter.
Eyewitness Ahmed Maged said that Mohd Sobhy was shot by prez guards when he tried to put a pic of Morsy on the barbed wire
Alastair Beach, a correspondent in Cairo for the British newspaper The Independent who was at the scene of the shooting, said in an update posted to Twitter that shots were fired when protesters approached the barbed-wire barricade after soldiers had warned them not to. However, he said, some witnesses told him that the shooter was not a uniformed soldier, but one of several men behind the barricade who appeared to be in civilian clothes.
Man says guy walked up to barbed wire carrying pic of Morsi
Army told him not to cross a certain point and come too close.
Along with others he crossed the point forbidden by troops
Then shots rang out. But multiple witnesses said it was NOT troops firing at civilians
Sharif Abdel Kouddous, a Cairo-based correspondent for The Nation magazine and the radio show Democracy Now, was reporting from the protests when the shooting began. He posted a series of updates and pictures to Twitter that captured the tension and confusion in the crowd, and also showed at least one dead body being carried away in a makeshift funeral shroud.
Tense standoff at officers club after troops open fire on pro-Morsi crowd http://t.co/MBIumj9u2G
Tear gas and birdshot being fired by troops dispersing crowd
Protesters carrying a dead body in a shroud #Egypt http://t.co/edxrJaLjRb
Dead body being taken to a car to be driven away http://t.co/iXBqLRi2fN
More injuries from gas and birdshot, maybe live ammo too http://t.co/Cv1XPDuCYy
Wounded pro-Morsi protester says the 'shahada' http://t.co/EJc6Lmbf6r
Apache attack choppers circling overhead. Crowd has grown large. Situation tense but calm near prayer time. http://t.co/LLdcryOnmc
Many say they came to protest at the Republican Guard club because they believe Morsi is being held inside http://t.co/oAdlD8BjPM
And off to the side where soldiers fired live ammo at citizens is the army's favorite propaganda banner #Egypt http://t.co/R4OALvvUOh
Jeremy Bowen, Middle East editor for the BBC, was also reporting from the protest when the violence broke out, and said he was mildly injured when he was hit on the head by several shotgun pellets. He posted several updates to Twitter throughout the shooting and immediately afterward, describing what he witnessed, including the body of one protester that he believed had been killed by "live fire" from the security forces.
Demo at officers club. Disciplined MB display. Several thousand here. Any hotheads under control right now http://t.co/1XlvdEhH0c
Live fire at MB demo at officers club as crowd push forward. Casualties
Can see blooded dead body
Much anger at site of killing of MB protestor #cairo. More people arriving from Rabaa al Adawiya direction.
Tear gas fired by army at crowd that had gathered round the body of dead protestor #cairo
After the shooting ended, Mr. Kouddous posted a picture to Twitter of Mr. Bowen staring at the ground as two men wrapped his head injury with a white bandage. "He's O.K.," Mr. Kouddous said.
BBC reporter @BowenBBC hit in the head with birdshot. He's ok. http://t.co/2ihAmOvpDL
Robert Mackey contributed reporting.