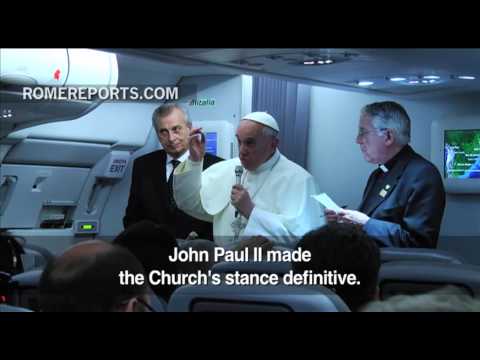 During a news conference on his flight back to Rome from Brazil on Monday, Pope Francis was asked about his much-reported acknowledgement last month that there is "a gay lobby" inside the Vatican hierarchy.
"Quite a lot has been written about the gay lobby. I have yet to find someone who introduces himself at the Vatican with an identity card marked 'gay,'" the pope joked. "But we must distinguish the fact that a person is gay from the fact of lobbying, because no lobbies are good."
"If a person is gay," he added, "and he searches for the Lord and has good will, who am I to judge?"
As my colleague Rachel Donadio explains, the pope's remarks seemed startling to some observers since his predecessor, Benedict XVI, wrote in 2010 that men with "deep-seated homosexual tendencies" should not become priests.
Twenty four years earlier, in his position as prefect of the Vatican's Congregation for the Doctrine of the Faith, the previous pope, who retired in February, worked to correct what he called "an overly benign interpretation" of "the homosexual condition itself," which he insisted should not be considered "neutral, or even good." The man known then as Cardinal Ratzinger wrote in 1986:
Although the particular inclination of the homosexual person is not a sin, it is a more or less strong tendency ordered toward an intrinsic moral evil; and thus the inclination itself must be seen as an objective disorder.

Therefore special concern and pastoral attention should be directed toward those who have this condition, lest they be led to believe that the living out of this orientation in homosexual activity is a morally acceptable option. It is not.